---
Album info
Album including Album cover
I`m sorry!
Dear HIGHRESAUDIO Visitor,
due to territorial constraints and also different releases dates in each country you currently can`t purchase this album. We are updating our release dates twice a week. So, please feel free to check from time-to-time, if the album is available for your country.
We suggest, that you bookmark the album and use our Short List function.
Thank you for your understanding and patience.
Yours sincerely, HIGHRESAUDIO
1

It's Beginning to Look a Lot Like Christmas (Arr. by Tom Rainey) (Arr. by Tom Rainey)

03:12

2

O Holy Night (Arr. by Robert Ramskill) (Arr. by Robert Ramskill)

04:07

3

I Believe in Father Christmas (Arr. by Tom Rainey) (Arr. by Tom Rainey)

03:41

4

A Spaceman Came Travelling (Arr. by Ian Tilley) (Arr. by Ian Tilley)

04:37

5

Feliz Navidad (Arr. by Tom Rainey) (Arr. by Tom Rainey)

03:14

6

Mistletoe and Wine (Arr. by Simon Lole) (Arr. by Simon Lole)

03:36

7

I'm Dreaming of a White Christmas (Arr. by Robert Ramskill) (Arr. by Robert Ramskill)

04:13

8

In the Bleak Midwinter (Arr. by Simon Lole) (Arr. by Simon Lole)

04:06

9

The Little Drummer Boy

03:17

10

Walking in the Air

03:43

11

Still, Still, Still (Arr. by Robert Ramskill) (Arr. by Robert Ramskill)

03:23

12

O Little Town of Bethlehem (Arr. by Simon Lole) (Arr. by Simon Lole)

04:06

Total Runtime

45:15
Info for Christmas with Aled and Russell

Aled Jones & Russell Watson are back with a seasonal treat this Christmas with a beautiful, festive album this November. Aled Jones and Russell Watson are two names that have dominated classical music over the past two decades. In 2018, these two luminaries united to create a duo like no other, bringing together two of the UK's most distinctive and loved voices. The result was In Harmony, a beautiful collection of arias and classical standards that shot in to the UK Top 10, followed by Back In Harmony, released in 2019.
Two of the world's greatest classical voices, Aled Jones and Russell Watson, reunite for Christmas 2022 with a brand-new album. Performing together again following a three-year hiatus, the powerhouse duo will also embark on a colossal UK tour this November and December.
Christmas With Aled and Russell features new recordings of universally beloved Christmas songs, including traditional carols such as O Holy Night, O Little Town of Bethlehem and In The Bleak Midwinter, alongside festive favourites including White Christmas, It's Beginning To Look At Lot Like Christmas, Little Drummer Boy, and Mistletoe and Wine.
The album is also set to feature a very special rendition of Walking In The Air - released by then boy soprano Aled in 1985 - the duo will record this iconic track together especially for the album.
Aled Jones comments, "After a crazy couple of years for us all, I can't wait to be reunited with my mate Russell again for our third album together! I'll always be associated with Christmas, so it's an honour to be working with him. We always have a blast on tour, so getting to sing our favourite Christmas songs together in so many stunning venues later this year will be a real treat! You never know, Traffic Cone might even make an appearance…and hopefully Chicago has given Russ the chance to brush up on his dancing skills!"
Russell Watson adds, "Aled and I had a great time recording our first two albums, so I'm immensely excited to be back in the studio together working on our third. We had a really tough time choosing from so many magnificent Christmas songs, but we've whittled it down to a fabulous selection of tracks which truly mean something to us both. And to get to share a stage again during our UK tour later this year will be such a special experience after three years apart. I hope Christmas With Aled and Russell is on all of your Christmas lists, and I can't wait to see you all on tour throughout November and December!"
Christmas With Aled and Russell succeeds their first two albums, 2018's In Harmony and 2019's Back In Harmony, both of which shot straight to #1 on the UK Classical Album Chart and the top 10 of the UK Official Album Charts upon release.
Two of the nations most treasured artists, Aled and Russell have achieved tremendous successes between them, from prestigious awards to record-breaking chart sales.
Aled Jones is the original classical crossover star, having been at the top of his game for over 40 years. Becoming one of the world's most successful boy sopranos at the age of 12, he has since released over 40 albums and has more than 40 silver, gold and platinum discs.
Most recently he released Blessings, a multi-faith album featuring songs from a range of different religions and starred on ITV's hit show The Masked Singer as "Traffic Cone". He has also forged an extensive career as a TV & Radio presenter, currently hosting his own weekly show on Classic FM and the BBC's Songs of Praise.
Described by the New York Times as a performer 'who sings like Pavarotti and entertains the audience like Frank Sinatra', Russell Watson's debut album The Voice saw him hold the top spot in the UK charts for an unprecedented 52 weeks in 2001, while also topping the charts in the USA, making him the first British male artiste to attain a simultaneous transatlantic #1.
Throughout his incredible career he has performed for some of the world's leading figures, including HM The Queen, the late Pope John Paul II, and former US Presidents Bill Clinton, George W Bush and Barack Obama.
In 2020, Russell released his latest album 20, a compilation album marking 20 years since the release of his phenomenally successful debut album, and this year has been performing the role of Billy Flynn in the popular musical Chicago.
Aled Jones, vocals
Russell Watson, vocals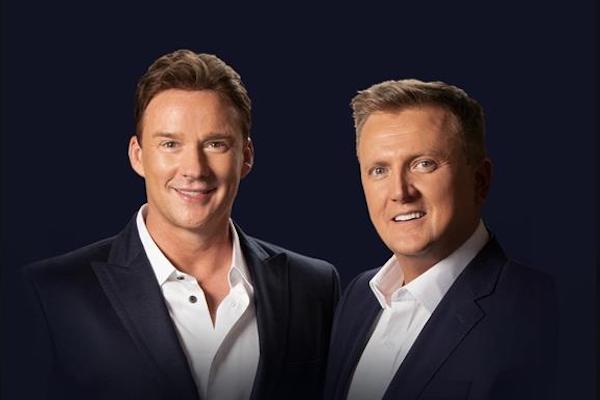 Aled Jones
MBE has been a household name since the 1980's.
He will forever be remembered as one of the world's most successful boy sopranos. He made his professional debut as a 12 year old performing the role of the Angel in Handel's Oratorio 'Jeptha' on BBC2 and BBC Radio 3. The next 4 years were a whirlwind with TV performances galore (he holds the record for most appearances on the Wogan television show). He was invited to record 3 flagship TV programmes for the BBC from Israel. These programmes were huge hits and the resulting 2 album releases sold over a million copies. At one point both albums were in the top 5 Official UK Album Charts. It was only Bruce Springsteen's album 'Born in the USA' that kept him off the top spot! He performed countless concerts as a boy soprano all over the world including a spot at the Hollywood Bowl and sharing the stage with maestro Leonard Bernstein. Singing the 'Chichester Psalms' with the composer conducting was a huge highlight. Aled had already released 12 albums by the time "Walking in the Air", the song from the animated film The Snowman, was released. The record reached No. 5 in the UK charts in 1985. He also performed 10 sell-out live 'Snowman' shows that year.
Jones' recording career was temporarily halted when his voice broke at 16. By this time, he had recorded 16 albums, sold more than six million albums, and sang for Pope John Paul II, the Queen and the Prince and Princess of Wales in a private recital, as well as presenting numerous children's television programmes.
Between the age of 16 and 18 Aled toured Japan with the Vienna Woods Boy's Choir. Aled's boy voice had gone, so instead he narrated live Humperdinck's opera 'Hansel and Gretel', in Japanese! He was mobbed everywhere he went in the country. During this period 12 albums were released selling in excess of 2 million copies.
He went on to study at the Royal Academy of Music and Bristol Old Vic Theatre School before being asked to perform the role of Joseph in Andrew Lloyd Webber's 'Joseph and the Amazing Technicolour Dreamcoat'.
Aled was offered presenting roles on BBC Radio Wales (a show he still presents 15 years on) as well as a TV role for the welsh-speaking channel S4C. He was also approached about a presenting role on the BBC's 'Songs of Praise'. In 2002, Songs of Praise asked Aled to sing on the programme. This led to the release of his first, real adult album entitled 'Aled' that went to No 1 in the Classical Charts.
The following year Aled was approached by 'Classic FM' radio and offered a two-hour Sunday morning programme which become a hugely popular show.
Aled released another album entitled 'Higher', which also topped the classical charts. He followed this up with an album of carols, which sold in excess of 40,0000 copies. Aled was also the subject of the last ever 'This is Your Life' on the BBC and was surprised on stage at the Royal Albert Hall during the filming of the 'Songs of Praise' Big Sing.
In 2004 Aled was a contestant on the second series of 'Strictly Come Dancing', to huge popular acclaim. He made it through to the semi-final of the competition and cites dancing a Samba to the Tom Jones hit 'It's Not Unusual' in Blackpool's famous Tower Ballroom as a real highlight!
Aled was approached to join BBC Radio 2 to present their live flagship Sunday programme 'Good Morning Sunday'. He also became one of the main presenters of the legendary Radio 2 programme 'Friday Night is Music Night', as well as sitting in for regular daily presenters Sir Terry Wogan, Ken Bruce and Steve Wright. In addition to this Aled was given his own BBC Wales chat show and also became the presenter of BBC Radio 3 Programme 'The Choir'. Aled has since left BBC Radio 2 and BBC Radio 3 and has returned to Classic FM, where he presents his own Sunday morning' show from 7-10am.
His listening figures on his previous Classic 9-12 show were in excess of 1.1 million making it the most listened to single show on the network. He also stands in for regular weekday presenters John Suchet, Anne-Marie Minhall and Tim Lihoreau on 'Classic FM'.
In 2008 Aled took on the lead role of Caractacus Potts in 'Chitty Chitty Bang Bang' in Cardiff to great acclaim and in 2009 he joined the cast of Irving Berlin's 'White Christmas' in the starring role and played in Plymouth and Manchester. Aled returned to 'White Christmas' to star in London's West End at the end of 2014. The show was a sell-out.
Aled has also released two singles with Sir Terry Wogan in aid of the 'Children in Need' appeal. He currently has a total of 31 albums to his name – selling over 7 million copies to date. His latest album 'One Voice' reached number 1 in the classical chart and reached number 3 in the official UK charts climbing up the charts – which is a rare thing.
Aled has written three books entitled 'Aled's Forty Favourite Hymns' which was published towards the end of 2009 as well as a book on his 'Favourite Christmas Carols'. His autobiography called 'My Story' was re-published in 2013.
Aled has presented 'Escape to the Country' and 'Cash in the Attic' for the BBC and in 2012 Aled was asked to take on the co-presenting role with Lorraine Kelly on ITV's breakfast show 'Daybreak'.
Aled left in 2014 to host his own TV show called 'Weekend' every Saturday and Sunday morning on ITV1 and also co-presented 'Two Much TV' on BBC Two as well as a programme called 'The Day I Met the Queen' to celebrate the Queen's 90th birthday.
October 2016 saw Aled present 'Going Back, Giving Back' on BBC One daytime for three weeks.
In 2016 Aled released One Voice, a concept album that saw Aled duet with his younger self. The album reached Number 1 in the Classical Chart where he dominated the top spot for 14 weeks and reached Number 3 in the Official UK Charts climbing up the charts. This album also topped the charts in Australia.
Aled is touring Australia again in October 2017.
Following the success of One Voice, Aled launched the follow up album One Voice At Christmas 2016 with a spectacular press launch 18,000ft in the air where he performed the new Walking In The Air at the world's highest Christmas concert over the UK. Again this album reached Number 1 in the Classical Chart.
Russell Watson is the English Tenor from a remarkably humble background who went on to sell millions of albums and raise millions for charities. He has been privately requested by the pope and performed for various members of the royal family. His debut album "The Voice" won Album of the Year at the Classical Brit Awards. Russell was the first British person to simultaneously hold top chart positions on both UK Classical and US Classical Music charts. Available for private occasions and events Russell Watson's extraordinary talent brings joy to anyone who hears him.He famously worked in a factory making nuts and bolts before entering and winning Piccadilly Radio's 1990 'Search for a Star'. He then had his lucky break when he was invited to perform at Old Trafford after being spotted in a pub. Russell has since gone on to perform for over a billion people in live televised performances at many prestigious events including Queen Elizabeth II's Coronation Festival Gala. He has performed for the late Pope John Paul II, the Emperor of Japan, former US Presidents Bill Clinton and George Bush, The Queen, the Duke of Edinburgh and Prince Charles to name a few. He was even requested by Prince Charles to lend his hand as an ambassador to the Princess Trust charity. Russell is the man for every occasion, his consistency and ability to wow audiences never fades. In his 20 year career, he has performed at some of the most prestigious sporting events including; the 1998 Rugby League Challenge Cup Final, 1999 EUFA Champions League Final in Barcelona, the 2007 FA Cup Final. There is no stage too big or too small to handle. Russell Watson has collaborated with huge artists such as Lionel Richie, Paul McCartney and Luciano Pavarotti. His debut album "The Voice" won Album of the Year at the Classical Brit Awards and also won Best-Selling Debut Album. The album went 2x platinum in the UK. His second album 'Encore' sold almost two million copies. In 2004 he released 'Nothing Sacred – A Song for Kirsty" raising £5 million for the Francis House children's hospice in support of Kirsty Howard a girl born with one of the rarest heart conditions on the planet.Having overcome his own serious problems including two brain tumours Russell has released 5 studio albums and delivered sell-out tours across the country. He continues to use his remarkable voice to captivate audiences, he is a fantastic musician and an even better man.

This album contains no booklet.