---
Album info
Label: Sony Classical
Genre: Classical
Subgenre: Chamber Music
Artist: Raphaela Gromes
Composer: Peter Iljitsch Tschaikowsky (1840-1893), Paul Juon (1872-1940), David Popper (1843-1913), Claude Debussy (1862-1918), Felix Mendelssohn Bartholdy (1809-1847), Antonin Dvorak (1841-1904), Fanny Mendelssohn-Hensel (1805-1847), Leos Janacek (1854-1928), Anatoly Liadow (1855-1914), Robert Schumann (1810-1856), Margarete Schweikert (1887-1957), Nikolai Rimsky-Korssakoff (1844-1908)
Album including Album cover Booklet (PDF)
I`m sorry!
Dear HIGHRESAUDIO Visitor,
due to territorial constraints and also different releases dates in each country you currently can`t purchase this album. We are updating our release dates twice a week. So, please feel free to check from time-to-time, if the album is available for your country.
We suggest, that you bookmark the album and use our Short List function.
Thank you for your understanding and patience.
Yours sincerely, HIGHRESAUDIO
Pyotr Ilyich Tchaikovsky (1840 - 1893):

1

Tchaikovsky: The Sleeping Beauty, Op. 66, Act 1, No. 6: Waltz (Arr. for Piano Trio by Julian Riem)

03:40

Paul Juon (1872 - 1940):

2

Juon: Märchen für Violoncello und Klavier, Op. 8

05:18

David Popper (1843 - 1913):

3

Popper: Im Walde Suite, Op. 50: No. 2, Gnomentanz

03:46

Claude Debussy (1862 - 1918):

4

Debussy: Préludes, Book 1, L. 117: X. La Cathédrale Engloutie (Arr. for Saxophone Quartet, Cello & Piano by Julian Riem)

06:22

Felix Mendelssohn-Bartholdy (1809 - 1847):

5

Mendelssohn-Bartholdy: A Midsummer Night's Dream, Op. 61, No. 1: Scherzo (Arr. for Piano Trio by Julian Riem)

04:27

Antonín Dvorák (1841 - 1904):

6

Dvorák: Rusalka, Op. 114, Act 1: Song to the Moon (Arr. for Cello, Piano & Harp by Julian Riem)

04:38

Fanny Mendelssohn-Hensel (1805 - 1847):

7

Mendelssohn-Hensel: Zauberkreis, H. 399 (Arr. for Cello & Piano by Julian Riem)

02:14

Leos Janácek (1854 - 1928):

8

Janácek: Pohádka: II. Con moto

04:07

Anatoly Lyadov (1855 - 1914):

9

Lyadov: Baba Yaga, Op. 56 (Arr. for Saxophone Quartet, Cello & Piano by Julian Riem)

03:20

Robert Schumann (1810 - 1856):

10

Schumann: Märchenerzählungen, Op. 132: III. Ruhiges Tempo, mit zartem Ausdruck (Arr. for Piano Trio by Julian Riem)

04:07

Franz Liszt (1811 - 1886):

11

Liszt: 2 Konzertetüden, S. 145/LW.A. 218: II. Gnomenreigen. Presto scherzando (Arr. for Cello & Piano by Julian Riem)

03:08

Margarete Schweikert (1887 - 1957):

12

Schweikert: Märchenstunde (Arr. for Cello & Piano by Julian Riem)

02:14

Nikolai Rimsky-Korsakov (1844 - 1908):

13

Rimsky-Korsakov: The Tale of Tsar Saltan, Act 3: Flight of the Bumblebee (Arr. for Cello & Harp by Julian Riem)

01:21

Edward MacDowell (1860 - 1908):

14

MacDowell: Forgotten Fairy Tales, Op. 4, No. 1: Sung Outside a Prince's Door (Arr. for Cello & Piano by Julian Riem)

01:32

15

MacDowell: Forgotten Fairy Tales, Op. 4, No. 2: Of a Tailor and a Bear (Arr. for Cello & Piano by Julian Riem)

02:02

Engelbert Humperdinck (1854 - 1921):

16

Humperdinck: Hänsel und Gretel, Act 2: Abendsegen (Arr. for Saxophone Quartet and 2 Cellos by Julian Riem)

02:29

David Popper:

17

Popper: Elfentanz, Op. 39

02:49

Howard Shore (b. 1946):

18

Shore: The Shire (from "Lord of the Rings", Arr. for Cello, Piano & Harp by Julian Riem)

02:46

John Williams (b. 1932):

19

Williams: Princess Leia's Theme (from "Star Wars IV", Arr. for Cello & Piano by Julian Riem)

04:25

Total Runtime

01:04:45
Info for Imagination

IMAGINATION – the sixth album by Opus Klassik winner Raphaela Gromes takes listeners on a romantic, virtuoso and musical journey into the world of fantasy. With her soulful and brilliant performance, the young cellist conjures up powerful images before the eyes and ears of listeners. Raphaela Gromes chose works for her musical journey around the world by composers from Germany, Switzerland, the Czech Republic, Russia, Hungary, France, the US and Canada.
Several of the most beautiful and well-known works from the classical repertory were newly arranged for IMAGINATION, including the Sleeping Beauty Waltz by Tchaikovsky, the Flight of the Bumblebee by Rimsky-Korsakov, the Scherzo from Mendelssohn's A Midsummer Night's Dream, Dvořák's yearning-filled Song to the Moon, Humperdinck's magical Evening Prayer from the opera Hansel and Gretel, as well as some tracks from famous movie soundtracks, like Bag End from Lord of the Rings and Leia's Theme from Star Wars. All in all, 17 imaginative, poetic and highly virtuoso pieces are included on IMAGINATION. Many of the works chosen are from the world of fairy tales. To reflect the vivid colours of the pieces on the album arranged by pianist Julian Riem, Gromes invited many of her friends to collaborate on the album, including violinist Daniel Dodds, harpist Anaïs Gaudemard and the Arcis Saxophone Quartet.
Raphaela Gromes also interprets Franz Liszt's Dance of the Gnomes and David Popper's Dance of the Gnomes and Dance of the Elves on IMAGINATION. On this album, the young concert artist also surprises once again with compelling and rarely heard works such as Märchenstunde (Fairy Tale Hour) by Margarete Schweikert, born in Karlsruhe in 1887 – and, in collaboration with the "Frau und Musik" Archives in Frankfurt, Märchen (Fairy Tale) by Paul Juon and Pohadka by Leos Janaček, both originally composed for cello and piano. A thrilling rendition of Forgotten Fairy Tales by Edward MacDowell (1860–1908) also awaits listeners.
Raphaela Gromes is an international cultural ambassador of the SOS Children's Villages and an ambassador of the José Carreras Leukaemia Foundation. In 2020 she won the prestigious German Opus Klassik award in the Chamber Music Recording Duo category. As part of the IMAGINATION project, in July of 2021 she invited refugee children from Syria, Afghanistan, Pakistan and Nigeria to play music with her and make drawings of their dreams.
Raphaela Gromes, cello
Julian Riem, piano
Daniel Dodds, violin
Anais Gaudemard, harp
Angela Chang, cello
Arcis Saxophone Quartet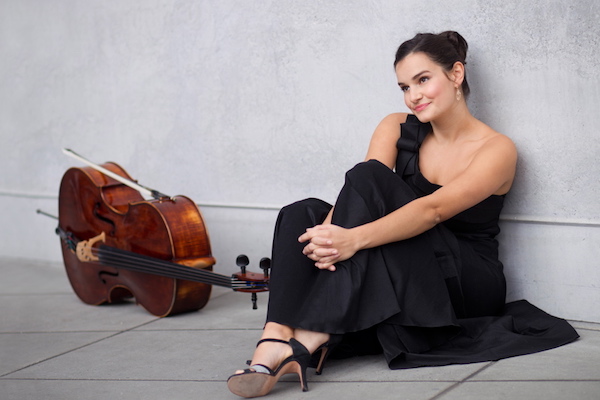 Raphaela Gromes
"I was so impressed listening to the Gromes Riem Duo performing the Debussy Sonata at a master class in Munich recently. Admittedly it is not a natural setting for performance, yet the duo played with great aplomb. But what impressed me most was the obvious wish to communicate the content to their public.
It is their courageous curiosity and energy that impressed me. Their commitment to one another as duo partners for four years is further testimony to their commitment to forge a lasting meaningful musical partnership, and to share their musical discoveries with a larger public." Yo-Yo Ma, 02/2016
Raphaela Gromes received her first cello lessons at the age of four. Being only seven years old, she already accompanied her parents – both being cellists – on stage. Her solo debut with Friedrich Gulda's cello concerto in autumn 2005 was highly acclaimed both by the audience and the media. In consequence numerous concerts with the great cello repertory followed.
Various composers have already dedicated cello concertos to her: the world premiere of Dominik Giesriegel's cello concerto in 2012 was followed by that of Valentin Bachmann's cello concerto performed by the Philharmonic Orchestra Budweis conducted by David Svec. The third world premiere, the double concerto "Chroma" that Mario Bürki had written for Raphaela Gromes and Cécile Grüebler in 2014, brought her into contact with the Swiss military orchestra. Further on she collaborated with Kent Nagano and the Czech Philharmonic as well as with Christoph Altstaedt and the Beethoven Orchestra Bonn.
Raphaela Gromes was invited to the Jungfrau Music Festival Interlaken, the Vorsprung Festival of the "Audi Summer Concerts" in Ingolstadt, the Munich Opera Festival, the Marvão International Music Festival, the Mondsee Musiktage Festival and the Edinburgh International Festival. In addition to her career as soloist she is also devoted to chamber music. Her chamber music partners are amongst others Christian Altenburger, Isabelle von Keulen, Alexander Lubimov, Patrick Demenga and Mischa Maisky. Together with her duo-partner, the pianist Julian Riem, she regularly gives concerts throughout Germany and abroad.
Her first recordings that were taken with her longtime piano partner Julian Riem, were released by Farao Music in 2014. Since 2016 she is one of SONY Classical exclusive artists. In September 2017 her first SONY-CD with the works of the late Romantic composers Giuseppe Martucci, Leone Sinigaglia, Ferrucio B. Busoni and Mario Castelnuovo, that she recorded with her partner Julian Riem, will be released.
Raphaela Gromes has already won numerous prizes: in 2011 she was awarded the Musikförderpreis des Konzertverein Ingolstadt (young musicians' scholarship), in 2012 she was first in the Competition Richard Strauss. In 2012 she was granted a scholarship of the Studienstiftung des Deutschen Volkes (German National Merit Foundation) and has been supported by Yehudi Menuhin Live Music Now since then. Furthermore she received the scholarship of the Hans and Eugenia Jütting Foundation Stendal. Raphaela Gromes and her duo cello partner, Cécile Grüebler, received the Förderpreis der Theodor-Rogler-Stiftung Bad Reichenhall (young musicians' scholarship) in 2014. In 2016 she was first in the cello solo competition of the German Music Council and became one of this year's young talented musicians who receive special promotion ("Bundesauswahl Junger Solisten"). She was first prize winner of the Kulturkreis-Gasteig competition in 2012 and 2016 and also of the international Concorso Fiorindo Turin in 2013.
Raphaela Gromes is a graduate of the University of Music and Performing Arts Munich where she studied with Wen-Sinn Yang. She started her studies with Reinhard Latzko at the University of Music and Performing Arts Vienna in 2015/16. She took master classes with well-known cellists like David Geringas, Yo-Yo Ma, Natalia Gutman, László Fenyö, Daniel Müller-Schott, Kristin von der Goltz, Wolfgang Boettcher, Anner Bylsma, Wolfgang Emanuel Schmid and Peter Bruns, who accepted her as junior student from 2006 until 2010 at the University of Music and Theatre "Felix Mendelssohn Bartholdy" Leipzig.
Raphaela Gromes' cello is a Jean-Baptiste Vuillaume instrument of 1855 that is provided by a private benefactor.

Booklet for Imagination