---
1

Sulphur & Starlight

06:42

2

Wolf Moon

04:56

3

God Particle

06:40

4

Summerland

08:24

5

A Glass Forest

04:44

6

The Wells Run Dry

04:53

7

Ode to the Future

04:17

8

Be Your Sins

05:53

9

Dust & Shadow

08:01

10

Khione

05:24

11

The Ascent to Summerland

06:20

Total Runtime

01:06:14
Info for Summerland

Founded in 2015 in Rotterdam, the Netherlands, with a name derived from the Dutch word for "wandering," dark rockers Dool embarked on an ongoing spiritual and musical journey that took them far within a short amount of time on the strength of just one album. However, hearing the sophomore "Summerland," you can't help but think its successful predecessor (ranked #13 among the "Best 100 Albums Of The New Millennium" by German magazine Rock Hard) was just a warm-up.
"Our debut 'Here Now, There Then' was a big experiment because we could not foresee at all how the band would sound," reveals singer, guitarist and overall powerhouse Ryanne van Dorst. "I took the skeletons of songs I had written to the other members, and we just started to jam, seeing what would happen. That was what we recorded, but we only found our own style while playing gigs during the last few years. The material kept growing on stage, so on the "Love Like Blood" EP, you could already hear that we had become more confident."
"Summerland" encapsulates the meaning behind the quintet's monicker. Expansive and more varied on all fronts, it represents the constant evolution that goes along with the soul's quest for ascension, resulting in a bedazzling mix of dark and post rock, Midde Eastern flourishes, psychedelia and metal. Each track displays its own identity within a loose thematic frame as summarized in the climactic title track: the struggle to find a place in this world, reaching some ultimate state mind, ecstatic pleasure and reincarnation, also inspired by Richard Matheson's novel "What Dreams May Come" as a modern take on the Biblical cycles of hell.
"The term 'summerland' comes from paganism and refers to heaven, nirvana or whatever else you'd like to call it," the lyricist explains. "Since I usually write from experience and about what keeps me awake at night, I was asking myself what makes me happy on this existential plane and how the ideal afterlife would look like. This became a recurring motif throughout the lyrics in the shapes of sex, magic, psychedelics and many other means to invoke this 'summerland' in the here and now."
The group recorded "Summerland" at DAFT Studios in Malmédy, Belgium, and Studio Cobra in Stockholm, Sweden, with Martin Ehrencrona (Tribulation, In Solitude). Mix and mastering were handled by Cult Of Luna's drummer Magnus Lindberg in Redmount Studio Stockholm. As guests, Dool invited Per Wiberg (Opeth, Spiritual Beggars, Candlemass) on Hammond organ, backing vocalist Farida Lemouchi (The Devil's Blood) and Okoi Jones (Bölzer), who contributed spoken words to 'The Well's Run Dry'.
After taking Europe by storm, Dool keep following their path to world domination with seven-mile boots, doing what they do best - devastating venues with their energetic performance, which, as Ryanne promises, "will look a bit bigger in every respect …"
Ryanne van Dorst, vocals, guitar
Micha Haring, drums
JB Van Der Wal, bass
Reinier Vermeulen, guitar
Nick Polak, guitar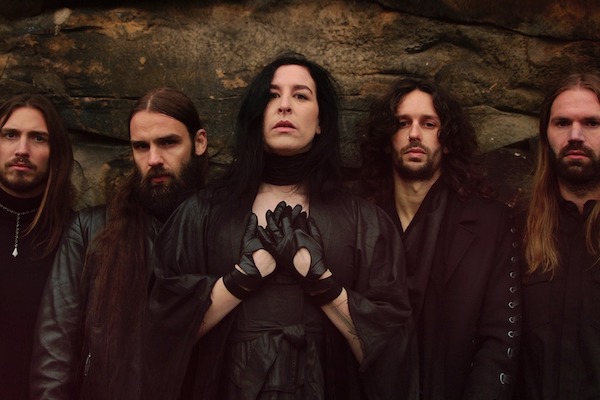 Dool
Since their hatching from underneath the industrial fumes of Dutch harbour city Rotterdam back in 2015, DOOL has undeniably left their gloomy mark on the European dark rock scene. After having risen from the ashes of both 'The Devil's Blood' and 'Elle Bandita', this pack of wildlings has gathered and set their collective goal to achieve creative evolution and spiritual ascension through the unity that was since then called 'DOOL'.
'Dool' being derived from the Dutch word for 'wandering', the five-piece started soul-searching their way through rhythms and melodies that would soon evolve into their debut album 'Here Now, There Then'. A first glimpse of what DOOL was becoming was unveiled by the single 'Oweynagat' and its eerie and mysterious accompanying video. The full album was released in 2017 on German Prophecy Productions, who were one of many record labels offering the band a record deal immediately after their infamous Roadburn Festival (NL)2016 showcase.
Something's stirring underneath the industrial fumes of Rotterdam. Amidst the rancid rats, malodorant traffic and greasy trays of manufactured meat, vast masses of unobtained, raw energy flows about freely. From the emptiness which arose from the omnipresence of materialism and technology, something new can manifest in it's wake. Turning their backs to the metropole's mass-identity and urban-individual, the unavoidable birth of Dool has taken place.
Dool wanders through dim streets, out of the city - into the wild. Carried by infinite, sometimes hypnotizing guitar parts, singer Ryanne van Dorst takes the listener from dark caves, inhabited by ancient ghosts ("Oweynagat"), to the deep abysses of a broken heart ("Death of Love"). At times sensual and teasing, like a child molester holding a bag of candy on a playground ("Words on Paper"), at other times imposing and ominous, in the sinister, 10 minute-long epic "Vantablack".
The band, consisting of Micha Haring (The Devil's Blood, The Hands) on drums, JB Van Der Wal (Herder, Aborted) on bass, Reinier Vermeulen (The New Media, Liar of Golgotha) on guitar and Nick Polak (Gold) on guitar, are aggressive as well as dynamic, alternating shreds of dark rock, gothic pop, as well as bits of psychedelic metal in an ever surprising manner. Audibly influenced by bands such as Sisters of Mercy and Sonic Youth, Dool bends their musical nurture to their own creation, searching for a true identity.

This album contains no booklet.