---
Album info
Album including Album cover
1

Mr. Lizard Said

04:15

2

Lemonade

03:39

3

Pushed to the Edge of Ideas by Dispassionate Bias-Algorithm Bots

05:37

4

Still

06:14

5

Heliopteryx

05:32

6

Nebulounge

05:12

7

Apes in Rapture

06:17

8

Forget What You Know

04:06

9

Green Moon

05:21

10

Obsidian Butterfly

07:51

11

Drowning on the High Ground

10:15

Total Runtime

01:04:19
Info for Absurd in the Anthropocene

In a time marked by unpredictability and absurd realities, music imbued with spontaneity and improvisation seems especially relevant. Internationally recognized trumpet player and composer-producer-entrepreneur Dan Rosenboom embraces the chaos and seeks to endow us with hope and joy along the way.
"Absurd in the Anthropocene" is in line with his abstract musicianship and virtuous experimentalism but, naturally, pushes the envelope. The record's inspirations run the gamut from Miles Davis and Ornette Coleman to Frank Zappa, Soundgarden, and Squarepusher, and its title refers to the complicated and often surreal times in which we live.
"This album is about responding to our modern world in a way that is reflectively critical yet frenetically joyous," Rosenboom says. "Maelstrom and cognitive dissonance are everywhere, online and on the news. People cherry-pick what they want to believe and discount factual data. Inequity is rampant. In the face of such overwhelming chaos, turning toward our inner humanity is a powerful move. I want to take all that emotional fuel, and turn it into something creative, spontaneous, and beautiful."
Rosenboom, a musician at the forefront of Los Angeles' ever-thriving creative music scene, boasts an international reputation for boundary-pushing projects and relentless productivity. A trumpet virtuoso equally at home in improvised and classical music, the prolific musician has been featured on stages and festivals all over the world, and has been described as "a phenomenon" by the Los Angeles Times.
"Absurd in the Anthropocene" is loaded with an absurd crew of musicians, including producer and keyboard master Jeff Babko, legendary drummers Vinnie Colaiuta, Gary Novak, and Zach Danziger, renowned bassists Jimmy Johnson, Tim Lefebvre and Jerry Watts Jr., Rosenboom's longtime collaborator Gavin Templeton and jazz icon David Binney on saxophones, guitarists Tim Conley, Alexander Noice, and Jake Vossler, electronics wizard Troy Ziegler, and horn-playing colleagues Brian Walsh, Ryan Dragon, Juliane Gralle, and Javier Gonzalez. The record's first session was recorded at Capitol Records with prized engineer Steve Genewick, while the second and third took place at Stella Sound Studios under the direction of revered producer, engineer, and mixer Justin Stanley.
"When I'm playing music with my compatriots, the world feels right, at least for a moment," Rosenboom said. "It's about returning to 'the now.'"
Creating such an ambitious album sounds like a tall order for any musician. But given Rosenboom's uniquely learnèd upbringing, his impressive resume, and his balance of confidence and humility, it is a vision and sound that this maverick musician has boldly realized.
"What I'm trying to express is that through intelligent thought and spiritual inquiry, there is a way forward culturally that can result in a lot of joy."
Dan Rosenboom, trumpet, cornet
Jeff Babko, producer, keyboards
Gavin Templeton, saxophone (2-3, 5-11, piano (4)
David Binney, saxophone (7)
Tim Lefebvre, bass (2, 5, 6, 8)
Jerry Watts Jr., bass (3, 4, 9, 11)
Jimmy Johnson, bass (7, 10)
Zach Danziger, drums (1, 2, 5, 6, 8)
Gary Novak, drums (3, 4, 9, 11)
Vinnie Colaiuta, drums (7, 10)
Tim Conley, guitar (2)
Alexander Noice, guitar (10)
Jake Vossler, guitar (10)
Troy Zeigler, electronics (5)
Brian Walsh, horns (7)
Javier Gonzalez, horns (7)
Ryan Dragon, horns (7)
Juliane Gralle, horns (7)
Recorded by Justin Stanley (Stella Sound Studio, Los Angeles, CA), and Steve Genewick (Capitol Records, Los Angeles, CA)
Mixed by Justin Stanley (Stella Sound Studio, Los Angeles, CA)
Mastered by Caspar Sutton-Jones (Gearbox Records, London, UK)
Produced by Jeff Babko
Executive Producer: Darrel Sheinman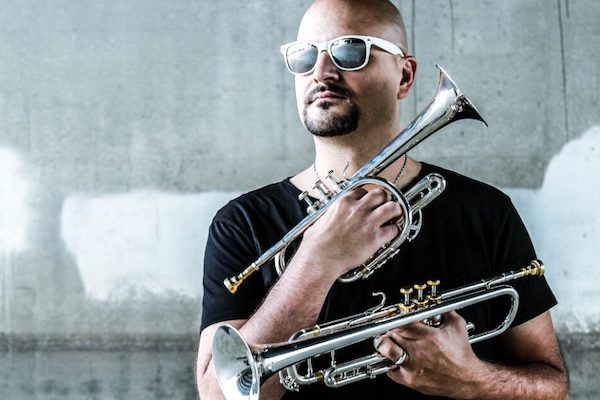 Dan Rosenboom
In a time marked by unpredictability and absurd realities, music imbued with spontaneity and improvisation seems especially relevant. Internationally recognized trumpet player and composer-producer-entrepreneur Dan Rosenboom embraces the chaos and seeks to endow us with hope and joy along the way.
Rosenboom, a musician at the forefront of Los Angeles' ever-thriving creative music scene, boasts an international reputation for boundary-pushing projects and relentless productivity. A trumpet virtuoso equally at home in improvised and classical music, the prolific musician has been featured on stages and festivals all over the world, and has been described as "a phenomenon" by the Los Angeles Times.
The highly decorated Rosenboom was born on May 7, 1982 in Berkeley, CA to a composer-performer father who was a trailblazer of early computer music and a mother who was an avant-garde vocalist, designer, and visual artist. From these roots, Rosenboom developed an approach to music and trumpet playing that is highly personalized yet grounded in a global and forward-thinking sensibility.
"From the beginning, I was surrounded by people who were examining and redefining what we consider art to be," Rosenboom said. "That has had a lasting impact on me, and gave me a true and deep love of exploration through the artistic creative process."
Early on, the musician also acquired an interest in music that reflects cultural and social movements. "When I was younger, I was always interested in music inspired by what was happening in the world at large," he said, "and that's become an ongoing theme in my music: responding to culture."
Rosenboom's explorations into avant-garde music and what he calls "the intersection of intellectualism and spirituality" deepened while he earned an undergraduate degree at the prestigious Eastman School of Music in Rochester, NY in 2004, and graduate degrees at UCLA and California Institute of the Arts in 2006 and 2007, respectively.
It was at the latter institutions that his love for improvisational music permanently took root, and around that time he entered Los Angeles' creative music scene. Working closely with LA icon Vinny Golia, and with his own Balkan jazz-rock group PLOTZ, and improv band DR. MiNT, as well as many other projects, Rosenboom's route into the jazz world was circuitous, to say the least. However, over the last decade, he's solidified his place as a pillar in LA's music community, and has produced more than 25 albums, both under his own name and with various bands. He is also the founder of visionary creative music label Orenda Records, whose roster encompasses dozens of artists.
As a composer, he has been recognized with grants and awards from the American Composers Forum, ASCAP, the Meet the Composer Foundation, and the Yvar Mikhashoff Trust for New Music. As a bandleader, he has brought his music to such renowned festivals as the Monterey Jazz Festival, Angel City Jazz Festival, Jazzfestival Saalfelden and Jazz em Agosto.
As a Hollywood studio recording artist, he has worked with such notable film composers as John Williams, Hans Zimmer, Alan Silvestri, Danny Elfman, Alexandre Desplat, James Newton Howard, and many more. Moreover, Rosenboom has performed with many of the elite classical music groups in Los Angeles, including the Los Angeles Philharmonic, Los Angeles Opera, Los Angeles Chamber Orchestra, Monday Evening Concerts, Southwest Chamber Music, the Long Beach Opera, and has toured as principal trumpet of the Dallas Brass, and as pop superstar Josh Groban's trumpet soloist.
Throughout Rosenboom's myriad pursuits, he has always maintained a sense of optimism and possibility. "I don't think I've ever experienced hopelessness as an artist," he said. "I try to maintain a sense of hope even when things are very dark - I've always turned to art and music as a respite from all that."
With that said, Rosenboom's protest band Burning Ghosts tackles socio-political concerns head on. A rousing cross-section between experimental jazz, punk, and metal, he said they "play wild music in reaction to the modern social and political ills we see everywhere. It's a space to rebel against the craziness." Rosenboom formed the iconoclastic band in 2015, in response to the police killing of unarmed black men and many other salient social and political issues. To date they have released four albums, one of which was picked up by John Zorn's iconic Tzadik label.
In sum, Dan Rosenboom is regarded as one of Los Angeles' top musical pioneers. His stature in the City of Angels led the Los Angeles Times to dub Rosenboom "a musician dedicated to exploration and expression, regardless of anyone's imagined boundaries."
Rosenboom's newest release under his own name, Absurd In The Anthropocene, is in line with his abstract musicianship and virtuous experimentalism but, naturally, pushes the envelope. The record's inspirations run the gamut from Miles Davis and Ornette Coleman to Frank Zappa, Soundgarden, and Squarepusher, and its title refers to the complicated and often surreal times in which we live.

This album contains no booklet.