---
Album info
Album including Album cover
1

first time (before)

02:21

2

bridge - difference

01:26

3

fragile

04:20

4

holding tight

02:35

5

happening

05:30

6

in warmth in solitude

02:55

7

no answer

04:32

8

redemption not without

04:02

9

loss and gain

04:23

10

wwwbwwwwb - in between

04:44

11

finally (after)

03:43

Total Runtime

40:31
Info for Loss and Gain

The improvising trio of bassist James Ilgenfritz, drummer Brian Chase, and esoteric woodwind specialist Robbie Lee present a 40-minute set of diverse, meditative, and often overtly expressive improvised performances. Centered on the Just Intonation experiments of Brian Chase's "happening" and James Ilgenfritz's unique Just Intonation scordatura on "no answer," the album constantly fulfills and thwarts expectation. The trio's collective vocabularies blend lowercase abstraction, contemplative jazz musings, and contemporary classical chamber music: A freedom that readily embraces clear allusions to the familiar.
In addition to the members' diverse work as solo artists and in various groups, the trio has performed around New York City at venues like The Stone, as well as Rhizome in Washington, DC and the Mattress Factory in Pittsburgh (where the group also lectured to composition graduate students at Carnegie Mellon University. In December the group will present a hybrid live/virtual concert for the third semi-annual Infrequent Seams Streamfest.
Liner Notes: When the improvising trio of bassist James Ilgenfritz, drummer Brian Chase and esoteric woodwind specialist Robbie Lee first crossed paths in New York City, a common bond of shared musical ideas was already in place.
"We're somewhat like a collective brain," as Lee describes the synergy. "There's almost a bio-feedback organism vibe to this group." That collective brain includes a blend of lowercase abstraction, contemplative jazz musings and contemporary classical chamber music that embraces artistic expressions that value vulnerability, fragility and subtlety.
The result is Loss and Gain, a 40-minute set of diverse, meditative, and even quietly expressive improvised performances. The album ethos sprang from a death of controlled expectations, that led to a birth of greater potentialities, possibilities, and sonic experimentations. Alongside open improvisation, Loss and Gain presents two tracks that explore just intonation, Chase's composition "happening" and the scordatura pure and altered tuning of Ilgenfritz's "no answer."
Loss and Gain constantly fulfills and thwarts expectation through the form of free improvisation or free jazz, which doesn't actually mean anything goes. Rather it's about individual members' capacities and willingness to not only listen, but actually hear what the others are saying.
"We make decisions that reflect the expressions, perspectives and values that are being freely expressed by the members of the group," describes Ilgenfritz. "Freedom in this context comes through listening, respect, and trust. That doesn't mean it has to be pleasant 100% of the time, but that when the music becomes ugly, pretty, fast, slow, or any other type of demonstrative characteristic, it develops from the group's shared intentions."
Certain types of improvisation, musical or otherwise, leave more to chance, or intuition, than others. The level of external structure informing one's internal decisions can vary drastically in different situations. In musical improvisation, that which goes unspoken is often the single most essential component of success, even when "success" totally evades definition.
We rarely find words that are adequate to express what's most valuable about any type of experience in life; and perhaps that's what motivates this trio to try. The music made by this trio has evolved out of the situations in which they've found themselves, with those situations and experiences embedded in what's created.
Ilgenfritz recalls a favorite childhood story about a group of kids with a refrigerator box who develop a long string of fantastic adventures with their potent imaginations. They reshape the box, decorate it and even work with it after rain has reduced it to mush.
"This recording brings this story back to my mind, because the music we played is like a series of adventures derived from having a big empty box and deciding what that box could be," says Ilgenfritz. "It's much more engaging than if the box already WAS something."
Loss and Gain is a type of aural magnifying glass. Through its lens, that which is often overlooked is given a spotlight: the minutiae, the ephemera, the delicate (the delicacy), the vulnerable, the subconscious. An embrace such as this treats the world in its fullest totality, and with this way of looking the world doesn't seem the same as it once was.
James Ilgenfritz, double bass
Brian Chase, drums
Robbie Lee, saxophones, recorders, flutes, electronics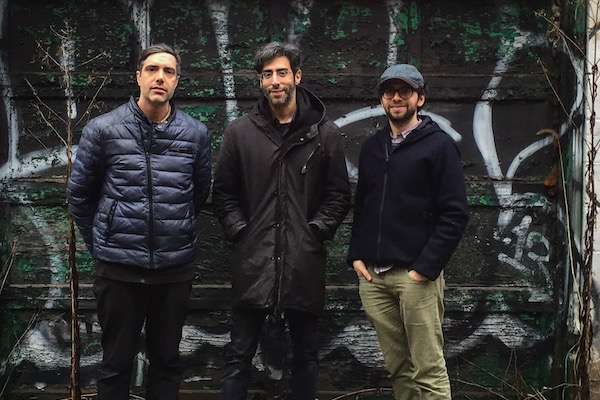 James Ilgenfritz
approaches the double bass as an archeologist, examining rarified aspects of the instrument's sonic palette to confound the status quo. His work has been praised in Time Out New York, Signal To Noise, All About Jazz –New York, and Downbeat Magazine. A tireless musical traveler, James has taken part in recent performances including work with Anthony Braxton, Pauline Oliveros, George Lewis, Elliott Sharp, John Zorn, Lukas Ligeti, Gary Lucas, Steve Swell, and Denman Maroney. He is a member of Billy Fox's Blackbirds and Bullets, Eric Eigner's Mysterium Project, Gordon Beeferman's Imaginary Band, Chris Botta/Joe Branciforte's The Cellar And Point, and Ted Hearne's The Delusion Story.
Collaborative projects include Trio Caveat (improvisational salon jazz featuring Jonathan Moritz and Chris Welcome), Hypercolor (spastic jazz-inflicted art- rock noise fest with Lukas Ligeti and Eyal Maoz), and Urbana (cinematic jazz nostalgia and imaginings for quintet, with Evan Mazunik, John O'Brien, Frantz Loriot, and Bryan Pardo).
James' own projects include Ensemble NSFW (contemporary chamber works dealing with the integration of traditional and graphic notation, indeterminacy, and improvisation), the Anagram Sextet (extended chamber works for 2 woodwinds, 2 guitars, and bass and percussion), and his solo developments of original music and that of various contemporary composers (including an upcoming recording of the music of Anthony Braxton).
James performs around New York at a wide variety of venues, focusing primarily on improvised music hubs Issue Project Room, Roulette, The Stone, Zebulon, Cornelia St Café, Barbes, I-Beam, and Douglass St Music Collective, but James has also performed music by Giacinto Scelsi and Ted Hearne at The Kitchen, music by John Cage at The World Financial Center Winter Garden, premiered new music for solo double bass at Symphony Space, and collaborated with beatboxer Adam Matta at the New Museum in SoHo.
Outside New York, James has performed at The Kennedy Center (Washington DC), The Empty Bottle, and Elastic Arts (Chicago, IL), the Museum of Making Music (San Diego, CA), 119 Gallery (Lowell, MA), The Windup Space (Baltimore, MD), and at festivals for improvised music including the Vancouver International Jazz Festival, the 14th Annual Edgefest (Ann Arbor, MI), the New Atlantis Festival (Washington, DC), and the Spring Reverb Festival (San Diego, CA).
James is 2011 is Artist In Residence at Issue Project Room, and will present a variety of new chamber works, small ensemble projects, and premieres of solo works composed for him. James was a fellow at Music OMI international Musicians Residency in 2009. In 2007 James received a Subito grant from the American Composers Forum for a cross-country tour, performing newly commissioned works for contrabass by composers Jeffrey Treviño, Stephen Rush, and Gordon Beeferman, culminating in a performance at Roulette in New York. James also hosts the Ten Thousand Hours Podcast, which features conversations and duo improvisations with such artists as Robert Dick, Matana Roberts, Aaron Siegel, Andrew D'Angelo, and Pauline Oliveros.
Improvisation is central to James's work, and he has written and lectured on the art of improvisation and its metaphorical relationship to the practical complexity of daily life. James has given lectures on improvisation at CalArts, Towson University, and the University of Michigan. James received a Bachelor's degree from University of Michigan and a Master's degree University of California San Diego, and is currently on faculty at Brooklyn College Preparatory Center and at Brooklyn Conservatory.

This album contains no booklet.