---
Album info
Album including Album cover
Harry Stafylakis (b. 1982): Focus:

1

Focus: I. Radial Glare

05:14

2

Focus: II. Inward Gaze

04:24

Andrew Staniland: Choro:

3

Choro: the Joyful Lament for Villa-Lobos

08:13

José Evangelista (b. 1943): José Evangelista

4

Retazos: I. Recordando a Pepe Balaguer

03:51

5

Retazos: II. Marcha lenta

01:49

6

Retazos: III. Alegre

02:17

7

Retazos: IV. Fluido

01:47

8

Retazos: V. Escalas

01:23

Patrick Roux: Ombres et lumières:

9

Ombres et lumières: I. Dans l'ombre (Lento meditativo)

02:18

10

Ombres et lumières: II. Vers la lumière (Allegro deciso et ritmico)

05:22

Jason Noble:

11

River and Cave

11:55

Total Runtime

48:33
Info for Focus

This enterprising recording of new Canadian works for guitar duo possesses two important features. The first is the quality of the music per- formed. Though infused with a myriad of differing influences and exhibiting a vast array of guitar techniques, these works are both richly flavoured and enticing in their varying musical approaches. Second, the Adam Cicchillitti and Steve Cowan duo display an impressive technical assurance and admirable interpretive insights. The latter is hardly surprising, as the duo has had the privilege of pre- paring the program of works with their respective composers.
The celebrated Montreal composer José Evangelista's 2010 composition Retazos explores methods of making music based exclusively on melody in an innovative, haunting yet vibrant work in five movements. Cicchillitti and Cowan arranged the piece for guitar duo in early 2017 and gave its world premiere as part of the Société de musique contemporaine du Québec's homage series to Evangelista.
Also in 2017, Cicchillitti and Cowan commissioned a new piece for guitar duo from famed guitarist, teacher, and composer Patrick Roux. The source of inspiration for Ombres et lumières (Shadows and Lights) was a painting of the same name by Roux's close friend Mario Courchesne. Ombres et lumières is in two movements, the first, in Roux's own words, "evoking human sorrow, immersing the listener in shadow and obscurity" is strikingly contrasted with the second, a rapid and relentless section that reflects a "journey on a sinuous, frantic and adventurous path towards the light." The work was conceived as a dialogue between shifting musical motifs, culminating in the more obsessive rhythms of progressive rock. Ombres et lumières was premiered in September 2018.
Andrew Staniland's 2017 piece Choro: The Joyful Lament for Villa-Lobos uses a typical Brazilian 'choro' (lamentation) as a source of inspiration. The rhythmically rapid and ironically joyful nature of the choro helps infuse the piece with not only extended guitar techniques but considerable virtuosic elements, aided by the composer's original indications such as "Quiet, but driving" and "Vivacious and playful."
Originally written for two harps, Noble arranged and edited River and Cave for Cicchillitti and Cowan, who premiered the piece in October 2018. The music of Jason Noble has been described as "brilliant, colourful, astounding and challenging," all of which describe his work River and Cave. Symbols form an integral part of Noble's work and his self-stylized 'semiotic' compositional style, in which the composer focuses on the listener's perception of meaning derived from musical symbols. Noble notes that the "river and cave are deeply embedded cultural symbols" that are represented in the work's three sections. The first is animated by a feeling of perpetual motion through the use of repeated patterns to emulate a fl owing river. In the river's second, contrasting, section, the performers are asked to detune the guitar's bass strings, simulating the rumbling and rushing of water. In the final "cave" section, the performers sing into the body of the guitar to evoke sound images of caves.
Focus is the result of a 2018 Canada Council for the Arts grant to Cicchillitti and Cowan, who commissioned this new work from Canadian- American composer Harry Stafylakis. A captivating and enthralling piece, Focus assimilates three themes dear to Stafylakis' heart; progressive metal, classical music, and traditional Greek music. According to the composer, the opening movement of this virtuoso two-movement work, "Radial Glare," "leans heavily on the metal end of the spectrum, deploying both classical and electric guitar idioms in an unrelenting virtuosic, ferociously extroverted stream of sound and tight ensemble work." Based on thematic material inspired by the second movement of Beethoven's seventh symphony, the final movement, "Inward Gaze," is more classically-inclined.
Adam Cicchillitti, classical guitar
Steve Cowan, classical guitar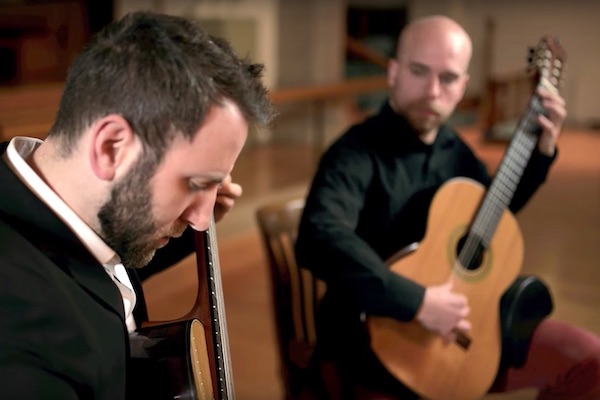 Adam Cicchillitti
is a "superb Canadian guitarist" (Classical Guitar Magazine, 2017), currently based in Ottawa. Originally from Montréal, Adam's competition successes have placed him on concert stages across Canada and the United States. Adam is an active performer, teacher, arranger, and composer. His arrangements and compositions for guitar are published by editor and publishing house Les Productions d'Oz.
In 2016, he toured Eastern Canada with Jeunesses Musicales and baritone Philippe Courchesne-Leboeuf, showcasing his arrangements of German and Spanish song cycles for the intimate duo of voice and guitar. The ensemble, entitled Lieder & canciones, performed in over 20 Canadian cities and was featured regularly on Radio-Canada and CBC, and at Angèle Dubeau's Fête de la musique, Place des Arts (Montréal), and Salle J.-Antonio-Thompson (Trois-Rivières). At the request of Radio-Canada, Adam also arranged 20 Schubert lieder to accompany Philippe Sly in their program Révélations 2013. The video recordings have reached hundreds of thousands of people internationally through social media.
Adam is currently completing a doctorate in music performance at McGill University, studying with renowned guitarist Jérôme Ducharme. He appeared on the CBC's Top 30 under 30 list in 2017, representing the most promising classical musicians in Canada under 30 years old. The CBC described Adam as an "ardent ambassador of the classical guitar in Canada". Finalist, semifinalist and multiple prize-winner in several national and international competitions, Adam will tour with acclaimed guitarist Steve Cowan and Debut Atlantic in 2018. Adam is the founder of the guitar program at Ottawa Suzuki Strings and is a specialist in child pedagogy.
Steve Cowan
Canadian guitarist Steve Cowan has performed and taught extensively throughout Canada, the United States, and Europe. His critically-acclaimed debut album, Pour guitare, features exclusively Canadian music and has helped to establish him as "one of Canada's top contemporary classical guitarists" (Classical Guitar Magazine). He has commissioned several new works for guitar and given world premieres in major cities such as Paris, Toronto, and New York.
The 2018-2019 season will include Steve's orchestral debut as a soloist with Ensemble del Arte in Germany, a duo tour of the Atlantic provinces with guitarist Adam Cicchillitti, and the release of a new album with the EMEC discos label in Madrid. The album will feature lesser-known 20th century repertoire as well as the premiere recording of Arctic Sonata by Gulli Björnsson, which was premiered by Steve at the Toronto Guitar Weekend in 2016.
Steve has won awards at 9 major national and international performance competitions, 7 of which are first prizes. A distinguished teacher, he has given public masterclasses at the University of Victoria, McMaster University, Conservatorium van Amsterdam, the Royal Danish Academy of Music, and more. Steve is originally from St. John's, Newfoundland, and holds degrees from Memorial University, the Manhattan School of Music, and is currently pursuing Doctoral studies at McGill University in Montréal. His former teachers include Sylvie Proulx, David Leisner, and Jérôme Ducharme.

This album contains no booklet.