---
Album info
Label: 2L
Genre: Classical
Subgenre: Choral
Artist: Uranienborg Vokalensemble, Kåre Nordstoga & Elisabeth Holte
Composer: Samuel Sebastian Wesley, Marcus Paus, Trond Hans Farner Kverno, Charles Henry Purday, Eyvind Alnæs, Christian Sinding, Johann Sebastian Bach (1685–1750), Hans Leo Hassler, Johannes Brahms, Columbian Harmony, Marianne Reidarsdatter Eriksen, Oddmund Åvik, Gregorian, Kåre Nordstoga, Norsk folketone fra Heddal, Elisabeth Holte, Henrik Ødegaard, Thomas John Williams, Egil Hovland, Hans Thomissøn, Christopher Ernst Frederik Weyse, Bjørn Morten Christophersen (1976
Album including Album cover Booklet (PDF)
?
Formats & Prices
| | | | |
| --- | --- | --- | --- |
| Format | Price | In Cart | Buy |
| FLAC 176.4 | $ 18.90 | | |
| FLAC 88.2 | $ 15.80 | | |
| DSD 128 | $ 21.60 | | |
| DSD 64 | $ 18.90 | | |
| MQA | $ 19.80 | | |
Samuel Sebastian Wesley (1810 - 1876):

1

Guds kirkes grunnvoll ene (NoS 532)

05:32

Marcus Paus (b. 1979):

2

Vreidedagen, han skal renna (NoS 505)

07:55

Charles Henry Purday (1799 - 1885):

3

Lei, milde ljos (NoS 858)

02:57

Christian Sinding (b. 1941):

4

Jesus, det eneste (NoS 422a)

04:13

Johann Sebastian Bach (1685 - 1750):

5

O hode, høyt forhånet (organ solo, Bach)

02:12

6

O hode, høyt forhånet (NoS 166)

07:14

Johannes Brahms (1833 - 1897):

7

O hode, høyt forhånet (organ solo, Brahms)

02:05

Marianne Reidarsdatter Eriksen (b. 1971):

8

And when this flesh and heart shall fail (NoS 342)

06:35

Tradional Gregorian:

9

I dine hender, Herre Gud (NoS 941)

01:41

Kåre Nordstoga (b. 1954):

10

Når mitt øye, trett av møye (organ improvisation)

01:34

Elisabeth Holte:

11

Når mitt øye, trett av møye (NoS 884)

04:44

Henrik Ødegaard (b. 1955):

12

Å, for djup i Jesu kjærleik (NoS 703)

05:37

Egil Hovland (1924 - 2013):

13

Slik som min Fader sendte meg (NoS 991)

02:29

Bjørn Morten Christophersen (b. 1976):

14

Dagvise (NoS 789 og 229)

09:30

Trond Hans Farner Kverno (b. 1945):

15

Vi skal se deg, Herre Jesus (NoS 102)

04:56

Total Runtime

01:09:14
Info for HIMMELBORGEN

For centuries, hymns have transported people through grief, joy, faith and doubt, in everyday life and in times of celebration. The rich treasury of words and music in our hymn book seeks to preserve and renew tradition. It is a tradition that is far from static, evolving through new interpretations by composers, poets and performers of today. On this recording the three composers Marcus Paus, Marianne Reidarsdatter Eriksen and Morten Christophersen contribute new works based on old hymns. It is here that the hymn tradition reveals its strength, and old words are discovered anew through new arrangements and compositions.
Uranienborg Vokalensemble
Kåre Nordstoga, organ
Elisabeth Holte, conductor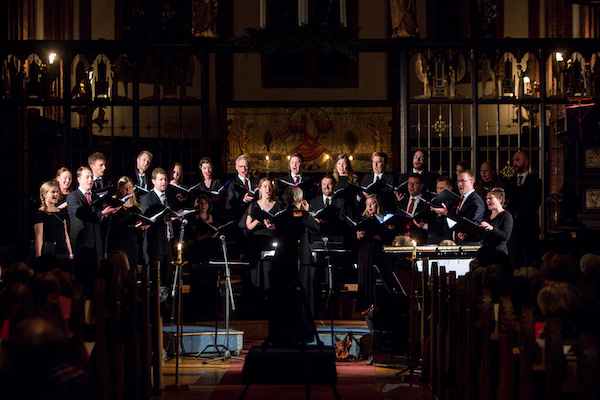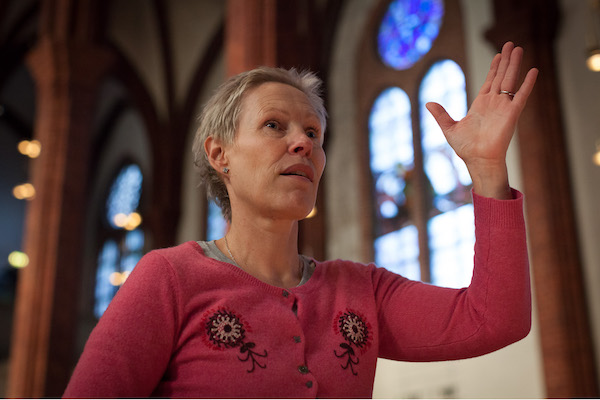 Uranienborg Vokalensemble
is one of Norway's leading chamber choir. The 26 voices strong mixed ensemble is based in Uranienborg church, Oslo. In 2016, following the release of the album «Himmelrand», the choir's contribution to the renewal of the choral and sacred music tradition was recognized with a nomination to the Grammy Award in the category of «Best choral performance». The following year the ensemble was awarded several prizes, including a special prize for the best interpretation of contemporary music, at the renowned international choral competition, Polifonico Guido d'Arezzo.
The choir performs a capella music of different epochs and styles, as well as larger works in cooperation with some of the country's leading professional instrumentalists, soloists and orchestras - among them the period-instrument orchestra Barokkanerne - Norwegian Baroque Orchestra and musicians from the Norwegian Radio Orchestra (Kringkastingsorkestret).
The idea of bridging old and new choral music is pivotal to the choir's activities, and has lead to the commission of several new works by young Norwegian composers, such as Marianne Reidarsdatter Eriksen, Marcus Paus, Ørjan Matre, Morten Christophersen og Ola Gjeilo.
At several occasions, the choir has worked with guest conducturs, including David Hill (BBC Singers, UK), Grete Pedersen (The Norwegian Soloist's Choir) and Kjetil Almenning (Director of Music, Cathedral of Bergen).
Uranienborg Vokalensemble was founded in 2002 by Elisabeth Holte. She is the conductor and the artistic leader of the choir, and one of two cantors at Uranienborg Church.
Elisabeth Holte
is the musical director of Uranienborg Vokalensemble and cantor at Uranienborg Church. She founded Uranienborg Vokalensemble in 2002. Through concerts, tours, competitions and recordings, the choir has built a reputation for presenting choral music to the highest standards.
Holte is trained in sacred music, conducting and musical education pedagogy and holds a Master's degree from The Norwegian Academy of Music. She has also studied with Eric Ericsson in Stockholm, and is in demand for guest conducting and choral training workshops throughout Norway and abroad. She enjoys working both with a cappella repertoire as well as larger works for choir and orchestra, and has led several new commissions by composers such as Ørjan Matre, Ola Gjeilo og Marianne Reidarsdatter Eriksen.

Booklet for HIMMELBORGEN