---
Album info
Album including Album cover Booklet (PDF)
Tudor Dumitrescu (1957 - 1977): 7 Preludes:

1

No. 1, Lento languido

02:30

2

No. 2, Allegro impetuoso

01:35

3

No. 3, Andante molto rubato

01:26

4

No. 4, Allegretto (Tempo di valzer)

01:07

5

No. 5, Molto animato ed agitato

02:32

6

No. 6, Sereno

02:17

7

No. 7, Largo e sonoro

01:57

Prelude in C-Sharp Minor:

8

Prelude in C-Sharp Minor

01:49

Prelude in B Minor:

9

Prelude in B Minor

06:12

Dinu Lipatti (1917 - 1950):

10

Sonata romantica

05:58

11

Little Suite: Prelude

00:46

12

Nocturne in A Minor (On a Moldavian Theme)

03:14

13

Nocturne in F-Sharp Minor

05:28

Leoš Janáček (1854 - 1928): V mlhách, JW VIII/22:

14

I. Andante

03:58

15

II. Molto adagio

05:13

16

III. Andantino

04:32

17

IV. Presto

04:54

Johann Sebastian Bach (1685 - 1750): Keyboard Concerto in D Minor, BWV 974:

18

II. Adagio (After A. Marcello's Oboe Concerto)

04:27

Total Runtime

59:55
Info for Early Departures

Matei Vargas artistry has received standing ovations from audiences around the world and superlative reviews from prominent critics. Noting that it is hard to find the right words to describe the beauty of Mr. Vargas playing, Corriere della Seras chief critic Paolo Isotta praised the young artist as a true poet of the keyboard, a musician of depth, and a genuine artist. Other critics have found his performances impressive (Gramophone, 2016), magical (Süddeutsche Zeitung, 2009), colorful, vivacious [and] engaging (Le Diapason, 2012). Discovered at age 10 by soprano Mariana Nicolesco, he went on to win top prizes at the George Enescu International Piano Competition and the International Maria Canals Piano Competition. Mr. Varga is also a recipient of the Salon de Virtuosi Career Grant and a runner-up at the Vendome Prize in Lisbon, where he was singled out by Elisabeth Leonskaja who awarded him a special prize. This release features rarely heard and recorded works by Dinu Lipatti and Tudor Dumitrescu, the theme throughout the album being the undercurrent of sadness that all of these pieces possess.
Matei Varga,
piano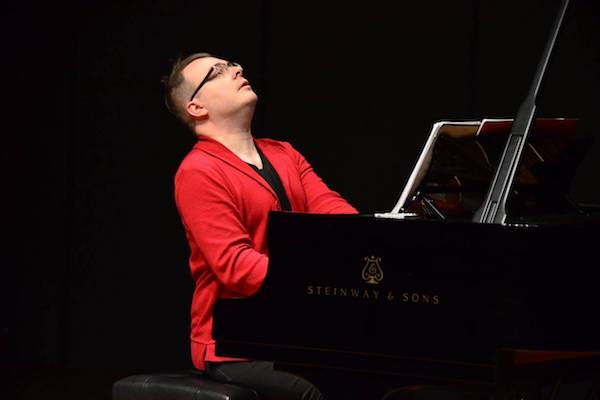 Matei Varga
In recent years, Mr. Varga's artistry has received standing ovations from audiences around the world and superlative reviews from prominent critics. Noting that "it is hard to find the right words to describe the beauty" of Mr. Varga's playing, the legendary Italian critic Paolo Isotta praised the young artist as a "true poet of the keyboard, a musician of depth, and a genuine artist." Other critics have found his performances "impressive" (Gramophone, 2016), "magical" (Süddeutsche Zeitung, 2009), "colorful, vivacious [and] engaging" (Le Diapason, 2012), "luminous" (ConcertoNet 2011), and "spectacular" (Adevarul, 2013).
A "musician who can imbue even the simplest of melodic lines with meaning" (Fanfare, 2012), Mr. Varga is equally at home in staples of the pianistic repertoire and works written by today's foremost composers, as evidenced by his commission to perform the European premiere of Michael Hersch's "insanely difficult" second piano concerto, which left the audience "astonished" (Neue Musikzeitung, 2013). His latest recording in collaboration with cellist Laura Metcalf ("First Day") was ranked in the top 10 of Classical Music Billboard chart in May 2016. Gramophone magazine wrote that "the cellist and pianist brilliantly address the music's intense rhythmic interplay and extended lyrical passages".
Photo by Jason Wang Mr. Varga's 2017-18 appearances include performances of Messiaen's Quartet for the end of time at venues in Portland, Los Angeles and Albuquerque, two appearances with the "George Enescu" Philharmonic at the Romanian Atheneum in Bucharest (performing Beethoven's G major piano concerto) and a promotional tour of his latest recital-CD "Early Departures" released by Sono Luminus.
Winner of the "George Enescu" prize in Bucharest and laureate of the "Maria Canals" competition in Barcelona, Mr. Varga is also a recipient of the Salon de Virtuosi Career Grant. He has appeared as a soloist and recitalist in many of the world's leading concert halls, among them Carnegie Hall and Alice Tully Hall (New York), Konzerthaus (Berlin), the Auditorium du Louvre, Salle Gaveau, and Salle Cortot (Paris), National Center for the Performing Arts (Beijing), Royal Dramatic Theater (Stockholm), and Palau de la Música (Barcelona).
Mr. Varga holds degrees from the Romanian National University of Music, where he studied with Ana Pitis, Ioana Minei, and Sandu Sandrin, and the Mannes School of Music, where he studied with Pavlina Dokovska. He lives in New York City.

Booklet for Early Departures