---
Album info
Album including Album cover Booklet (PDF)
Paisajes:

1

I. La Fuente y la campana

04:13

2

II. El lago

04:58

3

III. Carros de Galicia

03:43

Maurice Ravel (1875 - 1937): Miroirs, M. 43:

4

I. Noctuelles

05:19

5

II. Oiseaux tristes

04:01

6

III. Une barque sur l'océan

07:44

7

IV. Alborada del gracioso

06:31

8

V. La vallée des cloches

05:50

Federico Mompou (1893 - 1987): Charmes:

9

I. pour endormir la souffrance

01:38

10

II. pour pénétrer les mes âmes

01:47

11

III. pour inspirer l'amour

02:38

12

IV. pour les guérisons

01:51

13

V. pour évoquer l'image du passé

01:38

14

VI. pour appeler la joie

01:22

Maurice Ravel (1875 - 1937): Sonatine, M. 40:

15

I. Modéré

04:35

16

II. Mouvement de Menuet

03:44

17

III. Animé

04:09

Julien Brocal (1987 - ):

18

Nature morte

04:50

Total Runtime

01:10:31
Info for Mompou & Ravel: Reflections

Julien Brocal's debut album of Chopin Preludes and the 2nd Sonata was praised by critics when released last year. 'A protégé of Maria Joao Pires, Julien Brocal has a lot to live up to, and this disc the first for both him and the new label Rubicon – does so beautifully' (Guardian)
'You can hear the qualities Pires admires in his playing, there is a kind of meditative poetry to the Op. 28 Preludes, wrapt stillness, restraint and intensity and they emerge as an absorbing set making sense as a whole. […] An impressive Chopin recital debut for this protege of Maria João Pires, triumphantly vindicating her faith in Brocal, and the faith of this brand- new label Rubicon, something you shouldn't have to cross to hear Chopin playing of this quality' (BBC Radio 3 Record Review)
This is great Chopin, transparent and warm at the same time, fabulously played in both the left and the right, dosed with masterful touch and filled with an inexpressible longing for something that is impossible and yet lets it materialise somehow. In short, we are in the unfathomable realm of a Lipatti, Pollini, Blechacz … sometimes even Cortot.' (OpusKlassiek)
'Spellbinding Chopin' BBC Music Magazine – Instrumental choice double 5 star rating Julien's new album takes us to the border country between Spain and France – the Basque region and the two great pianist composers from that area, Spaniard Frederico Mompou and Frenchman Maurice Ravel. The two composers never met but it is unlikely the shy, somewhat timid Mompou would have enjoyed the more flamboyant Ravel's company.
Julien Brocal, piano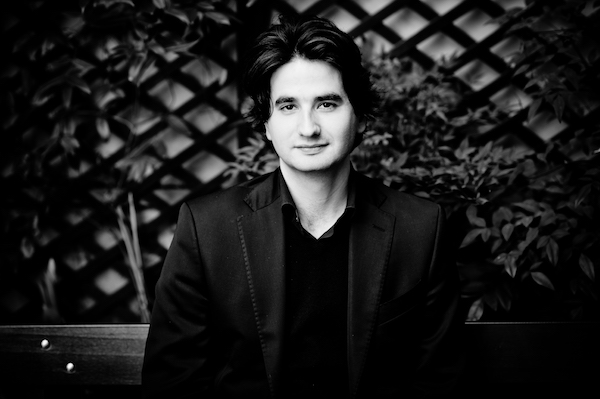 Julien Brocal
Born in 1987 in Arles, France, Julien began learning the piano at the age of 5. He was taught by Erik Berchot and Rena Shereshevskaya at the Ecole Normale de Musique de Paris Alfred Cortot and in 2013 began working with Maria João Pires at the Cité de la Musique in Paris. She subsequently invited him to continue his studies at the Queen Elisabeth Musical Chapel in Belgium and to be one of the founding members of the Partitura Project.
Maria and Julien have performed together all over the world, with performances at the Chopin Festival (Warsaw), Auditorium Teatro dell'Opera di Firenze (Florence), Sheldonian Theatre (Oxford), Severance Hall (Cleveland) and Tippet Rise Art Centre (Montana). In addition, they have also given many workshops together and launched educational and social programs for children (including Equinox). Julien is now resident in Belgais, at the Center for Arts created by Maria, and his first solo recording (of works by Chopin) will be released in January 2017 by Rubicon Classics.
Julien trained under Erik Berchot at the Conservatoire National de Région de Marseille and under Rena Shereshevskaya at the Ecole Normale de Musique de Paris Alfred Cortot, where he was unanimously awarded the prestigious performer diploma. Throughout his training Julien has benefited from the support of the Zaleski Foundation, Association Assophie and the Safran Foundation. He has been invited to appear on France Musique by Gaëlle le Gallic and to take part in several festivals in France. From his early childhood he has performed on stage in France and abroad. Julien was spotted in January 2013 by Maria-João Pires during an academy session at the Cité de la musique in Paris, and was subsequently invited to perfect his skills at the Queen Elisabeth Music Chapel in Belgium.

Booklet for Mompou & Ravel: Reflections