---
Album info
Album including Album cover Booklet (PDF)
1

Sailing with No Wind

05:34

2

All the Things You Are

06:07

3

Somewhere over the Rainbow

06:43

4

Jeg gik mig ud en Sommerdag

04:18

5

Bluesy in Different Ways

04:11

6

Solar

02:43

7

Be My Love

08:22

8

You and the Night and the Music

05:08

9

Blue in Green

04:48

10

Autumn Leaves

06:32

Total Runtime

54:26
Info for Painting Music

The tunes are instantly recognizable: well-known standards such as "All The Things You Are", "Over The Rainbow" or "Autumn Leaves". And yet the listener always has the impression of hearing something completely new. On "Painting Music", Danish pianist Carsten Dahl gives his own take on some of the great classics of the jazz repertoire in a way that is highly personal, resolutely individual and completely revelatory.
Born in 1967, Dahl has been one of the outstanding jazz pianists in Europe for many years. He came to instrument very late, however. He started on the drums as a nine-year-old, by the age of 12 he was already well advanced towards becoming a professional, and at 18 was admitted to Copenhagen's renowned Rhythmic Music Conservatory, where his teachers included one of the greats, US drummer Ed Thigpen. And it was only during his time at RMC that he switched to piano – an instrument on which he had never had a single lesson before that time. So Dahl started his studies all over again, first with Jǿrgen Nielsen, then with his mentor Butch Lacy, whom Dahl still considers to have been his most important influence.
Dahl's unusual route to becoming a pianist is reflected in the extent of his dedication and also of his self-perceptiveness: "I have never chosen art. It wants something from me, or rather - IT wants something from me and with art as an instrument," he says. "The universe has a sound and rhythm. Everything moves forward, either powerful and explosive or modest and like slow shadows in a landscape. The energy, which urges me into an artistic unfolding - is the power of the universe. I am painted or played."
Carsten Dahl's had good reason to want to connect with art as a primordial force because the scale of his talent was obvious from the outset of his career. His first band project Embla was a sensation on the Danish jazz scene. Then followed an intense period with countless collaborations. Dahl had great success with his own projects, not only playing with major local and Scandinavian figures such as Arild Andersen, Jon Christensen or Cæcilie Norby, but also with international stars like Didier Lockwood, Dave Liebman and Wynton Marsalis. In a career spanning more than 25 years, Dahl has played on more than 250 CDs and produced more than 30 of his own.
The recipient of notable prizes and awards, such as the Ben Webster Award, the Django D'Or, the Carl Nielsen Prize and a Grammy nomination, Carsten Dahl is one of the most wide-ranging and extraordinary artists on the European jazz scene. That said, his personal imprint is unmistakable in all of his diverse projects – from solo recordings to orchestral works, from free jazz to Bach's Goldberg Variations and the Well-Tempered Clavier. His inspiration comes from classical music and jazz as well as folk music, world music and modern music. He also has an intense involvement in painting: the eye-catching cover motif of "Painting Music" is by Dahl himself.
Since it is an ambition of label proprietor/producer Siggi Loch to bring together the best pianists in Europe on ACT, it feels like the time is now right to bring this "musicians' musician", this carefully-guarded secret, to the attention of a wider public. And nothing could be more appropriate than Dahl's Trinity Trio – who have already compared by critics to Keith Jarrett's trio – with bassist Nils Bo Davidsen and drummer Stefan Pasborg: "This is my preferred formation. We've been playing together for several years in my bigger band, "Experience". In this recording it felt like we were all painting together on one canvas, merging our perceptions into a single spirit. This is indeed a rare and very precious experience in music," Dahl remarks.
The eight covers on the album range from a Danish folk song to Miles Davis' "Solar", plus two original compositions written collectively by the band. The trio welcomes the listener into a magical realm. There are always strong melodies here, ushered in gently, which Dahl then takes over with his inexhaustible ingenuity, and the Trinity Trio transforms through joint improvisation into something inherently original. This is a musical painting which will never fail to fascinate and to captivate.
Carsten Dahl, piano
Nils Bo Davidsen, bass
Stefan Pasborg, drums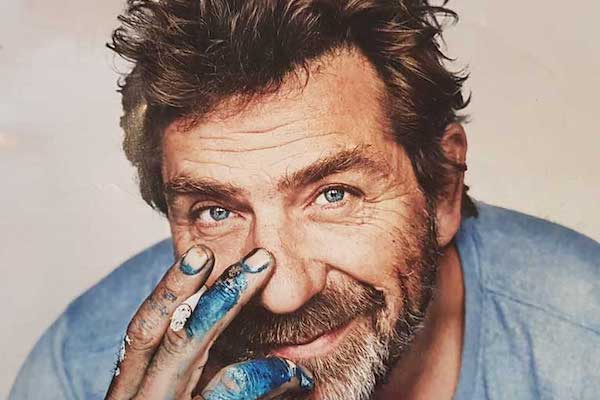 Carsten Dahl
began playing the drums at age 9. By 14 years old, he was a professional drummer and studio musician, and at 19 he entered the Rhythmic Music Conservatory. After two years of being taught by jazz drummers Ed Thigpen and Alex Riel, he put drums aside in favor of the piano, an instrument he had never been taught, and applied again at the conservatory – now as a pianist greatly influenced by Jørgen Nielsen and, later, Butch Lacy.
In the early 1990s Dahl began to play with Embla and Niels Præstholm, Thomas Agergaard, Anders Hentze, and Staffan Svensson. Their only CD, Embla showed Dahl's improvising, something that he would put aside for some years to explore the bebop tradition. During this collaboration, Dahl started to develop his own style, and met (via saxophonist Agergaard) drummer Thomas Blachman and bassist Lennart Ginman. Dahl appeared in Blachman jazz and hip hop projects during the 1990s, as well as records from the trio he formed with Ginman and drummer Frands Rifbjerg. This trio recorded the albums Will you make my soup hot and silver and Message from Bud. They went on to record a series of albums for the Japanese label Marshmallow Records – Blue Train and Be Boppish Rubbish Rabbit. They also recorded A Child Is Born, a quartet album with Bob Rockwell. Dahl also reunited with Thigpen and his trio, including Joe Lovano. They made three recordings together. Dahl appears on more than 150 albums
For the mid-1990s and well into the 2000s Dahl played with Anders Bergcrantz, Arild Andersen, Bent Jædig, Billy Harper, Cæcilie Norby, Charlie Mariano, Danish Radio Symphony Orchestra, Dave Liebman, Didier Lockwood, Ed Neumeister, Eddie Gomez, Eliot Zigmund, Ensemble Midtvest, Finn Ziegler, Gregory Hutchinson, Hanne Boel, Helen Davies, Jan Lundgren, Jerry Bergonzi, Jesper Lundgaard, Jesper Thilo, Jim Snidero, Johnny Griffin, Jon Christensen, Klaus Rifbjerg, Lars Danielsson, Lars Moller, Mads Vinding, Michala Petri, NHØP, Palle Mikkelborg, Per Goldschmidt, Phil Wilson, Philip Catherine, Putte Wickman, Reuben Rogers, Richard Boone, Suzanne Brøgger, Ted Curson, Thomas Hass, Tom Kirkpatrick, Tomas Franck, Ulf Wakenius, WDR Big Band, and Wynton Marsalis.
Dahl associated with the classical Ensemble Midvest as an artistic consultant, getting the ensemble to work with free improvisation. Among the many projects they worked on together was music for Fritz Lang's silent film Metropolis and Charlie Chaplin's City Lights and Don Q / Son of Zorro by Douglas Fairbanks.
Dahl has worked for several years with Bach's Goldberg Variations, arranged and played for prepared piano, alongside the Well-Tempered Clavier and Dahl's own 26 Chromatic Inventions – dedicated to Glenn Gould. In spring 2013 Carsten premiered his work The Fifth Dimension for symphony orchestra (dedicated to Per Nørgaard), with the DR vocal ensemble and the Copenhagen Boys Choir.
In October 2013 Dahl premiered his first piano concerto, played by the Odense Symphony Orchestra with Marianna Shiviyuan as the soloist. From 1992, he taught as a tenured associate professor at the Esbjerg conservatory. In 2011 he was appointed to a 5-year term as a professor in rhythmic contemporary music at the Rhythmic Music Conservatory in Copenhagen. He also works as an ambassador for Mental Health Fund, based on his own experiences, and regularly gives talks about anxiety and depression.
For his two solo albums, Dahl took inspiration from both classical pianist Glenn Gould and jazz pianists like Keith Jarrett, Bill Evans, Cecil Taylor and Bud Powell; cultivating improvisation in extreme situations. There are also clear inspirations from contemporary music and different world regions and folk music.
In 2011 Dahl returned to his drumming roots with the Crazy Constellation Trio, with Hugo Rasmussen on bass and Søren Kristiansen on piano.

Booklet for Painting Music