---
Album info
Album including Album cover
1

Raindrops

03:20

2

The Name of the Game

04:32

3

Never Mind

04:10

4

Stop

03:05

5

Coffee and Wine

02:53

6

In the Wrong Places

02:10

7

Grains of Wisdom

03:19

8

Dancing Shoes

03:36

9

Lover's Dub

04:47

10

I Can´t Help Myself - Hard to Explain

04:06

11

Moments Like These

04:12

12

Nature Boy

05:08

13

A Little Eternity

03:11

14

Summer in My Heart Again

04:29

Total Runtime

52:58
Info for Love, Sweat and Tears

Mariamas music is light and lively. On her current record "Love, Sweat and Tears" (Rising Bird Music/Bendo Music) the Parisian songwriter Mariama combines shimmering folk, filled with jazz rhythms and her soulful vocals. The single "Raindrops" already delivers a great overture. Her music is an invitation to dance and about declarations of love for West Africa, the land of her ancestors. Mariama was born in Freetown, Sierra Leone, and grew up in Cologne, Germany. In her musical career she has already worked with Adé Bantu, Patrice or Max Herre.
Her first steps towards the profession are under the wings of Adé Bantu, Nigerian-German musician and activist who introduces her to the German scene with his various projects: Brothers Keepers, Afrobeat Academy and Afropean Express. Subsequently, she works with the German rapper Curse taking part in the project "Diversidad - A European Urban Experience" carried by the European Commission. In 2010, she signed with the French label Cinq7 / Wagram Music and began working on her first LP "The Easy Way Out", released in 2012 and recorded at RAK Studios in London, where she works with the production team Bacon & Quarmby, who has already produced with Ziggy Marley and Finley Quaye among other artists.
2015 Mariama moved to Paris, where she returned to a more intimate configuration with selfproduced EP "Moments Like These" released in April 2015. It receives an unexpected welcome that will lead Mariama on the roads of France, Germany, Italy, Switzerland and Nigeria.
In 2018 she released her new studio album "LOVE, SWEAT AND TEARS" produced entirely by the artist Mariama, inspired by various travels across Europe and Africa and artistic encounters of recent years. It is part of a process of artistic freedom, requiring independence. The title promises love, sweat and tears. In lyrics, Mariama shares her thoughts on the subject. Musically we move from soft and melancholic melodies to vibrant and dancing songs. "One night, the title LOVE SWEAT & TEARS showed up in front of me, stood out and guided me through this adventure. I knew that I had to stay true to this inner vision."
Mariama, vocals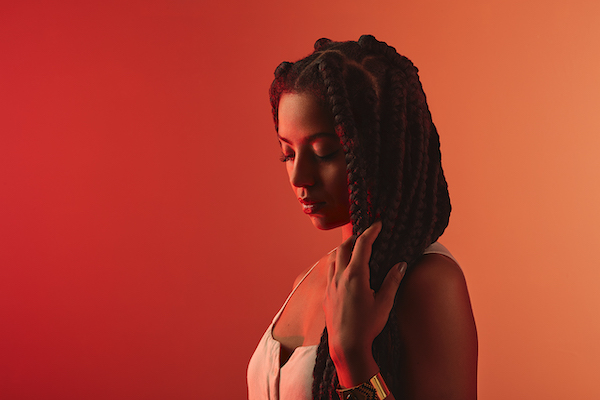 Mariama
wurde in Freetown, Sierra Leone, geboren und ist in Köln aufgewachsen. Ihre Herkunft und das Erbe ihrer deutschen Mutter und ihres Vaters, dessen Familie Fulbe, also Nomaden, sind, symbolisiert ein Pass voller Visa aus der ganzen Welt: Deutschland, Sierra Leone, Guinea, Frankreich, Tschechien, Norwegen. Schon früh von der Musik an sich und ihrer großen Gefühlskraft angezogen, singt sie in Chören, probiert sich in Musical-Komödien und beginnt, Songs auf der Gitarre ihrer Mutter zu komponieren. Ihre ersten Schritte in Richtung "Berufsmusikerin" macht sie unter den Fittichen von Adé Bantu, nigerianisch-deutscher Musiker und Aktivist, der sie mit verschiedenen Projekten in die deutsche Szene einführt: Brothers Keepers, Afrobeat Academy und Afropean Express. Anschließend arbeitet sie mit dem deutschen Rapper Curse im Rahmen des von der Europäischen Kommission unterstützten Projekts "Diversidad - A European Urban Experience", tritt mit Patrice auf und geht mit Max Herre auf Tour. Im Jahr 2010 unterschrieb sie beim französischen Label Cinq7 / Wagram Music und begann mit der Arbeit an ihrer ersten LP "The Easy Way Out" (2012), die in den RAK Studios in London aufgenommen wurde, wo sie mit dem Produktionsteam Bacon & Quarmby arbeitet, das unter anderem auch Ziggy Marley und Finley Quaye produzierte.
Zurück in Paris kehrte Mariama zu einem intimeren musikalischen Ansatz zurück, mit der selbst produzierten EP "Moments Like These", die im April 2015 veröffentlicht wurde. Es wurde etwas unerwartet und einstimmig begrüßt, was Mariama auf die Reise nach Frankreich, Deutschland, Italien, in die Schweiz und nach Nigeria führte. Ende 2015 bat James Thierrée, Regisseur, Komiker ("Chocolat" mit Omar Sy) und Enkel von Charlie Chaplin, Mariama, die Stimme seiner neuen Kreation "La Grenouille avait raison" ("Der Frosch hatte recht"). Nach dreimonatiger Probenphase und der Premiere in Genf im Théâtre de Carouge geht Mariama auf eine ausverkaufte Tournee, die im Dezember 2016 vor knapp 2000 Besuchern im Théâtre du Rond-Point in Paris ihre 100. Aufführung feiert. Während des Aufenthalts in der Schweiz nahm Mariama mit der Gruppe Chinese Man den Titel "Stone Cold" auf, der 2017 auf ihrem Album Shikantaza veröffentlicht wurde (und inzwischen bei 1,2 M+ Streams steht). Im selben Jahr begann sie mit dem Co-Regisseur ihres Albums zu arbeiten: Manuel Schlindwein, Tonmeister, der unter anderem auch Cody Chestnut, Selah Sue, Akua Naru und Patrice begleitet hat.
Mariama lernte die meisten der Musiker, die auf diesem Album spielen, in Paris kennen. Schon seit 2013 spielt sie mit dem Schlagzeuger Georges Diémé, der auch Meister verschiedenster Percussion-Instrumente wie Cajon, Congas oder udu, einer Trommel aus Nigeria, ist. Wie auch auf Mariamas EP "Moments Like These" hören wir Abdoulaye Kouyaté auf Kora und Gitarre. Auch die analogen und digitalen Keyboards und Synthesizer, gespielt von Wendy Milton, der auch mit Y'Akoto und Akua Naru arbeitet, und vor allem die E-Gitarre von Jean-Baptiste Soulard nehmen ihren festen Platz in den Arrangements ein. Auf "Coffee and Wine" und "Nature Boy" spielt Leif Bräutigam aus Köln Gitarre, der lange Jahre in Akua Narus Band unterwegs war. Den Bass spielte der im November 2018 verstorbene Hilaire Penda, der auf den Alben von Susheela Raman spielte, aber auch mit Tony Allen, Salif Keita, Youssou N'dour, Liz Mc Comb, Bumcello, Louis Bertignac, oder Laurent Cugny.
Vier weitere Künstler sind als Gäste auf LOVE, SWEAT AND TEARS zu erleben: Sékou Bembeya, Gitarrist, lebende Legende der guineischen Musik, auch bekannt als Diamond Fingers. Ballaké Sissoko und Vincent Ségal, der legendäre Kora-Griot und der Cellist hinter Bumcello, haben bereits zwei Alben veröffentlicht, Chamber Music (Victory of Jazz Music 2009) und Musique de Nuit (2015). Der deutsche Sänger Soufian Tsunami aus der Gruppe Bukahara folgte der Einladung, auf "Never Mind" zu singen.

This album contains no booklet.