---
Album info
Album including Album cover
I`m sorry!
Dear HIGHRESAUDIO Visitor,
due to territorial constraints and also different releases dates in each country you currently can`t purchase this album. We are updating our release dates twice a week. So, please feel free to check from time-to-time, if the album is available for your country.
We suggest, that you bookmark the album and use our Short List function.
Thank you for your understanding and patience.
Yours sincerely, HIGHRESAUDIO
1

Brace (feat. Rainsford)

03:26

2

Saturdays (feat. HAIM)

03:25

3

Sympathy (feat. Rainsford)

02:52

4

18 Years

03:18

5

Little Woman

03:32

6

When You're Wrong

03:29

7

Twins Theme (Interlude)

01:28

8

Littlest Things

03:43

9

Too Many Colors

03:46

10

Rust (Interlude)

01:34

11

Obvious People

04:32

12

Runaway

03:26

13

Bombs Away (RLP)

02:36

Total Runtime

41:07
Info for Caer

Caer (pronounced: ka­air) is the artist's fourth album to date.
"Sometimes I feel like I have to take a fall to essentially get to the next phase of my life," Lewis says about Caer. "It's happened over and over. I've been through so many musical phases and through so many relationships with friends and lovers. I always feel like I'm standing on the edge of a cliff, looking down and thinking, 'This is the only way forward: onto the next thing.' It's sort of destructive, but I guess I thrive on rebirth."
Falling is a theme that surfaces throughout the album, which is why Lewis called it Caer - the Spanish word for "to fall." The album serves as a powerful lens through which Lewis explores his own personal sense of falling, as well as what he has observed about a world that feels as if it's declining. On a larger scale, Caer feels extraordinarily current, given what's going on culturally and politically right now. "The patriarchy is falling apart," Lewis says. "Our perceptions of who we are as
human beings, because of technology and machines, are falling apart. We're living at a breaking point, and a lot of the themes on the album are talking about these fault lines." Lewis refers to such fissures on "Saturdays" (which features Haim). "It's a love song," he says. "'Saturdays' is the heaven place you go to when you're in love or even with friends, feeling your youth. But it's also about my feeling that the world is starting to tear itself apart and maybe we're falling through the cracks. But when you're laying in bed next to someone you care about, none of that seems real."
Lewis feels that Caer is something of a sister record to his 2010 debut album, the lush, gauzy Forget, in that it's a record with hidden doorways and secret passages; more is revealed the more time you spend inside of it.
Twin Shadow
Lewis is part of a lineage of artists who constantly experiment but still manage to create the soundtrack to people's lives, like Prince and David Bowie. "Those are the artists who just keep giving it to you forever. It's 'forever' music. To me, that's the greatest thing in the world."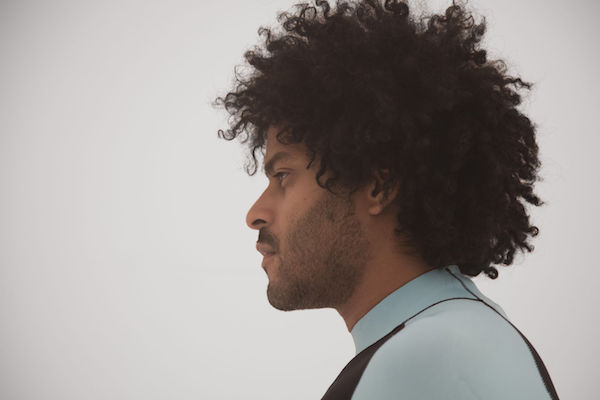 Twin Shadow
"That moment when something pure and constant is broken, where you're filled with vulnerability, that moment is what I live for in art," says George Lewis, Jr., aka Twin Shadow. "I've always chased that in my music, and when I find it I try to reign it back right before it falls over the edge."
Never has a Twin Shadow record hit that sweet spot like 'Eclipse.' Brimming with dramatic tension and explosive, emotional release, it's an album of heartbreaking uncertainty and anthemic longing, a soundtrack to self-doubt and desire and the kind of unshakeable, late-night thoughts that hold the promise of sleep dangling forever just out of reach. 'Eclipse,' Lewis' third album as Twin Shadow, follows up on the success of 2012's 'Confess,' an international critical smash which Pitchfork hailed as Best New Music for its "brash lyrics [and] laser-focused songwriting," Uncut called "an impeccable sequel to an immaculate debut," and NME dubbed a "thrill ride." Stunning performances everywhere from Fallon and Conan to Coachella and Bonnaroo cemented Lewis' status as one of the most charismatic and compelling frontmen in music today, but by the end of touring for 'Confess,' he found himself burned out and in need of solitude.
"I had moved to California after finishing the last record, and a lot of my time after the tour was spent in this little house on top of a hill in Silver Lake, just kind of being very secluded and not really socializing much," remembers Lewis, who was born in the Dominican Republic and grew up in Florida before relocating to Brooklyn, where he adopted the Twin Shadow moniker.
In LA, he spent time restoring an old car and working on his motorcycle, embracing the privacy and welcome change of pace from the East Coast. He went for long drives around the city, listening to pop and hip hop radio for the first time in years. But when it came time to start thinking about his new record, the proximity of other homes clashed with his nocturnal recording tendencies, and so the hunt was on to find the perfect studio space, one where he could never, ever wake the neighbors.
"We had played a show at Hollywood Forever Cemetery," Lewis remembers. "They have concerts there and we had played in the Masonic temple on the property, and my manager and I were discussing, how it would be cool if the cemetery had a place where we could set up a studio. At night there would be no one to disturb.'"
Lewis took a tour of the grounds and fell in love with the historic chapel at the far end of the sprawling cemetery.
"The Inside of it was empty, and there was this little, I guess it would have been a minister's quarters," he explains. "I could set up a control room there, and then I would have access to the large chapel space, as well. So we just jumped at the chance to do that and we started the whole process of building up my studio inside of this chapel in the cemetery."
It was a spooky setting—especially considering Lewis recorded, produced, and engineered most of the album by himself in the dark of night—but it was also a beautiful one that lent the music an epic, spacious quality. 'Eclipse' is the biggest sounding Twin Shadow record to date, scaling monumental emotional heights and facing down intense anxieties and moments of naked vulnerability head-on with a remarkable clarity of vision.
Album opener "Locked and Loaded" sets the scene immediately, with dreamy synthesizers floating below Lewis' lush voice as he sings, "I'm all alone, phone under my pillow / Sleeping on a time bomb waiting for your phone call."
The song bears dual meanings for Lewis, who found himself at the crossroads of an uncertain relationship while simultaneously dealing with the hospitalization of his father during the making of the album.
"Almost all of the songs have this duality," he explains, "and that's why I called the record 'Eclipse.' "It feels like two elements passing each other, one blocking the other out and then resurfacing again, this idea of very small things eclipsing bigger things and blocking them out."
"I'm Ready" begins with a hushed, half-spoken verse that flashes back to the house in Silver Lake. "There's a boy in a car at the top of a hill looking down at LA," he whispers. "He's so close to the stars and the fires that start but he feels far away." An exultant chorus breaks through the insecurity and doubt of the verses, as Lewis triumphantly sings "I'm right here, I'm ready / I need this love" in one of the album's most memorable hooks.
"When The Lights Go Out" tackles secrets and infidelity in a digital age where privacy is a thing of the past, and "To The Top" is a towering ballad about the delusional desire to repeat past mistakes in hopes of preserving fleeting moments of pleasure and comfort. The album also includes Twin Shadow's first duet, "Alone," which features vocals from Lily Elise, while the dancefloor-ready "Old Love / New Love" features vocals from D'Angelo Lacy.
"Even when I try to make a fun dance track, it'll still end up boiling over with a vulnerable quality," says Lewis. "I think it's because I can be a bit reserved emotionally, I can be guarded and hold it all back in social settings, so with music, it's really important for me to let my guard down as much as possible."
In letting his guard down, Lewis has ultimately reached his greatest heights yet with 'Eclipse.'

This album contains no booklet.