---
Album info
Album including Album cover
1

Hablar Con Almodovar

07:31

2

Julia's Glance (The Girl on the Bike)

04:43

3

Echoes from Ajay's Labyrinth

00:58

4

Noir Est La Mer

06:03

5

L'eclisse Tout Autour De Nous

04:42

6

Le Couteau Sous Le Bateau

01:28

7

Afloat The Narmada

07:20

8

Le Soleil Qui Brule

05:26

9

Salaam Bombay

01:35

Total Runtime

39:46
Info for Traumesrauschen
Melodies fill the night air. The band around trumpeter Trompeter Martin Dahanukar plays rare classics, latinesque pearsl but as well originals of dream-like touch. The earthy drive is provided by percussionist Willy Kotoun and bassist Philipp Moll. Tense and mysterous trumpet tones float above the sound of a congenial rhythm group, completed by lyric pianist youngster Michael Haudenschild.
The band's poetic »images« create an emotionally charged atmosphere, whose suspense recalls stills of the Nouvelle Vague.
Martin Dahanukar, trumpet
Michael Haudenschild, piano, Fender Rhodes
Philipp Moll, double bass
Willy Kotoun, percussion
Recorded on 7 & 8 December 2015 at Powerplay Studio, Maur, Switzerland
Engineered by Andy Neresheimer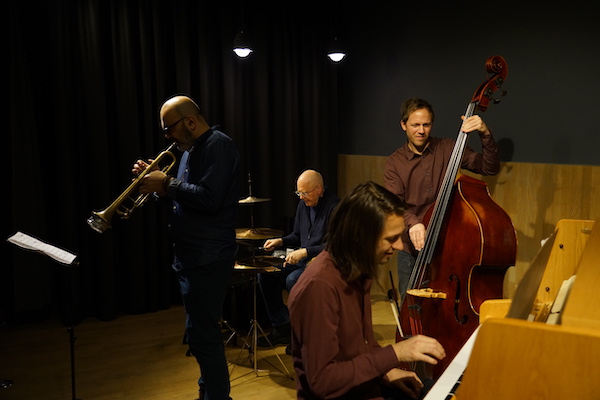 Martin Dahanukar
Melodies fill the night air. The band around trumpeter Trompeter Martin Dahanukar plays rare classics, latinesque pearsl but as well originals of dream-like touch. The earthy drive is provided by percussionist Willy Kotoun and bassist Philipp Moll. Tense and mysterous trumpet tones float above the sound of a congenial rhythm group, completed by lyric pianist youngster Michael Haudenschild.
The band's poetic »images« create an emotionally charged atmosphere, whose suspense recalls stills of the Nouvelle Vague.

This album contains no booklet.