---
Album info
Album including Album cover Booklet (PDF)
Johan Farjot:

1

Childhood 1

02:26

2

Haïku 1

02:44

3

Molly's song

06:50

4

Pater Noster

04:32

5

New York City

05:17

6

Carmen d'escale

04:51

7

Nel mezzo del cammin

06:19

8

Haïku 2

02:41

9

Skyscrapers

03:37

10

Childhood 2

02:29

11

Sea Shanties

05:18

12

Haïku 3

03:28

13

Nuit d'Adieu

04:15

Total Runtime

54:47
Info for Childhood

For his first monographic recording, Johan Farjot offers a programme of short pieces, for one to eight instruments (New York City, for double saxophone quartet). In this mix of concision and magic, we find the essence of the composer's interests. Perpetuum mobile, ostinatos, imitations, questions and quick responses: for the most part, the pieces on the recording reveal his predilection for a systematic approach.
Johan Farjot, piano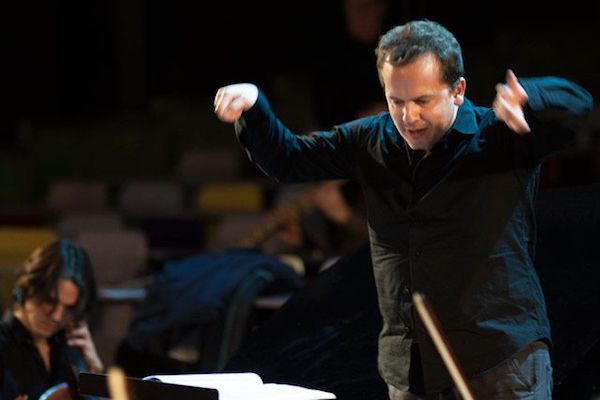 Johan Farjot
is a graduate of the CNSMD (The Superior National Conservatory of Music and Dance) of Paris, where he won five first prizes under the tutelage of professors including Michaël Lévinas, Thierry Escaich, Zsolt Nagy, etc. He also attended the CNSMD of Lyon (piano-chamber music, advanced diploma with high honors).
As a conductor, Johan Farjot is invited by various orchestras (Orchestre National du Capitole de Toulouse, Orchestre Philharmonique Royal de Liège, Orchestre Jan Talich de Prague, Orchestre de la Radio de Bratislava, Orchestre symphonique de Berlin, Orchestre Philharmonique de Durban, Orchestre de l'opéra de Marseille, Orchestre National d'Auvergne, Orchestre Philharmonique de Monaco, Orchestre Philharmonique d'Ostrava, etc.) along with great soloists (Boris Berezovski, piano, Geneviève Laurenceau, violon, Lady Felicity Lott, etc.)
Johan Farjot is the founding member and pianistt of the Ensemble Contraste, along with the aviolist Arnaud Thorette (with whom also exists a permanent duo). His impressive recording career receives the accolades of the press as well as those of the critics. He plays alongside such artists as Karine Deshayes, Philippe Jaroussky, the members of the quartet Ebene, Jean-Guihen and Pierre-Olivier Queyras, and many more in various cpncerts and festivals in France and abroad.
Among his recordings, a CD of Bruch music, released in 2009 (Cyprès) which won a golden Diapason, the three Brahms sonatas for violon and piano (released in 2010 by Zig-Zag Territoires) with Geneviève Laurenceau (5 Diapasons), Fauré music (released in 2010 by Zig-Zag Territoires) with the 1st quatuor with piano and La Bonne chanson with Karine Deshayes and Ensemble Contraste (4 stars Classica, Opera diamond), Onslow music (released in 2010 by Timpani) with Ensemble Initium and another CD released in 2012 (Timpani) with the same interpreters dedicated to Charles Koechlin music (5 Diapasons, 4 stars Classica). More recently, a Bach CD (2013 La Dolce Vita / Harmonia mundi) with Ensemble Contraste (4 stars Classica) and another dedicated to Schumann music (2013 Cyprès) with Jean-Luc Votano, clarinet and Arnaud Thorette, viola (4 stars Classica).
In his recording Miroir(s), Johan Farjot puts together jazz and classical music and, with Karol Beffa, Raphaël Imbert and Arnaud Thorette, suggests a new view of the great themes of our imagery.
His two last CDs are released by Aparté in 2015:
Après un rêve is dedicated to French melodies with the mezzo-soprano Karine Deshayes (Choc Classica); Into the dark, a collection of Karol Beffa pieces, with Karine Deshayes, Karol Beffa, Arnaud Thorette, Emmanuel Ceysson and Ensemble Contraste (Clic of Classique News)
Arranger, composer, improviser, Johan Farjot is concerned with contemporary music (he is the dedicatee and creator of numerous contemporary composers (Karol Beffa, Philippe Hersant, Thierry Eschaich...) and plays alongside such great jazzmen as Raphaël Imbert or André Ceccarelli.
Frequently invited by medias, he makes easier classical music access by overcoming musical kinds.
Since 2012, Johan Farjot is the conductor and the artistic director of the Symphonic Orchestra and Choir of Paris Sciences & Lettres (PSL) Research University. This orchestral and choral ensemble plays every year during musical season, organizes a PSL Spring Festival and an abroad musical tour and contributes to PSL international reputation. The PSL Research University brings together some of France's most prestigious and internationally respected academic and research institutions in a broad range of disciplines from engineering, chemistry and oncology to economics, management, the humanities and the performing arts.

Booklet for Childhood