---
Album info
Album including Album cover
1

Slow Motion

03:40

2

Beslan

06:02

3

Bifilomania

03:56

4

Every Cell Of Your Body

03:56

5

Existential Future

02:25

6

Red Street

05:25

7

Meditative

04:43

8

Someday My Prince Will Come

06:12

9

Soundscape

04:11

Total Runtime

40:30
Info for Boundaries

A Northern Code is a collaboration between three young and curious musicians from Norway and Scotland. We're proud to present their debut album which is a journey through both the melodic jazz tradition and the texturized improvised music.
The Northern Code is Mathias Marstrander (Norway b. 1993), Andrew Robb (Scotland b. 1990) and Sigurd Steinkopf (Norway b. 1997). They first met at the Grieg Academy in Bergen. The band started out as Andrew's master project, but the trio swiftly established them as a collective ensemble. They quickly found a way to push their musical boundaries by developing their improvising concepts together. By combining their individual musical capabilities with their collective musical ideas, the group have created their musical "code" which they us to make music together.
Their debut album Boundaries features the group's compositions and improvisations which delicately blurs the line between composition and improvisation. While the group contains the instruments of a traditional jazz guitar trio, this trio departs from the traditional roles of the instruments. Each instrument organically leads the direction of the music and shares an equal balance of the listeners attention.
"You put on some boundaries for your common creativity, and then something happens… It's like putting a wild bird in a cage - you feed it and take care of it in many ways, but it will always look for possible ways to get out - back to freedom - were it was meant to be... " - Per Jørgensen (NO)
The group's musical aesthetic is to explore and involve all the elements of music within performances. They achieve this by using conceptual goals to help shape their improvisations. The focus of the music is the balance of sound, expression and dynamics, together with the compositions which are written to allow the musicians to interact with each other. Inspiration from Norwegian landscapes, contemporary music, the European and American jazz traditions, is balanced and channeled into a focus of sound, expression and interaction. Being able to transition from reflective lyrical beauty, to swirling climaxes, the trio are a modern, progressive, original ensemble. "This is real music-making". - Per Jørgensen (NO)
Mathias Marstrander, guitar
Sigurd Steinkopf, drums
Andrew Robb, double bass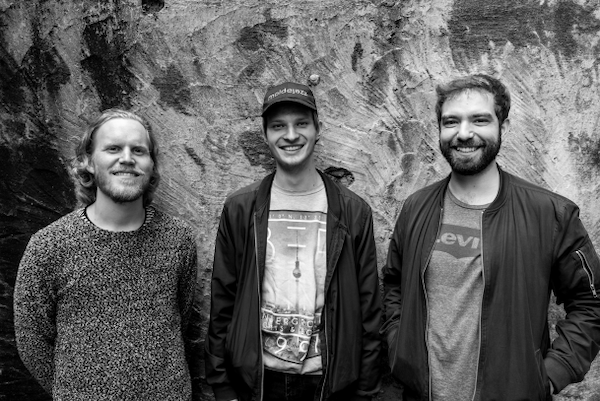 Mathias Marstrander (b. 1993)
studied music at the Grieg Academy in Bergen, Norway and at the Norwegian Academy of Music. He currently lives in Bergen working as a guitarist, composer and producer/studio engineer. His diverse musical personality is highly sought after, and he participates in a wide range of projects, in a variety of genres. He has toured with several different projects and artists throughout Norway and Europe, playing clubs, festivals and tv-shows. Among many projects he released his first album as a leader "Old Times, Beautiful Boy" with his own trio Marstrander Trio in September 2019, he is also a part of the 6 piece jazz group Molecules, which released it's critically praised debut album on Øra Fonogram in 2017 featuring the Buddy award winning Erlend Skomsvoll.
Sigurd Steinkopf (b. 1997)
studied at the Grieg Academy together with Mathias and Andrew. Although Sigurd is still a student, he is busy travelling and performing with a lot of different bands ranging from free jazz to pop groups. He has toured with blues stars such as Mike Zito and Guy Forsyth, and he plays in General Post Office who have recently performed at The Oslo Jazz Festival, The Edinburgh Jazz Festival and were awarded with the prestigious "Future of Norwegian Jazz Award" in 2019. Sigurd has a siblings-band "Steinkopf Trio" with his two sisters who were also awarded the same award in 2015.
Andrew Robb (b. 1990)
Since winning 1st Prize at the European Society of Bassists Jazz Competition in 2018, Andrew Robb (b. 1990) is beginning to establish himself as one of the most versatile and talented young double bassists from Scotland. He plays with the award-winning Alan Benzie Trio, Henry Spencer's Juncture, Renato D'Aiello's Quartet resident on Monday nights at Ronnie Scott's and jazz folk group Twelfth Day. Andrew has had the pleasure of playing with the legendary US singer Salena Jones, Norwegian Jazz legends Dag Arnesen and Knut Kristiansen, the Art Blakey alumnus Valery Ponomarev, saxophone stars Petter Wettre, Tim Garland and Tommy Smith, organist Tony Monaco, guitarist Bjørn Solli, UK pianists Julian Joseph and Kit Downes, singer Cleveland Watkis and trumpeter Byron Wallen. He tours extensively in the UK and across Europe. In 2018 he was appointed Head of Jazz at St Mary's Music School in Edinburgh, Scotland's only specialist music school, and in 2019 he was appointed as Lecturer of Jazz Bass at Leeds College of Music.

This album contains no booklet.