---
Album info
Album including Album cover
I`m sorry!
Dear HIGHRESAUDIO Visitor,
due to territorial constraints and also different releases dates in each country you currently can`t purchase this album. We are updating our release dates twice a week. So, please feel free to check from time-to-time, if the album is available for your country.
We suggest, that you bookmark the album and use our Short List function.
Thank you for your understanding and patience.
Yours sincerely, HIGHRESAUDIO
1

Sometimes (Stop to Call)

03:36

2

1995

03:18

3

The Beauty

03:29

4

Letter to Myself

03:21

5

All About Us

03:35

6

Now

03:13

7

Good Luck On Your Way

03:56

8

Replay

02:18

9

Sorry

04:10

10

This Will Never Replace Rock 'n' Roll

03:28

11

Not the Time to Live a Lie

03:34

12

Walk On

03:10

Total Runtime

41:08
Info for NOW

Was ist da los, dass sich Fury in the Slaughterhouse ausgerechnet 2020 wieder ins Rennen werfen? Natürlich haben sie seit ihrem offiziellen Ende 2008 die Füße nicht ganz stillhalten können und sich immer wieder für beeindruckende Konzerte zusammengefunden, aber trotzdem: Warum jetzt ein Album und vorher nicht?
Weil eine Band, die so ziemlich alles durchgemacht hat, was in 30 Jahre Bandgeschichte hineinpasst, nicht einfach aufhören kann. Am Ende ist es wahrscheinlich wie mit der wahren Liebe, von der nach wie vor niemand sicher sagen kann, ob es sie wirklich gibt. Dennoch: Man kann nicht anders, man muss und man möchte. Und wenn, wie in diesem Fall, 13 Jahre zwischen »NOW« und dem letzten Fury-Album liegen, kann man sich nur in etwa vorstellen, welche Schleusen jetzt geöffnet wurden.
Einen Punkt darf man dabei aber nicht vergessen: Fury in the Slaughterhouse gäbe es im Jahr 2020 vielleicht nicht mehr, wären da nicht ihre Fans, die auch in den letzten Jahren immer noch in Scharen zu den Konzerten gekommen sind. Fans, für die diese Musik der Soundtrack einer bestimmten Zeit ist. Und genau das ist und bleibt Fury: Die eigentlich logische Konsequenz und das Ergebnis einer Zeit.
Deshalb jetzt und deshalb »NOW« – ein Album, das sein möchte aber ebenso sein muss!
Fury in the Slaughterhouse klingen auf »NOW« frischer und wuchtiger denn je. Maßgeblich daran beteiligt ist Produzent Vincent Sorg, der sich schon für Erfolgsalben der Donots, von In Extremo, den Broilers und Die Toten Hosen verantwortlich zeichnete, und für die Aufnahmen für »NOW« hinter den Reglern stand und das Album zusammen mit der Band produzierte.
»Sometimes (Stop to Call)« ist der erste Track von insgesamt zwölf Songs auf dem neuen Album. Und es bleibt abzuwarten, welche Songs und Themen die Band auf ihrem mittlerweile 14. Studioalbum setzen wird.
Fury In The Slaughterhouse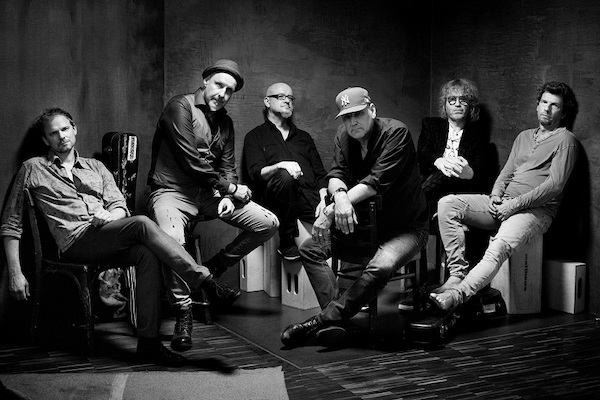 Fury In The Slaughterhouse
war/ist eine von 1987 bis 2008 bestehende Rockband aus Hannover, die mit ihren hymnischen Songs über die Jahrzehnte Legendenstatus erlangte und auch außerhalb Deutschlands große Erfolge feiern konnte.
Im Frühjahr 1987 gründeten die Brüder Kai Wingenfelder und Thorsten Wingenfelder zusammen mit Rainer Schumann, Christof Stein-Schneider und Hannes Schäfer in Hannover die Band Fury in the Slaughterhouse (dt.: Fury im Schlachthaus). Der Bandname ist eine Anspielung auf die weltweit bekannte US-Fernsehserie aus den 50er Jahren um ein Pferd namens Fury.
Fury in the Slaughterhouse war eine reine Rockband, die sich durch ihre Art und ihre englischen Texte klar von der damaligen auslaufenden Neuen Deutschen Welle unterschied. Die Band erspielte sich durch ihre außergewöhnlichen Live-Konzerte schnell einen bundesweiten Bekanntheitsstatus. Im Jahr 1989 stieß dann mit Gero Drnek ein wahrer Allround-Musiker zu der Band und komplettierte das bis heute legendäre Lineup von Fury. 1992 gründeten ihre Plattenfirma SPV GmbH und die BMG Ariola Hamburg GmbH mittels eines Joint Ventures das Plattenlabel "Slaughterhouse Music" um die Band international bekannt zu machen. Die Band wagte sich nun auch live in den europäischen sowie anglo-amerikanischen Raum, wo sie 1993 mit den Hits "Radio Orchid" und "Every Generation Got Its Own Disease" und dem Album "Mono" ihren internationalen Durchbruch schaffte und es bis auf #15 der Billboard Charts schaffte. Darauf folgten diverse große Tourneen, Preise & Echo-Nominierungen sowie diverse Goldauszeichnungen.
Seitdem brachte die Band in regelmäßigen Abständen etwa alle zwei Jahre ein neues Album auf den Markt und verkaufte in ihrer Bandgeschichte mehr als 4 Millionen Alben und erreichte mit Songs wie u.a. "Won´t Forget These Days" oder "Time To Wonder" einen Legenden-Status in der deutschen Musikgeschichte. Es gab im Rahmen der Bandgeschichte nur eine Besetzungsänderung – im Jahr 1996 wurde Bassist Hannes Schäfer durch Christian Decker ersetzt.
Im Jahr 2005 gründete die Band das Plattenlabel "Kick It Out". Hier werden sämtliche Alben in einer überarbeiteten Version mit teilweise bisher unveröffentlichten Zusatztracks neu publiziert.
Im September 2007 gab die Band ihre Auflösung zum 30. August 2008, dem Zeitpunkt des letzten Konzertes, bekannt. Von März bis Ende August 2008 fand eine sehr erfolgreiche Abschiedstournee quer durch Deutschland statt.
2013 fand die Band noch einmal in Hannover auf der EXPO – Plaza für ein Klassentreffen-Konzert zusammen. Das Konzert war in kurzer Zeit mit 25000 Karten ausverkauft.
Die Chöre von "Won`t Forget These Days" sind für Band und Konzertbesucher gleichermaßen unvergessen geblieben. Die Frage nach einer Wiederholung stand bis heute im Raum. Jetzt ist es offiziell: Fury In The Slaughterhouse rufen am 10., 11. & 12. März 2017 zum zweiten Klassentreffen und zur 30 Jahre-Fury-Party in die TUI Arena Hannover. Und wie sollte es anders sein – alle 3 Konzerte sind bereits ausverkauft.

This album contains no booklet.