---
Album info
Album including Album cover
I`m sorry!
Dear HIGHRESAUDIO Visitor,
due to territorial constraints and also different releases dates in each country you currently can`t purchase this album. We are updating our release dates twice a week. So, please feel free to check from time-to-time, if the album is available for your country.
We suggest, that you bookmark the album and use our Short List function.
Thank you for your understanding and patience.
Yours sincerely, HIGHRESAUDIO
1

PRAYER

07:45

2

GUILT

09:22

3

CHOICES

07:44

4

WAIL

10:20

5

THE IMPETUS (To Be And Do Better)

06:22

6

DOXOLOGY (Hope)

03:59

7

BENEDICTION

05:44

Total Runtime

51:16
Info for The Parable Of The Poet

Vibraphonist and composer Joel Ross returns with stunning conviction, issuing his third release for Blue Note Records: The Parable of the Poet. Steadfast in his commitment to skewing perceptions of improvisation and written composition, the critics' favorite explores new, more expansive territory with his eight-piece Parables band, bringing together young artists of sharply defined expression: Blue Note labelmate Immanuel Wilkins on alto saxophone, Maria Grand on tenor saxophone, Marquis Hill on trumpet, Kalia Vandever on trombone, Sean Mason on piano, Rick Rosato on bass, Craig Weinrib on drums, and returning special guest Gabrielle Garo on flute.
The album embodies Ross' collaborative spirit. His lyrical aesthetic activates an ebb and flow from one movement to the next. Moments of intentional discourse drive sections of collective melody and spontaneous counterpoint. "This band is more than just the instruments," says the Chicago-born, New York City-based artist. "Every person on here means something to me. They're all my friends. Everybody involved committed themselves to the vision."
Ross' vision for the music is at once explicit and mysterious. He seeks to express themes present in parable tellings and retellings, while leaving each story's particulars open to interpretation. Each title of the seven movement suite references an emotional decision or experience for Ross. But in the studio he focused on fresh interpretations, allowing his past experiences to exist without dictating the band's present treatment of the music. "I told them, 'This is what the music is and this is how I want you to approach it — let everything we play be inspired by the melody.' Not much else was decided," says Ross, who enjoys "blurring the lines between melody and improvisation," in part, as a way to facilitate communication and meaningful musical discourse.
Obscuring divisions between scripted and spontaneous is more than a romantic notion. For Ross, it's truthful and intrinsic. Each composition he explores on The Parable of the Poet represents a near intact improvisation, some dating back to 2017, all of which emerged during creative sessions with his friend and colleague, saxophonist Sergio Tabanico. "We would record it, then I would go back and flesh out the composition," he says. "I tried my best not to change any harmonic information or add too much more than what was already there. I just tried to organize the information in a manner that would yield sensible improvised group interaction, while giving enough direction."
That choice prompts striking moments of deep listening and self-orchestrating among Ross and his fellow artists. The first movement "PRAYER" sets a tone of rumination and collective inquiry. Apart from Ross' tender solo introduction, the piece exercises restraint. "There's no one person who's taking the mic," says Ross. "Everyone has a moment of playing the theme," kindling shared navigation and discourse.
"GUILT" features moments of ribboned syncopation from Grand following a short, resonant introduction of lyrical elasticity from Rosato. Ross lifted the movement in its entirety from an improvised session. "For me, it's the most emotional piece," says Ross, who envisioned Garo's flute as a bird flying on top of the grounding music. "She's the one playing the melody almost the entire time," he says.
Hill's feature "CHOICES" emerged from nearly 20 minutes of improvisation between Ross and Tabanico. First came the chord, then the notes, finally the theme. In the studio, Ross refrained from writing out chords. Starting with a pedal, he gave his band members the first phrase, knowing they'd somehow make it to the second. "While everyone was learning the tune, I had to give a little more instruction," he says. "In a perfect world, and if we'd had more time, I would have just kept the tape rolling and captured us getting to it the same way I had with all the other improvisations, but I'm happy we were able to achieve that same feeling regardless of time constraints."
Inside the booth, Wilkins entered the space Ross had envisioned for "WAIL," the movement that leads into "THE IMPETUS (To Be And Do Better)" inextricably. "In the studio, Immanuel fully committed to going for what I wanted," says Ross. "We didn't have to talk much about it – he understands the music and what it needs." Wilkins takes time and space developing a statement that engages what Ross considers the dance happening around the music, before Vandever enters with striking intentionality. "While we're performing, there's this silent thing happening, showing something. So I imagine us as dancers trying to express these emotions."
Grand, Mason and Ross each hold space on "DOXOLOGY (Hope)," the album's briefest movement. Its bright tempo requires Rosato and Weinrib wholly to embody walking, groove, and free departure and return; that elastic feel bonded with a minor atmosphere serve as a vessel for the horns to become a small choir. "I saw them as the praise team," says Ross, who orchestrated the movement to lead into "BENEDICTION," the album's final piece. "A benediction is the way we would leave in church, ending on a Good Word," says Ross, who wanted Mason's feature to activate the final movement. "What I love about working with Sean is that I don't have to tell him about anything musically," he says. "BENEDICTION" builds on major 3rds with the indication of an unending gesture. Fittingly, the music fades: "I didn't want people to hear it end, because it can keep going on forever."
Ross rarely includes narrative explanations of anything he plays. For The Parable of the Poet, he leaves his own motivations unvoiced, allowing both listeners and bandmates their unique, experiential readings of the music. "I'm just so interested in what the listener receives, what they take from it," he says, "the same as you would from any parable."
Joel Ross, vibraphone
Immanuel Wilkins, alto saxophone
Marquis Hill, trumpet
Maria Grand, tenor saxophone
Kalia Vandever, trombone
Gabrielle Garo, flute
Sean Mason, piano
Rick Rosato, bass
Craig Weinrib, drums
Produced by Joel Ross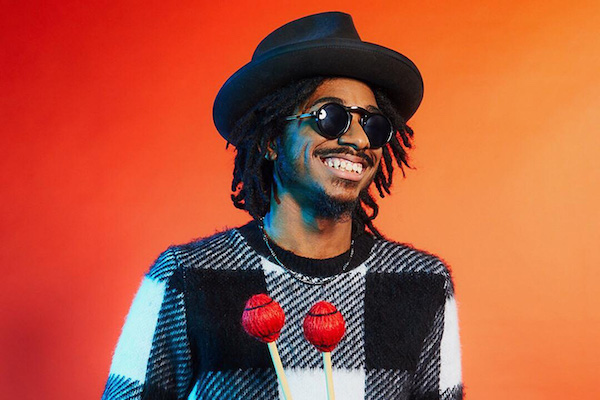 Joel Ross
Chicago native Joel Ross has performed with historic and seasoned artists - Herbie Hancock, Louis Hayes, Christian McBride, and Stefon Harris - as well as with cutting-edge contemporaries like Ambrose Akinmusire, Gerald Clayton, Jon Batiste and many more. Twice selected as a Thelonious Monk Institute National All-Star and a 2013 YoungArts Jazz Finalist - he's also had the opportunity to perform at the Brubeck, Monterey, Seattle, and Chicago Jazz Festivals -and- at internationally-celebrated venues like Dizzy's Club Coca-Cola in New York, SF Jazz in San Francisco, and Club Vibrato in Los Angeles.
Playing the drum kit as early as three years of age, Ross learned other percussion instruments & approaches beginning in grade five, in his tenth year. When starting his work on Vibes, he engaged both classical and jazz works, and did so throughout high school. In his last year there, Ross also began playing the piano in a more serious way.
Ross recently completed a two year fellowship with the Brubeck Institute Jazz Quintet in California. Winning first place at the 2016 BIAMP PDX Jazz Festival 'Jazz Forward' Competition, he was also a winner of the Keep an Eye International Jazz Award, in Amsterdam. A fitting addition to trumpeter Marquis Hill's wonderful group - before their 2016 European tour - He performs with his newly minted Joel Ross' Good Vibes ensemble, among other ensembles he leads.
"...Ross' precocious creativity, facility, and confidence were downright shocking. His style is so unique and developed that it changed my image of the vibraphone itself. Though his musicality [shone] through brightly, I was most impressed by the revolutionary way in which he approached the physicality of the instrument, reworking classic limitations as creative allowances. In contrast to the metallic sustain of players like Gary Burton, Ross' tone was brittle, percussive and woody; instead of letting his notes ring out and wash over each other indefinitely he exploited the relatively sharp decay of each hit. This allowed him to throw down precise flurries while sounding neither muddy nor blunted." — Asher Wolf, All About Jazz
"Ross swings effortlessly on the vibraphone, sometimes opting for a brittle sound reminiscent of Lionel Hampton, other times creating smooth and expressive lines in the vein of Milt Jackson. Yet while Ross's sound is grounded in tradition, his rhythmic approach is very contemporary—intensely syncopated and excitingly abstract." — Kevin Laskey, The Jazz Gallery
"[Ross is a] bright young vibraphonist on his own rocket-like trajectory,...he's somebody I'll keep my eye on in the coming months." — Nate Chinen, The New York Times

This album contains no booklet.