---
Album info
Album including Album cover
1

Tapedeck

00:19

2

Toxic Brother

02:37

3

Crystals in the Sky

04:04

4

I'm Your President

02:30

5

Love Your Smell

03:24

6

The Operator

05:25

7

Cybernova

04:26

8

Hit on Your Girl

06:01

9

Lonely Rider

06:08

10

Gloria

03:01

11

The Beetle

03:20

12

Desire

03:53

Total Runtime

45:08
Info for Cyberfunk!

In preparation for over a year and recorded during a series of sleep-deprived three day sessions, the group concentrate on the essentials on the twelve new songs that comprise 'CYBERFUNK!', bundling their raw live energy into a dynamically dense release that sounds like vintage madness of the best possible kind and fits the moment in perfect fashion. Despite what its title might suggest, 'CYBERFUNK!' was created in a more or less classic manner, with the three musicians performing together in one room, just the way it should be, with a minimum of overdubs resulting in a genuine band sound that is almost distilled to its essence, with the voice of singer/guitarist Yves Krismer standing out even more than on the band's previous recordings. The career trajectory of Mother's Cake's has seen them play hundreds of concerts from Manchester to Melbourne and Mumbai, including shows with Wolfmother, Iggy & The Stooges, Omar Rodriguez-López, Alice In Chains and Limp Bizkit. They have also released three successful studio albums plus a near-megalomaniacal (in the best possible sense) 'Live at Pompeii'-style live set recorded on the ski jump in Bergisel, Austria in 2018. The first two singles from 'Cyberfunk!' have already made it onto the 'Tracks Of The Week' list published by Classic Rock's online portal Loudersound, while the first of them ('Toxic Brother') is currently on the A list at Primordial Radio. It also made the A list at Feedback Radio and has been played on regional rock shows around the UK.
"Truth be told, Cyberfunk! is a demanding listen and one could easily argue that it never truly finds its footing with so many drastic U-turns and complimentary nods to other artists' but when it's written at this level of quality it can be hard to hold a grudge. Difficult not to recommend to any fan of any type of rock music, the Austrian triplet has outdone themselves in a grand homage to the very cornerstones of music they had likely plucked their own signature sound from. Trying to consume this as a traditional record going from point A to point B is a task of redundancy, the best course is to sit back and enjoy the show in all its weird harmonious discordance – it's one hell of a ride." (Alex Mace, distortedsoundmag.com)
Mother's Cake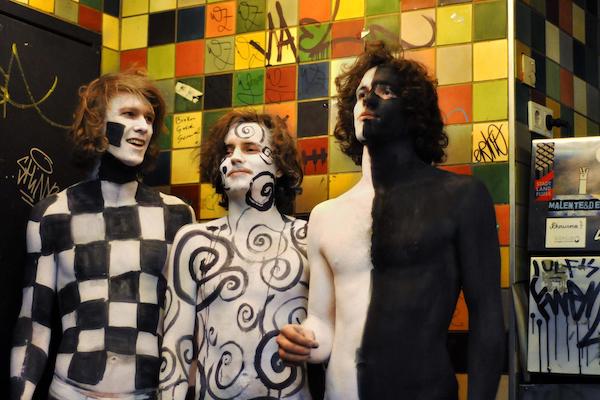 Mother's Cake
ounded in late 2008, Mother's Cake signed with GAB Music. Their debut "Creation's Finest" (release-date: 26-10-2012) was produced by Georg Gabler and got featured by Ikey Owens († 2014, member of The Mars Volta & Jack White). Creation's Finest created a big stir in national and international music press and ensured Mother's Cake a firm stand in the business.
The first single "Soul Prison" (17-08-2012) reached over 250,000 views on Youtube.
In 2013, they got awarded with the "Austrian Newcomer Award″ and played many sold-out shows including support gigs for Iggy and the Stooges, Omar Rodriguez Lopez Group, Deftones and Tito & Tarantula.
The "Endless Space Tour 2014″ led them to Australia in February 2014. They band was welcomed cordially in Down Under and successfully played 12 shows in 2 weeks. On April 4, Mother's Cake released their debut in Germany, played a tour there and announced their new video project.
"Off The Beaten Track" presents itself as a 45-minutes long movie that features a whole live-set of Mother's Cake. It was funded successfully through a crowd-funding project and was officially released on July 17, 2014.
In fall 2014, Mother's Cake supported Anathema on their Distant Satellites tour leading through 20 countries playing 42 shows in 56 days.
Their second studio album "Love The Filth" released on June 5, 2015 via the new founded label Panta R&E including the single "Gojira". Again the reviews were euphoric. As a consequence of this circumstance Mother's Cake are announced as support of Limp Bizkit on four shows, one of them in London.
In 2016, Mother's Cake headlined again in Germany, recorded their 3rd studio album and went on tour with Bobby Liebling's Pentagram and Wolfmother. On January 27th 2017, they released No Rhyme No Reason via Membran Media/The Orchard and showcased at Eurosonic Noorderslag in Groningen, The Netherlands. Sold out shows followed in Melbourne, Brisbane and Sydney at a 7- dates-tour through Australia. Only until April the band played 44 shows in Australia, Germany, Austria and Switzerland with 11 sold out shows. A special highlight was the tour's ending in Vienna with 800 people at the Arena and another 38 shows were booked for the following fall. In 2018, the heavy touring mode was kept up and so the powerhouse played more than 100 shows in the UK, Romania, Hungary, Germany, Croatia, Bulgaria, Austria and Switzerland. Additionally, they performed two shows at the Great Escape in Brighton and one at Liverpool's Soundcity, which was followed by the nomination for the Austrian Amadeus Award in the category "Hard & Heavy". In July, the band was invited to play 4 Shows with Alice in Chains. On September 17th, Mother's Cake released their 2nd live album Live at Bergisel via Membran/The Orchard /SONY, where they recorded the whole album in the famous Austrian skijumping arena in Innsbruck, accompanied by breathtaking videos documenting this mad stunt. In January 2019, the band played their first shows in India at the The Humming Tree in Bangalore and the Sula Fest near Mumbai.

This album contains no booklet.