---
Cartoons in the Night Vol. I (Live 2019) Sinkane
Album info
Album including Album cover
1

Deadweight >

05:35

2

New Name

03:25

3

Runnin' / Getting It Back / Slippin' Into Darkness

04:44

4

Everybody

04:40

5

How We Be / No More Trouble

08:02

6

Rhythm Nation

08:31

7

U'Huh

04:22

8

The Way / Lady C'mon / Nipple to the Bottle

12:58

9

Dépaysé

08:52

10

Ya Sudan / Revolution

05:59

11

Telephone

09:08

12

Favorite Song

07:04

Total Runtime

01:23:20
Info for Cartoons in the Night Vol. I (Live 2019)

Like no other, Ahmed Gallab, whose music is produced under the pseudonym of Sinkane, manages to combine diverse cultural and musical approaches. His album "Mars" was one of the insiders' tips of 2012 and a tribute to his adopted home of Brooklyn, which was as new and exciting to him as a new planet, and just as lonely. The result sounded like Jazz, Funk, Afrobeat and Disco, but at the same time so fresh and nothing like retro that listeners could not help but wonder where to locate this music. Is it Neo-Funk? World music? Indie rock? Electronica? This album, with its cover art of a young man cheerfully waving to the camera, seemed to come from out of nowhere. Shortly afterwards, the usual hype machine sprang into life and soon even Afghan Whigs and Usher became aware of Sinkane, inviting Gallab to join them on stage for a concert. This year, he became musical director of the rediscovery of Nigerian synthesizer virtuoso William Onyeabor. This project was named Atomic Bomb, a collaboration between his band Sinkane, varying guests like Damon Albarn, David Byrne, The Lijadu Sisters, Money Mark and artists from Hot Chip, LCD Soundsystem, The Rapture and Blood Orange. Atomic Bomb filled large venues in London, New York and LA with ecstatic, dancing audiences.
Barely two years after "Mars", Sinkane's new album "Mean Love" takes us by surprise, once again sounding like nothing else out there. In a broad generalisation, we could say that "Mean Love" is Soul Music with new devices. A lot of new devices… There are pedal steel and Country influences, the very best of Tin Pan Alley references, Afrobeat and East African brass, Rock, Prog, Pop – and Soul, Soul and more Soul. And it works, because it's all about the man and his biography. From early childhood, Gallab has lived in the US, spending as many of his holidays as possible in the Sudan. He was a skate punk and a fan of hard-core, playing drums in bands like Of Montreal, Yeasayer and Caribou from a very early age. "Mean Love" is a grand album, elegantly negotiating all these styles, epochs and landmarks of the still very young Mr Gallab's bio– and geography. It manages to sound nostalgic and ultramodern, all at the same time.
Sinkane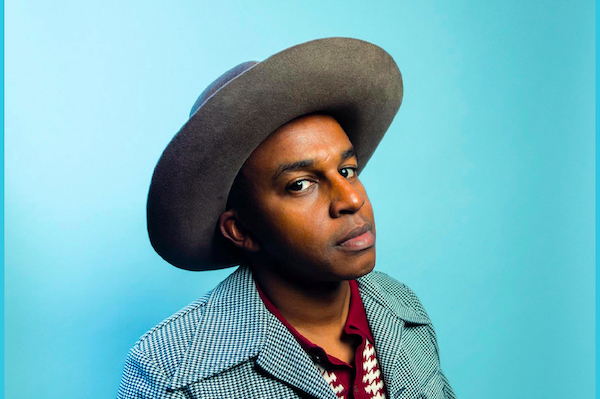 Sinkane
Like no other, Ahmed Gallab, whose music is produced under the pseudonym of Sinkane, manages to combine diverse cultural and musical approaches. His album "Mars" was one of the insiders' tips of 2012 and a tribute to his adopted home of Brooklyn, which was as new and exciting to him as a new planet, and just as lonely. The result sounded like Jazz, Funk, Afrobeat and Disco, but at the same time so fresh and nothing like retro that listeners could not help but wonder where to locate this music. Is it Neo-Funk? World music? Indie rock? Electronica? This album, with its cover art of a young man cheerfully waving to the camera, seemed to come from out of nowhere. Shortly afterwards, the usual hype machine sprang into life and soon even Afghan Whigs and Usher became aware of Sinkane, inviting Gallab to join them on stage for a concert. This year, he became musical director of the rediscovery of Nigerian synthesizer virtuoso William Onyeabor. This project was named Atomic Bomb, a collaboration between his band Sinkane, varying guests like Damon Albarn, David Byrne, The Lijadu Sisters, Money Mark and artists from Hot Chip, LCD Soundsystem, The Rapture and Blood Orange. Atomic Bomb filled large venues in London, New York and LA with ecstatic, dancing audiences.
Barely two years after "Mars", Sinkane's new album "Mean Love" takes us by surprise, once again sounding like nothing else out there. In a broad generalisation, we could say that "Mean Love" is Soul Music with new devices. A lot of new devices… There are pedal steel and Country influences, the very best of Tin Pan Alley references, Afrobeat and East African brass, Rock, Prog, Pop – and Soul, Soul and more Soul. And it works, because it's all about the man and his biography. From early childhood, Gallab has lived in the US, spending as many of his holidays as possible in the Sudan. He was a skate punk and a fan of hard-core, playing drums in bands like Of Montreal, Yeasayer and Caribou from a very early age. "Mean Love" is a grand album, elegantly negotiating all these styles, epochs and landmarks of the still very young Mr Gallab's bio– and geography. It manages to sound nostalgic and ultramodern, all at the same time.

This album contains no booklet.