---
Album info
Album including Album cover Booklet (PDF)
1

True Detective

02:45

2

Red

04:57

3

Care

04:05

4

Matusi Expressions

05:26

5

Violet

05:26

6

Drops and Rhythm

01:11

7

Care Encore

02:12

8

Trust

04:02

9

Taksim for Peace

02:56

10

Circle No. 2

03:40

11

The Sea

04:44

12

Requiem for Gaia

03:36

13

Red Alone

04:09

14

Moving

01:34

Total Runtime

50:43
Info for Trust

During his career, Anders Hagberg has proven his musical prowess as an innovative and virtuoso improviser of flutes in genres like jazz and world music. With the new album TRUST, he takes his innovative expression to a new level with cinematic vocals, suggestive grooves and enchanting melodies. He writes: The music for this album was originally created in interaction with visual artforms, such as dance, pictures, video, and sculpture... For a number of years now, I have carried out artistic research at Gothenburg University s Academy of Music and Drama. I have been looking at what you might call musical states: tonal spaces constructed by musical modes. In particular, I have focused on tone color in melody playing and the role of silence in musical expression. My work on states, sounds, and silences has informed all of the music you hear on this album.
Anders Hagberg, flute, saxophone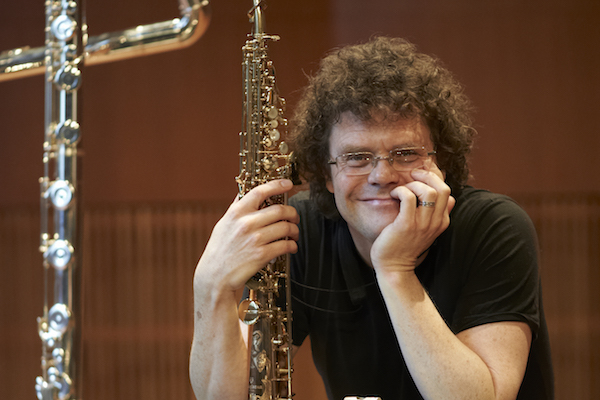 Anders Hagberg
Critically acclaimed and innovative virtuoso Anders Hagberg is a unique soloist on a variety of flutes and soprano saxophone. His musical synthesis, combines the improvised freedom of jazz with an archaic Scandinavian lyricism and influences from his longtime collaborations with Oriental musicians. Creative, and with instrumental mastery, these elements are merged into a profound and personal expression.
Improvisation and boundary crossing collaborations are the hallmarks of Anders, and his projects often includes artists from various genres and cultures as well as other art forms such as dance and visual arts
He has been touring worldwide with his own groups and as a soloist with Yggdrasil, Mynta and New Jungle Orchestra as well as musicians like Marilyn Mazur, John Tchicai, Anders Jormin, Vikku Vinayakram, Shankar Mahadevan to name a few. His international collaborations include artists from India, Middle East, Japan, Brazil, West Africa and the United States.
He has composed music for films and dance performances and made many albums in his own name, which have received grammy nominations and prizes. He also works as a Senior Lecturer in improvisation at the University of Gothenburg, Academy of Music & Drama.
With the Connecting Worlds, Anders has created a serie of concerts and a platform for new collaborations between artists from Europe and the Orient.

Booklet for Trust