---
Album info
Album including Album cover
1

Moksha

06:34

2

The Exchange

05:54

3

Au Contraire

03:35

4

Room 1003

03:47

5

Serie De Arco

04:22

6

Transference

06:37

7

Back Home

07:32

Total Runtime

38:21
Info for Multiverse

Pianist Ivo Neame and vibraphonist & drummer Jim Hart take their duo project to the next level with an astonishing and multifaceted new album.
Over the last 15 years, both celebrated musicians have developed and grown formidable profiles and reputations as some of the most inventive and leading instrumentalists of their generation in Europe.
With collaborations in a myriad of different projects, Ivo Neame and Jim Hart have played in an acoustic duo on and off since they first met. With their debut release as a duo in March 2020, they have created an album that, with 2 and a half years in the making, showcases the musical brilliance and skill of both musicians as multi-instrumentalists to a new level.
"We did a lot of overdubbing and Jim suggested involving the fantastic guitarist and producer Matt Calvert. The album took two and a half years to finish and involved some extremely long drives for me between London and Alsace; drives which I undertook in a Ford Fiesta loaded with all kinds of keyboards! It felt pretty insane at the time but these odysseys were completely worth it for the sake of getting a genuine live feel on the recording and to continue my musical relationship with Jim, who is one of the most inspiring cats out there!" (Ivo Neame)
"Ivo is one of my favourite musicians alive today. Both as an improviser and as a composer he is constantly surprising and inspiring. He takes risks that seem almost death defying to me but he never fails and and no matter how big the leap, somehow you always know he is in control and knows where he is going. He is a master. After so many years of playing together we have developed such understanding and empathy for each other's playing that we are able to take the music in different directions with a spontaneity which constantly surprises me" (Jim Hart)
Jim Hart, drums, vibraphone, marimba, percussion
Ivo Neame, Fender Rhodes, piano, mellotron, Hammond organ, clarinet
Matt Calvert, synthesizer, sampling, electronics
Recorded June 2016 in Alsace, France; August 2017 Royal Academy of Music, London
Mixed and produced by Matt Calvert
Mastered by Peter Beckmann at Technology Works studios, October 2019
Produced by Matt Calvert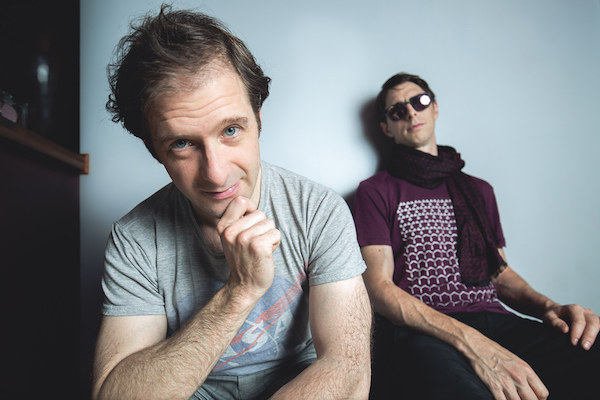 Ivo Neame
is a forward thinking and innovative pianist, composer and multi-instrumentalist. As a musician of exceptional ability, Neame is developing a reputation as one of the most exciting and original pianists to emerge in some time. Well known as the pianist with Phronesis and with Norwegian saxophonist Marius Neset, his most recent release Strata saw him reach new heights as a composer leading a quintet in a set of exuberant and creative originals. With an abundance of ideas, his career is travelling on new trajectory set to emulate the profile achieved by the likes of Django Bates. Extensively touring with his quintet, octet and now solo piano, as well as with Phronesis and Marius Neset, Neame is destined for great things. Watch this space!
Ivo studied at the Royal Academy of Music, and since leaving in 2003 he has gone on to perform and record with highly esteemed musicians at home and abroad such as David Binney, Kenny Wheeler and Hermeto Pascoal. He has also played on more than 40 albums as a sideman and a leader.
Jim Hart
is one of the most in-demand musicians on the European jazz and alternative music scene, as a soloist and sideman on drums and vibraphone. His background in both jazz and classical music – combined with his interest in the traditional music of Latin America and West Africa and its part in contemporary improvised music – has helped to define his creative personality, melding a distinctive and strong sense of harmony, melody and rhythm.
As a bandleader, he has recorded six albums of his own music which have enjoyed radio airplay and have been critically acclaimed worldwide. Hart leads Cloudmakers Trio and Cloudmakers Five and his eminence across Europe includes a pivotal role in the Marius Neset Quintet (vibes, marimba and percussion), Daniel Erdmann's Revolution (vibes) and Vula Viel's exploration of the rhythmic systems of Ghanaian traditional music (drums).
Downbeat magazine has listed him in both readers' and critics' polls – in the 'vibraphone' and 'rising star' categories – over the last five years; and Cloudmakers Trio's studio album 'Abstract Forces' made their 2014 'album of the year' list. He has been the recipient of multiple British jazz awards, the Worshipful Company of Musicians bronze medal and was nominated for 'musician of the year' in the Parliamentary Jazz Awards.
Jim is also active in jazz education, holding a post at the Royal Academy of Music, London, and is a visiting tutor at the Guildhall School of Music and Drama. He is also a tutor at the National Jazz Collective Summer School and the Jazzwerkstatt in Sarwellingen, Germany.
Studying music from the age of five, on both piano and drums, Hart was encouraged early on to improvise and compose, as well as being coached in the classical repertoire by his piano teacher. As a developing percussionist, he was involved in orchestral music, becoming a solo percussion finalist in the BBC Young Musician of the Year competition – all this whilst studying jazz drum kit and latin percussion with Dave Hassell at Chetham's School of Music, Manchester. He then studied at the Guildhall School of Music and Drama, quickly becoming immersed in the London jazz scene as a drummer and vibraphonist, and was a founder member of the LOOP Collective.
Now living in Alsace, France, Jim Hart has performed and recorded with many of the world's most respected jazz musicians including Kenny Wheeler, John Taylor, Wynton Marsalis, Stan Sulzmann, Ralph Alessi, Dave Holland, Marius Neset, Lionel Loueke, Daniel Erdmann, Theo Caccaldi, Vincent Courtois, Julien Lourau, John Dankworth, Cleo Laine, Joel Frahm, Jaleel Shaw, Terrel Stafford and Logan Richardson. He has toured extensively throughout Europe, Scandinavia, the USA and Canada, and continues to appear at major jazz festivals worldwide, including North Sea, Molde, Pori, Trondheim, Frankfurt, Hamburg, Rochester NY, Vancouver, Victoria, Twin Cities, Manchester and London.

This album contains no booklet.