---
Album info
Album including Album cover
I`m sorry!
Dear HIGHRESAUDIO Visitor,
due to territorial constraints and also different releases dates in each country you currently can`t purchase this album. We are updating our release dates twice a week. So, please feel free to check from time-to-time, if the album is available for your country.
We suggest, that you bookmark the album and use our Short List function.
Thank you for your understanding and patience.
Yours sincerely, HIGHRESAUDIO
1

Broken Mirror Pose

02:37

2

O! Lucky Hand

03:10

3

2 Ugly 4 NY

02:15

4

Blackhole/Joyride

03:36

5

Bed of Needles #2

03:08

6

Deathwish Blue

03:59

7

Blood in the Water

01:10

8

Buzzkill Caterwaul

04:47

9

Sunday Driver

03:40

10

Johnny (Free & Easy)

04:03

11

She's Lily Riptide

03:42

Total Runtime

36:07
Info for Showboat Honey

There is this curious equilibrium to existence: In order to create balance, the universe must giveth, and the universe must taketh. Kyle Craft, along with his now solidified backing band dubbed Showboat Honey, know this all too well. And this is why their self-titled album, the contemplative yet restless Showboat Honey (Sub Pop Records, July 12th, 2019) reflects that sturm und drang. "This is basically an album centered around bad luck and good fortune hitting at the same time," Craft explains "Then, out of nowhere, I find love. Everything went to shit except that. I guess that's how life works."
No track better captures this duality than the sweeping "Sunday Driver," about sticking to your guns, despite a universe of blowback. "At this point, you get baptized by certain fires and start to walk with the dead a little bit, like nothing can harm you anymore," says the Portland-based musician. "That's what self-love sounds like to me, as aggressive as that sounds."
The sticky-sweet title of the album is lifted from the brightly choral "Buzzkill Caterwaul" ("Once you were the showboat honey/ But your ship sailed out"). "I wanted to make something that sounded like a raucous collision of Leon Russell and Patti Smith," he says, "But 'Buzzkill Caterwaul' was the only tune that ended up showcasing that vision."
Though aesthetics veer from song to song, Showboat Honey's steadfast formula remains the same. Drummer Haven Mutlz holds down the machine with a '60s/'70s fast-molasses groove that locks in with the slinky rolling bass of Billy Slater. When Kevin Clark isn't bouncing across the piano, his mellotron strings swell in and out of frame. Jack of all trades Ben Steinmetz's organ parts well up from the deep of the songs, while lead guitarist Jeremy Kale's solos rip through them like electricity. On top of it all, sits the tongue-in-cheek phantasmagoria created by Craft's lyrics.
Lyrically, perspectives shift to imbue life into a cast of intriguing, mysterious characters, à la Bob Dylan. ("There is not a single thing in my life that has affected me more than the first time I heard Dylan," says Craft. "It immediately changed my life.") "Johnny (Free & Easy)" is seemingly about a date gone awry at a swinger's party in the Hollywood Hills. And the twangy pop of "O! Lucky Hand" appears to shadow a poor sod desperate to elude a hex. Its antidote is the stunning, cinematic "Deathwish Blue," which sounds like a deep cut from the book of John Lennon, about the lovesick salvation found in his bride to be, Lydia.
If that's not head-trippy enough, the carefree sing-along "2 Ugly 4 NY" features a lyrical reference to a previous incarnation of Craft. Its lyrics—"Don't wanna see Death strum for cash downtown/ Or the look on his face when the change hits the case on the ground"—call out his early days in Portland when he went by the moniker of Hobo Grim. Busking downtown, he'd cover country tunes while dressed as the Grim Reaper so as to conceal his true identity.
Craft started writing about as soon as he could play the guitar at the age of 15. He grew up in the isolated Mississippi River town of Vidalia, Louisiana where his chops weren't honed in a woodshed, but rather an old, dingy meat freezer that was out of commission. When asked about the first song he'd ever written, he laughs, saying it was an "angsty-rock tune" and "a rare bird of how bad a song could be."
After years of touring, two LPs with Sub Pop Records, and solidifying the band, he's since grown into a prodigious songwriter, to say the least. The band recorded Showboat Honey—co-produced by Craft, Clark, and Slater—at their own Moonbase Studios in Portland over 2018. "We approached this record differently for sure," Craft says. "I'd make a demo, and after putting the songs together, shoot it to the band for ideas." Tracks such as "Broken Mirror Pose" ended up being highly collaborative, while others settled into Craft's original vision. "Deathwish Blue," for instance, was tracked in a similar fashion to his solo debut, Dolls of Highland, with Craft tracking every instrument by himself.
Kyle and the members of Showboat Honey worked at such a feverish wine-fueled pace that they actually ended up with two completely different albums. But at the end of the day, they decided to combine the two into what is now Showboat Honey, a moonstruck rock 'n' roll record teeming with reckless abandon.
"We thought we had the album done at one point. But at the last minute, I was like, 'Shit, this isn't the album. This isn't it,'" Kyle says. "It was just a gut feeling. I'm glad for that because I feel like I ended up writing some of the best songs I've ever written."
Kyle Craft, guitar
Haven Multz, drums
Kevin Clark, piano
Jeremy Padot, guitar
Ben Steinmetz, organ
William Slater, bass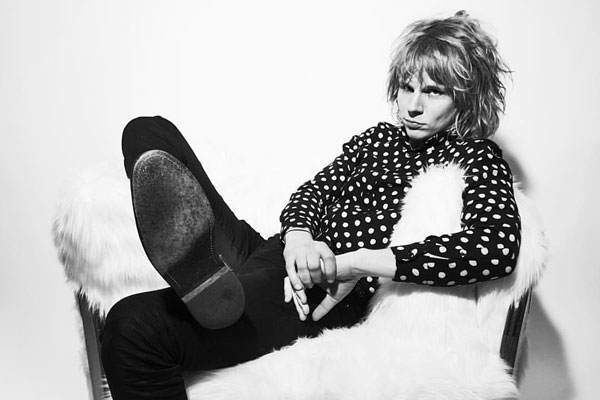 Kyle Craft
grew up in a tiny Louisiana town on the banks of the Mississippi, where he spent most of his time catching alligators and rattlesnakes instead of playing football or picking up the guitar. He's not the born product of a musical family, and bands never came through town–it was only a chance trip to K-Mart that gave him his first album, a David Bowie hits compilation that helped inspire him eventually to channel his innate feral energy into songwriting and rock and roll.
That self-made talent drives every note of Dolls of Highland, Craft's exhilarating, fearless solo debut. "This album is the dark corner of a bar," he says. "It's that feeling at the end of the night when you're confronted with 'now what?'"
Craft knows the feeling well–Dolls began to take shape when everything he took for granted was suddenly over, including an eight-year relationship. "All of a sudden I was left with just me for the first time in my adult life," he says. He decided to get himself and the music he'd been working on far away from the ghosts of his home in Shreveport, Louisiana, to make a new life for himself in Portland, Oregon, living under a friend's pool table while he demoed new songs and started to tackle his own question about what came next.
Dolls of Highland crashes open with "Eye of a Hurricane," a whirlwind of ragtime piano and Craft's dynamic, enthralling vocals. He calls it a "jealous song," stirred up by the memories of an ill-fated crush and a drama of "weird little connections, a spider web of what the fuck?"
The swinging, resonant "Lady of the Ark" is also tied up in that web, "a very incestuous song," says Craft. "It's about these messed up relationships, maybe involving me, maybe revolving around me." Most of the characters and atmospheres on the album come from in and around Shreveport, where Craft briefly returned while recording the album for an intensely productive reckoning with his past. He stayed in a friend's laundry room in the Highland neighborhood, where he recorded the whole album in two months on a home studio rig. "I dedicated the album to Shreveport and called it Dolls of Highland for all the girls and ghosts in town who influenced it so strongly."
Craft eventually returned to Portland where Brandon Summers and Benjamin Weikel of The Helio Sequence helped refine and mix the album to move it from its DIY beginnings to a more fully realized work. Craft played most of the instruments on the album, but the recorded songs transmit the power of his live performance. "It's just letting go," says Craft. "I think it's just all about feeling it in your chest."
And then there's Craft's unforgettable voice–"I'm fully aware that I have a very abrasive, very loud voice, but Bob Dylan is the one that taught me to embrace that," says Craft. "I stray away from him from time to time, but always come back. I don't want to come off as antique, but I also don't want to be afraid of paying homage to the stuff I've always loved." With those influences as inspiration, Craft's talent and singular creativity move the conversation into new and unpredictable places.
And no question, this album is very much about moving forward. "After everything fell apart, it didn't take very long for me to learn who I was and what I should be doing," says Craft, who is walking out on the other side with Dolls of Highland.

This album contains no booklet.