---
Album info
Album including Album cover Booklet (PDF)
I`m sorry!
Dear HIGHRESAUDIO Visitor,
due to territorial constraints and also different releases dates in each country you currently can`t purchase this album. We are updating our release dates twice a week. So, please feel free to check from time-to-time, if the album is available for your country.
We suggest, that you bookmark the album and use our Short List function.
Thank you for your understanding and patience.
Yours sincerely, HIGHRESAUDIO
Nino Rota (1911 - 1979): Amarcord - Suite

1

Amarcord - Suite: 1. Danzando nella nebbia

02:05

2

Amarcord - Suite: 2. La Fogaraccia

03:05

3

Amarcord - Suite: 3. Lo struscio

05:48

4

Amarcord - Suite: 4. Le "manine" di primavera

02:36

Otto e mezzo - Suite:

5

Otto e mezzo - Suite: 1. Titoli

01:11

6

Otto e mezzo - Suite: 2. Sogno (Il cimitero)

01:32

7

Otto e mezzo - Suite: 3. Discesa ai fanghi

02:16

8

Otto e mezzo - Suite: 4. Lo Sceicco d'Arabia

03:14

9

Otto e mezzo - Suite: 5. Carlotta's gallop

02:35

10

Otto e mezzo - Suite: 6. Passerella d'addio

05:35

La dolce vita - Suite:

11

La dolce vita - Suite: 1. Titoli - 2. Festoso

01:53

12

La dolce vita - Suite: 3. Notturno

00:51

13

La dolce vita - Suite: 4. Via Veneto

00:39

14

La dolce vita - Suite: 5. Cavallino Canzonetta

01:14

15

La dolce vita - Suite: 6. Parlami di me (a la Circus)

00:33

16

La dolce vita - Suite: 7. Parlami di me

02:48

17

La dolce vita - Suite: 8. Notturno o mattutino

01:04

18

La dolce vita - Suite: 9. La dolce vita

02:37

Il Casanova di Federico Fellini - Suite sinfonica:

19

Il Casanova di Federico Fellini - Suite sinfonica: 1. O Venezia, Venaga, Venusia

04:32

20

Il Casanova di Federico Fellini - Suite sinfonica: 2. L'uccello magico

02:34

21

Il Casanova di Federico Fellini - Suite sinfonica: 3. Intermezzo della mantide religiosa

04:14

22

Il Casanova di Federico Fellini - Suite sinfonica: 4. The great Mouna

02:17

23

Il Casanova di Federico Fellini - Suite sinfonica: 5. Il Duca di Württenberg

04:28

24

Il Casanova di Federico Fellini - Suite sinfonica: 6. La poupée automate

03:37

Nino Rota:

25

I Clowns - Suite

13:07

26

Amarcord (Arr. Ross)

04:27

Total Runtime

01:20:52
Info for The Fellini Album

Together with the Filarmonica della Scala, Riccardo Chailly explores the iconic film scores of Nino Rota in a new collection, The Fellini Album. Slated for release on June 7 to mark 40 years since Rota's death in April 1979, the album contains music from classic Federico Fellini films that capture the spirit of Italian cinema in the 1950s and 60s. The Fellini Album includes brand new recordings of music from La Dolce Vita, Amarcord, 8 ½, The Clowns and Il Casanova. The Fellini Album is available to pre-order now and will be released on Decca Classics/Universal Music Canada, the country's leading music company on June 7.
For Rota – undoubtedly the leading composer of Italian film music during the 1950s and 60s – Fellini's cinematic world allowed him to explore his full creative potential, despite the director's lack of understanding of music as a creative medium, by his own admission. Rota went on to write the soundtracks for all of Fellini's films from Lo sceicco bianco (The White Sheikh) to Prova d'orchestra (Orchestra rehearsal). The two men had a working relationship that was, in Fellini's words, "a convergence of two temperaments, two natures, two creatures who, within their own limits, had no option but to cohabit the film-making process".
Rota's compositional style was widely derided by his contemporaries, who considered it devoid of any innate beauty on account of being too closely tied to film music. The composer did not believe in drawing distinctions between different genres, and was more concerned with creating music that entered into a dialogue with the images onscreen rather than being overpowered by them with too much texture and pomp.
Riccardo Chailly first met Rota in 1974 in Lanciano, Italy, when the composer was preparing the young participants in the town's International Summer Orchestra Course for a performance of Rota's Piano Concerto in C. Chailly, then only 21, was struck by Rota's easy-going nature, and recalls an incredibly cultured man with an enormous musical knowledge.
Born in 1953 in Milan, Riccardo Chailly started his career as an opera conductor and gradually extended his repertoire to encompass symphonic music. With a recording catalogue of over 150 releases, Chailly has the longest exclusive recording contract of any living conductor, working with Decca for over 40 years to date.
Works included on the release enable listeners to appreciate Rota's "chameleon-like" compositional style in full, and hear Chailly, along with the Filarmonica della Scala, expertly explore every subtle detail of Rota's instrumentation, melodies and rhythms.
Filarmonica della Scala
Riccardo Chailly, conductor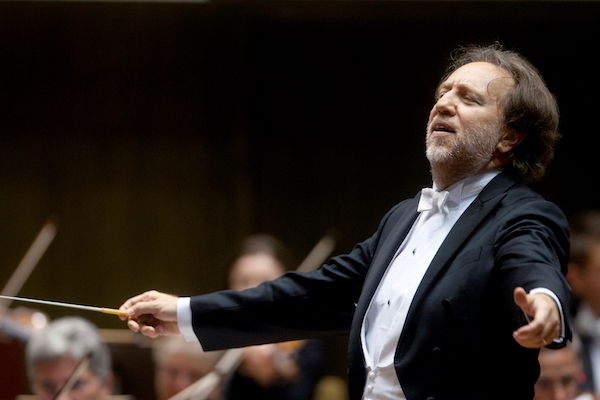 Filarmonica della Scala
was first set up by Claudio Abbado and the musicians of La Scala Opera House in 1982 with the aim of developing a symphonic repertoire. Carlo Maria Giulini conducted the Orchestra in more than 90 concerts. Riccardo Muti became the Principal Conductor from 1987 to 2005.
From November 2015 Riccardo Chailly is Filarmonica della Scala's Principal Conductor. The Orchestra has collaborated with some of the greatest conductors of the time: Georges Prêtre, Lorin Maazel, Wolfgang Sawallisch, Zubin Metha, Leonard Bernstein and many others. From 2006 Filarmonica has intensified its relation with Daniel Barenboim, Riccardo Chailly, Daniel Harding, Daniele Gatti and Valery Gergiev.
From 2013 Filarmonica hosts the Concerto per Milano in Piazza Duomo, an acclaimed event which has made more than 40.000 people attendance every year. A project, addressed specifically to primary school children, is the Sound, Music! initiative. Filarmonica also has a long tradition in supporting Milan's main scientific institutions and voluntary bodies, through special concerts for their benefit and open rehearsals belonging to the series Prove Aperte.
Filarmonica has a particular interest in contemporary music from the beginning, every season features a new commission to an important composer of our time.
Filarmonica performed more than 600 concerts on tour in the last 30 years. Important milestones have included the Orchestra's debut in the United States with Riccardo Chailly and in China with Myung- Whun Chung.
Filarmonica has made numerous recordings for music labels such as the album Viva Verdi for Decca with Riccardo Chailly and, for Sony, the project 900 Italiano that by now counts 3 DVDs directed by Georges Prêtre, Fabio Luisi and Gianandrea Noseda. Filarmonica della Scala's activity is supported by the Main Partner UniCredit.

Booklet for The Fellini Album