---
Album info
Album including Album cover Booklet (PDF)
Antonio Vivaldi (1678 - 1741): Dorilla in Tempe, RV 709: Sinfonia:

1

Sinfonia. Allegro

01:56

2

Sinfonia. Andante

01:55

Dorilla in Tempe, RV 709, Act I:

3

Act I, Scene 1: Sinfonia. Allegro - Dell' aura al sussurrar

03:22

4

Act I, Scene 1: Or fra questi, o Dorilla (Recitativo) (Elmiro, Dorilla)

01:54

5

Act I, Scene 1: Mi lusinga il dolce affetto (Aria) (Elmiro)

04:57

6

Act I, Scene 2: Figlia, Nomio, oh Dei! (Recitativo) (Admeto, Dorilla, Nomio)

00:59

7

Act I, Scene 2: La speranza ch'in me sento (Aria) (Dorilla)

03:57

8

Act I, Scene 3: Quale, Signor, daresti (Nomio, Admeto)

00:45

9

Act I, Scene 3: Dall'orrido soggiorno (Aria) (Admeto)

03:15

10

Act I, Scene 4: Se Apollo io son sotto (Solo) (Nomio)

00:38

11

Act I, Scene 4: Se al mio ben rivolgo il ciglio (Aria) (Nomio)

03:31

12

Act I, Scene 5: Nume tu, che di Tempe (Admeto)

00:45

13

Act I, Scene 5: Gemiti e lagrime (Coro di pastori)

01:08

14

Act I, Scene 5: Quale portento? - Queste inutili voci (Dorilla, Elmiro, Admeto)

01:56

15

Act I, Scene 6 & 7: Fiero destin che sento! - Senza l'uso de' sensi - Noiosi tormenti (Elmiro, Dorilla, Eudamia)

05:36

16

Act I, Scene 7: Saprò ben con petto forte (Aria) (Elmiro)

02:33

17

Act I, Scene 8: D'un tal disprezzo a fronte - Qui in disparte - No, t'arresta, o Filindo (Eudamia, Filindo)

01:42

18

Act I, Scene 8: Al mio amore il tuo risponda (Aria) (Eudamia)

04:10

19

Act I, Scene 9: Ancor questo di più? Mio cuor (Recitativo) (Filindo)

00:24

20

Act I, Scene 9: Rete, lacci, e strali adopra (Aria) (Filindo)

04:31

21

Act I, Scene 10 & 11: Quest' è il campo fatal, ma glorioso - Non temer, o Dorilla - Oh clemenza del Ciel! Oh prode Nomio! - Parte così Dorilla (Dorilla, Nomio, Admeto)

03:50

22

Act I, Scene 11: Lieta, o Tempe - Ogni cuor grato si mostri

02:21

Dorilla in Tempe, RV 709, Act II:

23

Act II, Scene 1: Ah che da tanta gioia - Come? D'un tal timore (Elmiro, Dorilla)

01:24

24

Act II, Scene 1: Come l'onde in mezzo al mare (Aria) (Dorilla)

04:07

25

Act II, Scene 2: Ah, che non val costanza (Recitativo) (Elmiro)

00:20

26

Act II, Scene 2: Vorrei dai lacci sciogliere (Aria) (Elmiro)

05:14

27

Act II, Scene 3: Admeto padre, e re se ha quanto basta - Se dunque generoso - Del genitor ai cenni (Admeto, Nomio, Dorilla)

02:59

28

Act II, Scene 5: Ma in tal contrasto il fine tuo più degno - Come? Son re, son padre - Non indugiar, libero parla, e tutta - Ma giacché risoluto saperlo (Eudamia, Admeto, Dorilla, Nomio, Filindo)

02:33

29

Act II, Scene 5: Se ostinata a me resisti (Aria) (Admeto)

04:20

30

Act II, Scene 6: Ma dimmi, tu, qual parte - Vile, indiscreta tirannia è quella (Dorilla, Eudamia, Nomio, Eudamia)

01:20

31

Act II, Scene 6: Se amarti non poss'io (Aria) (Dorilla)

03:33

32

Act II, Scene 7: Grande fatalità de' nostri affetti - No, Eudamia, ancor non devi (Filindo, Eudamia, Nomio)

00:43

33

Act II, Scene 7: Bel piacer saria d'un core (Aria) (Nomio)

07:30

34

Act II, Scene 8: Ingrata Eudamia, a rendermi infelice (Filindo, Eudamia)

00:35

35

Act II, Scene 8: Arsa da rai cocenti (Aria) (Eudamia)

03:42

36

Act II, Scene 9: Che deggio far? Creder convien (Solo) (Filindo)

00:24

37

Act II, Scene 9: Non vo' che un infedele (Aria) (Filindo)

04:41

38

Act II, Scene 10: Misero Elmiro, oh Dio! Della sciagura (Elmiro)

00:42

39

Act II, Scene 11: Con eco giuliva

00:51

40

Act II, Scene 11: Tempe qui tutta vedi - La conquista d'un cor (Admeto, Nomio, Dorilla, Eudamia)

01:13

41

Act II, Scene 11: Si beva, si danzi, si canti

00:52

42

Act II, Scene 12: Stuolo de' cacciatori (Filindo, Admeto, Tutti)

00:19

43

Act II, Scene 12: Alla caccia ognuno presti

01:37

Dorilla in Tempe, RV 709, Act III:

44

Act III, Scene 1: Di Dorilla, o signor, tosto in soccorso -L'offesa al mio signore (Filindo, Admeto)

00:49

45

Act III, Scene 1: Col piacer del tuo comando (Aria) (Filindo)

02:50

46

Act III, Scene 2 & 3: Ah indegna figlia! Forse - Offeso tu non sei se violata - Signor, ciò ch'in Elmiro - In oltraggio all'amor, (Admeto, Nomio, Elmiro, Dorilla)

03:14

47

Act III, Scene 3: Fidi amanti al vostro amore (Aria) (Nomio)

05:17

48

Act III, Scene 4: Ah padre, deh permetti - Padre crudel spietato (Dorilla, Admeto)

01:44

49

Act III, Scene 4: Il povero mio core (Aria) (Dorilla)

06:23

50

Act III, Scene 5 & 6: Olà! Costui fra tanto - Né all'amor della vita già infelice - Lasciami, o traditor! (Admeto, Elmiro, Eudamia)

01:31

51

Act III, Scene 6: Più non vo' mirar quel volto (Aria) (Eudamia)

02:39

52

Act III, Scene 7: Eh che invano tu speri (Recitativo (Elmiro)

00:12

53

Act III, Scene 7: Non ha più pace il cor amante (Aria) (Elmiro)

06:59

54

Act III, Scene 8 - 10: Desolata Dorilla - All'imminente scena - Ah giacché si feroce - Deh oh Dio! (Dorilla, Admeto, Elmiro)

02:35

55

Act III, Scene 11: Ceda il duolo! In riso, in giubilo

00:30

56

Act III, Scene 11: Admeto, ecco tua figlia - A un tal portento (Nomio, Admeto, Elmiro, Dorilla, Eudamia, Filindo)

01:23

57

Act III, Scene 11: Il Cielo ancora

00:35

Total Runtime

02:21:45
Info for Vivaldi: Dorilla in Tempe, RV 709

Launched in 2000 and now 54 albums later, the ground-breaking Vivaldi Edition returns with the sumptuous opera, Dorilla in Tempe, conducted by Diego Fasolis.
A perfect example of the creativity and diversity of Antonio Vivaldi's musicmaking, the opera Dorilla in Tempe is an enchanting listen. From the pastoral and fairytale-like atmosphere of the story, to the prominent role of the choir (which sings the well known 'Spring') and the insertion of several spectacular arias by fellow composers (thereby creating a 'pasticcio' opera, as was common at the time): everything combines to draw the listener in to the emotional twists and turns of Princess Dorilla in her valley of Tempe, Greece.
As always in the Vivaldi Edition, the recording brings together a high-level vocal cast, including Romina Basso, Sonia Prina, Christian Senn, and Serena Malfi - this time under the baton of maestro Diego Fasolis, who has previously worked with Cecilia Bartoli on several recordings.
Romina Basso, mezzo-soprano
Serena Malfi, mezzo-soprano
Marina de Liso, mezzo-soprano
Lucia Cirillo, mezzo-soprano
Sonia Prina, contralto
Christian Senn, baritone
Coro Della Radiotelevisione Svizzera
I Barocchisti
Diego Fasolis, conductor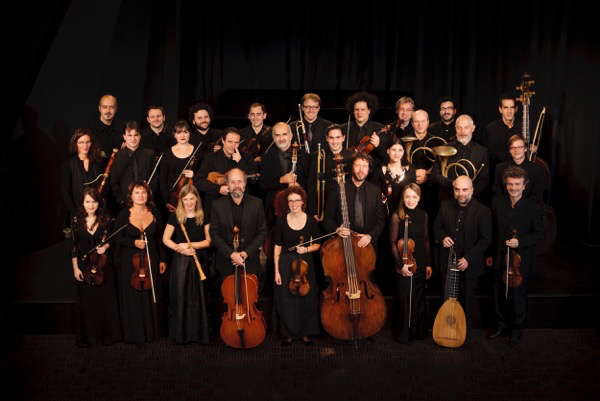 I Barocchisti
Das Ensemble I Barocchisti wird heute auf internationaler Ebene als Referenzorchester geschätzt, wenn es um die Aufführung alter Musik auf historischen Instrumenten geht. Unter der Leitung von Diego Fasolis übernahm das Orchester das Erbe der von Edwin Loehrer gegründeten Società cameristica di Lugano, welche seit den Fünfzigerjahren eine wesentliche Rolle bei der Wiederentdeckung der Vokal- und Instrumentalwerke des Barock spielte. Die Besetzung der Barocchisti variiert von vier bis 40 Musikern; die Mitglieder sind renommierte Spezialisten, die häufig auch als international anerkannte Solisten auftreten. Das Orchester hat zusammen mit dem Coro della Radiotelevisione Svizzera unter der Leitung von Fasolis in den letzten Jahren verschiedene Konzertproduktionen und Aufnahmen realisiert, mit Werken von Bach, Cavalli, Galuppi, Gossec, Händel, Mozart, Scarlatti, Paisiello, Pergolesi, Piccinni, Purcell und Vivaldi. Außerdem arbeiten Solisten von internationalem Rang kontinuierlich mit dem Ensemble zusammen, darunter Philippe Jaroussky und Julia Lezhneva, mit denen das Stabat Mater und andere Werke von Pergolesi eingespielt wurden: Die 2013 erschienene CD wurde im Rahmen einer Tournee in Amsterdam, Essen, Baden-Baden und Luzern vorgestellt und 2014 bei den International Classical Music Awards als "Beste Aufnahme des Jahres" ausgezeichnet. Aus der engen künstlerischen Partnerschaft, die das Orchester seit einigen Jahren mit Cecilia Bartoli verbindet, ging u.a. das multimediale Projekt Mission hervor: Es widmete sich der Wiederentdeckung der Musik von Agostino Steffani und wurde mit einem ECHO Klassik ausgezeichnet und für einen Grammy Award nominiert. Gemeinsam mit den anschließend erschienenen Steffani-CDs der Barocchisti, Stabat Mater und Danze e Ouvertures, erschien Mission in einer exklusiven Sammeledition (The Steffani Project). 2014 wurde mit Bartoli die CD St.Petersburg aufgenommen, auf deren Veröffentlichung eine lange Tournee durch Europa folgte. I Barocchisti sind bei den größten Musikfestivals in Europa und den USA aufgetreten. Bei den Salzburger Festspielen sind sie zu Pfingsten 2015 in Iphigénie en Tauride und Semele sowie im Sommer in der Wiederaufnahme von Glucks Oper zu Gast.
Diego Fasolis
studied in Zurich, Paris and Cremona where he obtained four diplomas with distinction. He began his career in the 80s as a concert organist, performing regularly complete works by Bach, Buxtehude, Mozart, Mendelssohn, Franck and Liszt.
Having acquired a worldwide recognition, Fasolis was appointed Chief conductor of the Vocal and instrumental ensembles of Swiss Radio and Television in 1993. In 1998 he began conducting "I Barocchisti", a baroque orchestra with period instruments, which he founded with his wife Adriana Fasolis-Brambilla. After her premature death in 2013 he established a charitable foundation in her name to support young musicians. He also works as a guest teacher with leading groups and singers internationally.
Diego Fasolis is seen as a reference interpreters for historically informed music. His versatility and virtuosity are combined with a rigorous style, which is highly appreciated by the public and by international critics and press both in Europe and in the US. He has been working with the acclaimed mezzo-soprano Cecilia Bartoli since 2011, with projects including audio and video recordings as well as major concert tours around the world. Their last project is dedicated to Italian and German authors present in the St. Petersburg archives. Fasolis also conducted Bellini's Norma in Monte-Carlo starring Cecilia Bartoli as the title role.
A regular guest at the Salzburg Festival for concerts and opera engagements, (the latest being Iphigenie en Tauride), Diego Fasolis also conducted Beethoven's Ninth Symphony at the Vienna Musikverein, with the Concentus Musicus Wien, and the A. Schoenberg Choir. More recently, La Scala entrusted him with the creation of an orchestra on period instruments to perform Handel's Il Trionfo del tempo e del Disinganno.
Other highlights among current and future engagements include Tamerlano with Placido Domingo at Teatro alla Scala, Gluck's Orfeo at the Théâtre des Champs Elysées, Le Comte Ory at the Zurich Opernhaus, La Finta Giardiniera at Teatro alla Scala, La Cenerentola at the Opéra Royal in Liège, Così fan tutte at Teatro Regio in Turin, Clemenza di Tito at the Opéra de Lausanne and L'Incoronazione di Poppea at the Berlin State Opera.
In 2011, Pope Benedict XVI awarded him an Honorary Doctorate of Sacred Music.
With more than 120 CDs released by major international recording companies such as EMI-Virgin, Naïve, Universal Music and Warner Classic, Fasolis received numerous prizes for his commitment in the re-discovery of the operatic repertoire. Prizes include Disco d'Oro, the Grand Prix du Disque for his work on Handel and Vivaldi, Echo Klassic for the opera Artaserse by Leonardo Vinci. In 2014 he was nominated for two Grammy Awards for his work and for the triumphant "Mission" project with works by Agostino Steffani, and in 2015 for the "St. Petersburg" project with Cecilia Bartoli.

Booklet for Vivaldi: Dorilla in Tempe, RV 709