---
Album info
Label: Deutsche Grammophon
Genre: Classical
Subgenre: Chamber Music
Artist: Harriet Krijgh
Composer: Franz Schubert (1797-1828), Robert Schumann (1810-1856), Felix Mendelssohn Bartholdy (1809-1847), Johannes Brahms (1833-1897), Ernest Chausson (1855-1899), Francis Poulenc (1899-1963), Michael Glinka (1804-1857), Sergei Rachmaninoff (1873-1934), Richard Strauss (1864–1949)
Album including Album cover
I`m sorry!
Dear HIGHRESAUDIO Visitor,
due to territorial constraints and also different releases dates in each country you currently can`t purchase this album. We are updating our release dates twice a week. So, please feel free to check from time-to-time, if the album is available for your country.
We suggest, that you bookmark the album and use our Short List function.
Thank you for your understanding and patience.
Yours sincerely, HIGHRESAUDIO
Franz Schubert (1797 - 1828): An die Musik, Op. 88:

1

Schubert: An die Musik, Op. 88 No. 4, D. 547

02:32

Nacht und Träume, Op. 43:

2

Schubert: Nacht und Träume, Op. 43 No. 2, D. 827

03:25

Du bist die Ruh', D. 776:

3

Schubert: Du bist die Ruh', D. 776

04:05

Am Tage aller Seelen, D. 343:

4

Schubert: Am Tage aller Seelen, D. 343, 'Litanei auf das Fest aller Seelen'

03:48

Robert Schumann (1810 - 1856): 12 Gedichte, Op. 35:

5

Schumann: 12 Gedichte, Op. 35: Stille Tränen

03:14

Myrthen, Op. 25:

6

Schumann: Myrthen, Op. 25: 24. Du bist wie eine Blume

01:52

Felix Mendelssohn (1809 - 1847): 6 Songs, Op. 34:

7

Mendelssohn: 6 Songs, Op. 34: 2. Auf Flügeln des Gesanges, MWV K86

02:32

6 Lieder, Op. 57:

8

Mendelssohn: 6 Lieder, Op. 57: 5. Venetianisches Gondellied, MWV K114

01:56

Johannes Brahms (1833 - 1897): 5 Lieder, Op. 105:

9

Brahms: 5 Lieder, Op. 105: 1. Wie Melodien zieht es mir

01:39

4 Gesänge, Op. 70:

10

Brahms: 4 Gesänge, Op. 70: 2. Lerchengesang

02:26

Ernest Chausson (1855 - 1899): 7 Mélodies, Op. 2:

11

Chausson: 7 Mélodies, Op. 2: 7. Le colibri

02:36

Francis Poulenc (1899 - 1963): Les chemins de l'amour, FP 106:

12

Poulenc: Les chemins de l'amour, FP 106

03:29

Mikhail Glinka (1804 - 1857): I Remember a Wonderful Moment:

13

Glinka: I Remember a Wonderful Moment

03:31

Mikhail Glinka: A Farewell to Saint Petersburg:

14

Glinka: A Farewell to Saint Petersburg: 10. The Lark

03:48

Sergei Rachmaninoff (1873 - 1943): 12 Romances, Op. 21:

15

Rachmaninoff: 12 Romances, Op. 21: 7. How Fair This Spot

02:25

Richard Strauss (1864 - 1949): 4 Lieder, Op. 27:

16

R. Strauss: 4 Lieder, Op. 27: 4. Morgen!

04:17

Total Runtime

47:35
Info for Silent Dreams

Especially for 'Silent Dreams' Harriet selected sixteen songs by classic composers such as Schubert, Schumann, Brahms, Strauss and Poulenc. She cherishes all of these songs as they reflect her life as a performing musician. Longing and silence are recurring themes on the album. Harriet explains: "Silence is a part of me. I am an introverted person, even if my life as a travelling musician is hectic and noisy. It may sound paradoxical, but the cello brings me closer to that silence. The world often expects - particularly in this day and age - that we put ourselves forward as open, cheerful and strong. But it is so much better and more beautiful when people show their true feelings and vulnerabilities."
Harriet Krijgh, cello
Magda Amara, piano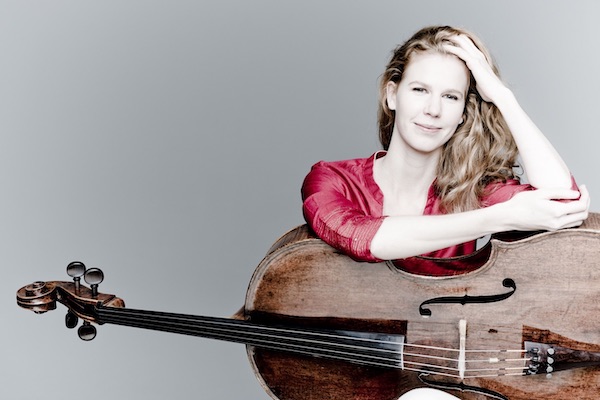 Harriet Krijgh
The young Dutch artist Harriet Krijgh is one of today's most exciting and promising cellists. Her grace and expressiveness touch her audiences as soon as she is on the concert platform. Harriet Krijgh played in the most important venues in Europe, North America and Asia. She has performed with orchestras such as the Boston Symphony Orchestra, Rotterdam Philharmonic Orchestra, Vienna Symphony Orchestra, Deutsches Symphonie-Orchester Berlin, Munich Philharmonic Orchestra, Bamberg Symphony Orchestra, London Philharmonic Orchestra, the Academy of St Martin in the Fields, Orchestre Philharmonique de Radio France, Yomiuri Nippon Symphony Orchestra, Hong Kong Sinfonietta and Sydney Symphony Orchestra. She is also regular guest at international festivals such as the Heidelberger Frühling, Grafenegg Festival and the Schubertiade Hohenems. As "Prizewinner in Residence" of the Festspiele Mecklenburg-Vorpommern, Harriet Krijgh made her mark on the 2019 summer festival edition in about 20 concerts.
Always an enthusiastic chamber musician, she joined the Artemis Quartet in spring 2019. On tour, the ensemble regularly plays the most important concert venues worldwide. Harriet Krijgh also maintains a close collaboration with the pianist Magda Amara and in trio with the sisters Baiba and Lauma Skride.
Harriet Krijgh has an exclusive recording relationship with Deutsche Grammophon since April 2018. As first result of this collaboration a disc with works by Vivaldi, recorded with the Amsterdam Sinfonietta and their leader Candida Thompson, was released in September 2019. Her discography also comprises of six discs, all released by Capriccio, featuring music by Kabalevsky, Haydn, Brahms, Rachmaninov as well as several French composers.
Harriet Krijgh is winner of numerous competitions. In 2015/2016 she was chosen as "Rising Star" of the European Concert Hall Organisation (ECHO). In 2017 and 2018 she dedicated herself to the artistic direction of the International Chamber Music Festival in Utrecht. Her annual summer festival "Harriet & Friends" at Burg Feistritz (Austria) celebrates its tenth anniversary in 2021.
She performs on a Domenico Montagnana cello (Venice, 1723) whose scroll was made by Stradivarius. The rare instrument is on loan to her by the Prokopp Foundation.
"Krijgh's rousing, fiery temperament, the passionate impulse of her playing style, the nuance-richness of her colour and expression scale seemed simply blissful." - Die Rheinpfalz

This album contains no booklet.