---
Album info
Album including Album cover Booklet (PDF)
1

Given up for Lost

03:45

2

Stand Away

05:03

3

Voyage to the Distant Shores

04:35

4

Flag of Hope

05:48

5

Tune of War

04:50

6

Amorenada

05:35

7

Ave Maria (Bonus Track)

02:20

Total Runtime

31:56
Info for Flags of Hope (Remixed & Remastered 2021)

"For the title song Flag Of Hope, we invited our good friends, singers, who are all somehow connected to SIGNUM REGIS. Göran Edman was the lead singer of the band in the early days and recorded with us the 1st and the 2nd album. Mayo Petranin (Castaway, Symphonity) was our lead singer in 2014-2018, Matt Smith (Theocracy) and Samuel Nyman (Manimal) were our special guests on the Exodus album (2013), David Åkesson has been working with us externally since our 2019 release "The Seal Of A New World". Of course, our current lead singer, Jota Fortinho, is there too! We are very happy that this little reunion took place and that we were able to make together some music again. It brought back a lot of good memories. On top of that all, we have André Hernandes (Andre Matos band) playing tasty additional lead guitar.
It's quite clear already, that the year 2020 has not been a great one, we all know that. That's why we believe a song about hope and not giving up is exactly what we all need to hear."
Signum Regis
Digitally remastered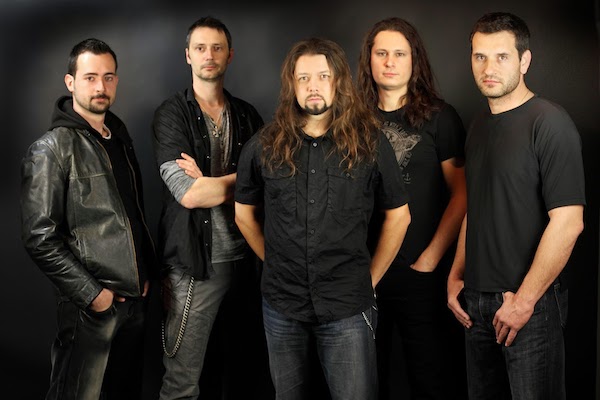 Signum Regis
was formed in 2007 by bass player Ronnie König. The highly respected vocalist Göran Edman [ex. Yngwie Malmsteen, John Norum] joined the band and they started working on their debut album. The self-titled debut album was released during 2008 through Locomotive Records and received great reviews from around the world.
In 2010 Signum Regis signed with Inner Wound Recordings and released the impressive concept album "The Eyes Of Power", still with Göran on vocals. The album was received really well, especially in Europe. With this album it was clear that Signum Regis had found their own sound within the melodic/neoclassical metal scene.
The third Signum Regis album "Exodus" was released in 2013 and it featured many different vocalists like Göran Edman (ex. YngwieMalmsteen), Lance King (ex. Pyramaze, Balance of Power), Matt Smith (Theocracy), Michael Vescera (Obsession), Daisa Munhoz (Vandroya, Soulspell) and more. "Exodus" was a bit more straight melodic metal than the previous album, but the classic Signum Regis elements were still there.
Early 2014 the band decided to make Mayo Petranin their new lead vocalist. Mayo had already done shows with the band and he also contributed vocals to one of the songs on "Exodus", so it felt like a natural move. During 2013 and 2014 Signum Regis did some shows in their home country Slovakia, but they also performed in the Netherlands, Germany and Switzerland.
During 2014 Signum Regis started to work on new material and it was decided that a 6 track EP would be released in May 2015 and the fourth full-length album during fall 2015. The EP entitled "Through The Storm" received excellent feedback from fans and media, with many of them calling it the best Signum Regis release so far. Two music videos were also recorded and released for the tracks "Living Well" and "Come And Take It".
Both "Through The Storm" and "Chapter IV: The Reckoning" showed that Signum Regis was able to develop and improve everything from song-writing and musicianship to production and the visual part of the band.
In 2015, the band took a part on a band contest "Spark Fresh Blood" organized by the top Czech/Slovak rock magazine Spark. From all 400 bands, who took part in this, Signum Regis won the 1st place and the price was manufacturing of 1000 CDs. The band used this price to release the 10th anniversary album called Decennium Primum, which was released in 2017. The album was, again, well received and many felt, that it raised the bar even a bit higher than it was before.
In 2018, the band surprisingly parted ways with the singer Mayo Petranin. The split was handled in a gentlemanly manner. The band played with Mayo all shows, which were already booked, even after the official split.
Soon after, Signum Regis started looking for a new singer. Guitarist Filip Koluš did an extensive research on YouTube and compiled a list of possible candidates. Right on the top of the list was Jota Fortinho, who was singing impressive covers of famous bands. His performance of the Helloween classic "Halloween" was an instant jaw-dropper. Jota was contacted and showed interest in Signum Regis. After a relatively short period of testing, when Jota sang some of the important songs from the Signum Regis catalog, he became the new, permanent singer.
From that time on till 2019, the band was working on a new album. In some ways, there was a back to the roots kind of dynamic there, because Jota has at least as wide vocal range as Göran Edman has and is able to sing complex and demanding vocal lines. In other ways, it was a musical exploration and a search for a new sound. The band worked on 15 demos and at the end of the day, 12 songs were chosen and recorded for the album.
Among those 12 songs, there are all sonic trademarks of the band. Fans can enjoy fast, melodic, heavy, mid tempo, rocking songs and also an epic ballad.
The album was mixed by Ronnie König and mastered by the famous Jacob Hansen. One of the interesting aspects of the production is that there are no triggers and drum samples on drums. The sound is 100% acoustic, which is quite rare for a band of this genre and therefore, it helps this album to stand out of the crowd. Backing vocals on the album were done by David Åkesson. You can also hear 2 solos from Magnus Karlsson (Primal Fear, Allen/Lande, Kiske/Somerville) and a guest appearance by Eli Prinsen (The Sacrificed, Sacred Warrior).

Booklet for Flags of Hope (Remixed & Remastered 2021)