---
Album info
Album including Album cover
1

The Case of Steven Avery

09:24

2

Sunset

07:45

3

Up & Down

09:23

4

Skylark

06:15

5

Intuitive Matter (The 5th Mode)

14:09

6

Blues Steps

11:21

7

A Nightingale Sang In Berkeley Square

09:13

Total Runtime

01:07:30
Info for Frederik Villmow Quartet - Live in Copenhagen

Based in Norway Trondheim is well known worldwide hatchery for talents, with phenomenal educational faculty for the Music , excellent cadre and equally mind-blowing Big Band. Joining that club is every young musician's dream. No surprise then that German drummer Frederik Villmow moved just there, once he achieved as much as he could during his extended studies and orchestral period with Youth Jazz Orchestra in Germany and further during his studies in Rotterdam. He only started the band in 2018 but intense work together and excellent communication inside the quartet made things progressing fast with the great musicality and joy of playing together . Reading his liner notes for the debut album one might clearly sense maturity and well defined sense of direction.
"When putting this band together, I was looking for musicians that share a common sense of which direction the music will take " says Frederick. "I also looked for different personalities in my band that have a distinct and personal sound" – he adds. "I assembled some of my favourite musicians for this recording. In 2010 I met bassist Julian Haugland at a week-long jazz workshop in Southern Norway. In the same year, I got to know saxophonist Marc Doffey through a big band in Germany, where we both played together for a couple of years. We kept in touch when Marc moved to Berlin and I moved to Trondheim. Pianist Carl Winther and saxophonist Tomas Franck have both been important sources of inspiration for me, in terms of playing and writing music. They have set their mark on the Copenhagen, and the International jazz scene for many years, and both have an integrity in their playing that very few other musicians achieve." – he continuous. "I´m very happy to have been surrounded by these fantastic musicians on my debut record. All of them contributed with their personal sound, and the type of energy I was looking for. It was fun to play and record at Jazzhus Montmartre in Copenhagen with its delightful acoustics, and a fantastic audience."
Marc Doffey, tenor saxophone, soprano saxophone
Carl Winther, piano
Julian Haugland, bass
Frederik Villmow, drums
Guest:
Tomas Franck, tenor saxophone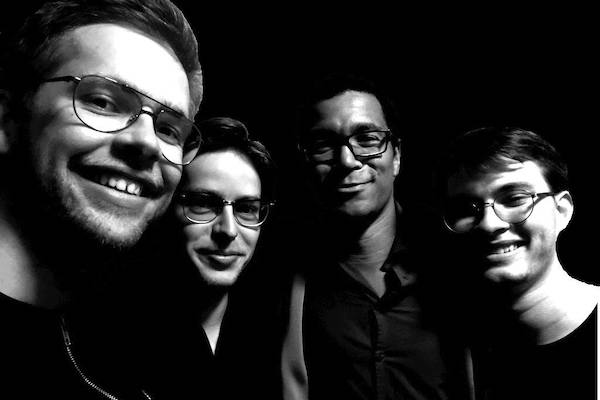 Frederik Villmow
is a German jazz-drummer and composer, living in Trondheim/Norway. He was born in 1993 and grew up in Pulheim -close to Cologne. At an early age, he started playing the drums.
He studied jazz-drums at ​Codarts University of Arts, Rotterdam (2013-2015) and Jazzlinja NTNU, Trondheim (2015-now). Currently he's attending the master-program at Jazzlinja NTNU. ​
Between 2011-2015, Frederik was part of the Youth Jazz Orchestra of North Rhine-Westphalia, which was awarded by the WDR Jazz Award (Westdeutscher Rundfunk) in the category up-and-coming.
In 2014 he took part in the Metropole Orkest Academy in Hilversum, conducted by Jules Buckley and Vince Mendoza. In the same year, ​he recorded the music of Gabriel Pérez with The Soundtrip Orchestra featuring Chris Potter on saxophone. ​
In 2015 Frederik moved to Trondheim/Norway, to attend at the highly acknowledged jazz-department of the Norwegian University of Science and Technology, NTNU.

This album contains no booklet.