---
Album info
Label: Decca Music Group Ltd.
Genre: Classical
Subgenre: Concertos
Artist: Randall Goosby
Composer: Samuel Coleridge-Taylor (1875-1912), Coleridge-Taylor Perkinson (1932-2004), William Grant Still (1895-1978), Antonin Dvorak (1841-1904), George Gershwin (1898-1937), Florence Price (1887-1953)
Album including Album cover
I`m sorry!
Dear HIGHRESAUDIO Visitor,
due to territorial constraints and also different releases dates in each country you currently can`t purchase this album. We are updating our release dates twice a week. So, please feel free to check from time-to-time, if the album is available for your country.
We suggest, that you bookmark the album and use our Short List function.
Thank you for your understanding and patience.
Yours sincerely, HIGHRESAUDIO
Xavier Dubois Foley (b. 1994): Shelter Island:

1

Foley: Shelter Island

05:14

Coleridge-Taylor Perkinson (1932 - 2004): Blue/s Forms:

2

Perkinson: Blue/s Forms: I. Plain Blue/s

02:05

3

Perkinson: Blue/s Forms: II. Just Blue/s

03:03

4

Perkinson: Blue/s Forms: III. Jettin' Blue/s

02:54

George Gershwin (1898 - 1937): Porgy and Bess:

5

Gershwin: Porgy and Bess: Summertime (Arr. Heifetz for Violin and Piano)p

02:01

6

Gershwin: Porgy and Bess: A Woman Is a Sometime Thing (Arr. Heifetz for Violin and Piano)

01:49

7

Gershwin: Porgy and Bess: It Ain't Necessarily So (Arr. Heifetz for Violin and Piano)

02:41

8

Gershwin: Porgy and Bess: Bess, You Is My Woman Now (Arr. Heifetz for Violin and Piano)

03:36

William Grant Still (1895 - 1978): Suite for Violin and Piano:

9

Still: Suite for Violin and Piano: I. African Dancer

04:43

10

Still: Suite for Violin and Piano: II. Mother and Child

07:20

11

Still: Suite for Violin and Piano: III. Garmin

02:14

Florence Price (1887 - 1953):

12

Price: Adoration

03:38

13

Price: Fantasie No. 1 in G Minor

04:44

14

Price: Fantasie No. 2 in F-Sharp Minor

05:28

Samuel Coleridge-Taylor (1875 - 1912): Deep River:

15

Coleridge-Taylor: Deep River (Arr. Maud Powell for Violin and Piano)

04:33

Antonín Dvořák (1841 - 1904): Violin Sonatina in G Major, Op. 100, B. 120:

16

Dvořák: Violin Sonatina in G Major, Op. 100, B. 120: I. Allegro risoluto

06:08

17

Dvořák: Violin Sonatina in G Major, Op. 100, B. 120: II. Larghetto

04:17

18

Dvořák: Violin Sonatina in G Major, Op. 100, B. 120: III. Scherzo. Molto vivace

03:01

19

Dvořák: Violin Sonatina in G Major, Op. 100, B. 120: IV. Finale. Allegro

06:10

Total Runtime

01:15:39
Info for Roots

Perlman protégé Randall Goosby celebrates the music of black classical composers for debut album 'Roots'.
Rising star violinist Randall Goosby releases his debut album "Roots". The album is an exploration of the music written by Black composers and inspired by Black American culture. The collection is a homage to the pioneering musicians that paved the way for Goosby and his generation of young artists. The first single "Adoration" was written by the African-American composer Florence Price and is recorded with violin for the first time ever on Roots.
Goosby says, "I am so grateful for the opportunity to share this album during such a pivotal moment in history. It has been a year of division and isolation for so many – I hope this music will inspire not only the kind of curiosity and creativity that brings people together, but also the reflection, understanding and compassion we so desperately need moving forward."
"Many of these African-American composers – William Grant Still, Florence Price, Coleridge-Taylor Perkinson – had to navigate society at a time when racism, prejudice and segregation were commonplace. Today, artists like myself, and other young artists of colour, enjoy more of a sense of freedom and confidence in pursuing a career in classical music."
Produced by 2021 GRAMMY Producer of the Year, David Frost, the release also includes world premiere recordings of music by Florence Price, lately enjoying renewed recognition across the world. Price made history as the first African-American woman to have her music performed by a major US orchestra in 1933, but after her death, her music faded into obscurity. In 2009, manuscripts of Price's music were rediscovered and saved from destruction from her former home in Illinois: two "Fantasies" are commercially recorded for the first time, and "Adoration" recorded with violin makes its world debut as well.
Maud Powell (1867–1920), one of America's first internationally acclaimed violinists, was known for championing music written and performed by women and Black composers. Her transcription of Black British composer Samuel Coleridge-Taylor's Spiritual "Deep River" features on this new recording, presented for piano and violin.
Known for his classical, jazz, and film music as much as his collaborations with performers including Marvin Gaye and Harry Belafonte, Coleridge-Taylor Perkinson (1932–2004) dedicated his "Blue/s Forms" to African American violinist Sanford Allen, the first Black member of the New York Philharmonic. The work in three parts draws influences from Baroque counterpoint, Black folk music and American Romanticism. Allen, born in 1939, remains a close friend and mentor to Goosby to this day. Jascha Heifetz's virtuosic violin transcriptions from George Gershwin's (1898–1937) Porgy and Bess follow, showcasing Goosby's technical brilliance in the interpretation of American classics.
William Grant Still (1895–1978), the first American composer to have an opera produced at NY City Opera, wrote his lesser-known chamber piece "Suite for Violin and Piano" in 1943, nicknamed "Mother and Child" after the work's second movement. Each of the three movements takes its name from a sculpture: Richard Barthe's African Dancer, Sargent Johnson's Mother and Child, and Augusta Savage's Gamin, each artist a notable force in the Harlem Renaissance of the 1910s−30s.
Czech composer Antonín Dvořák (1841–1904) composed "Sonatina" in the autumn of 1893 when the composer was staying in New York City, following a return from the American Midwest. Heavily influenced by his exploration of Native American melodies and Negro Spirituals while in the United States, Dvořák utilises pentatonic scales and syncopated rhythms, with the second movement's plaintive melodies echoing the nostalgia felt by the composer for his homeland.
A year on from their first meeting at the 2010 Sphinx Competition in Detroit, Michigan, at which a 13-year old Goosby would become the youngest musician to win First Place in the junior division, Goosby and Xavier Dubois Foley would reunite in 2011 at Shelter Island, New York, as participants in the Perlman Music Program. As their friendship developed, so did the bluegrass and R&B-inspired contemporary work "Shelter Island." Receiving its world premiere recording on Roots, the piece looks to the future and is a specially commissioned work by New Jersey-based composer Foley.
Goosby's sparkling enthusiasm for the violin seeks to show young people that music can inspire regardless of background, and with the release of Roots, he continues to recognise the immense impact of the work done by Black and female composers in the last century. He says, "If it weren't for these composers, these artists and this music, I wouldn't be able to do what I'm doing today. This recording is a tribute to their lives and experiences, and their dedication to creating this art that we all love."
Randall Goosby, violin
Zhu Wang, piano
Xavier Dubois Foley, double bass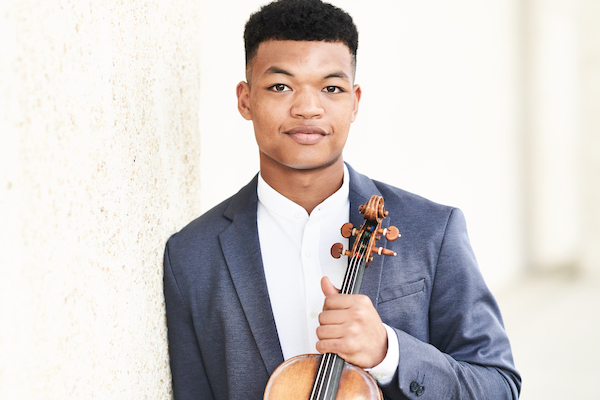 Randall Goosby
American violinist Randall Goosby first performed as soloist with orchestra at the age of nine, with the Jacksonville Symphony. When he performed with the New York Philharmonic on a Young People's Concert at Avery Fisher Hall at the age of thirteen, The New York Times raved that he "exerted a masterly level of control and lavished an exquisite tone…his performance won him a deserved standing ovation for its sheer virtuosity." Upcoming appearances include the Bach Double Concerto with Itzhak Perlman and the Grand Rapids Symphony Orchestra, and he has previously performed as soloist with The Cleveland Orchestra, the Buffalo, Rochester and Orlando Philharmonics, and the symphonies of Nashville, Memphis, Grand Rapids, Albany (GA), Adelphi (NY), Arkansas, Modesto, South Bend and New World.
In addition to formal concerts, Mr. Goosby shares his love of music in outreach programs for public schools, children's hospitals and music programs across the country. He is currently on faculty at Opportunity Music Project, a nonprofit organization which provides free lessons, instruments and mentoring for children from low-income families in New York City, and gives performances through Concerts in Motion, another NYC-based nonprofit which provides private house concerts for elderly and otherwise homebound patrons.
Mr. Goosby won First Prize in the 2018 Young Concert Artists International Auditions as well as the Buffalo Chamber Music Society Prize, Harriman-Jewell Series Prize, Vancouver Society Prize, The LP Classics, Inc. Debut Recording Prize and the Sander Buchman Prize, which provides major support for his New York debut.
At thirteen, Mr. Goosby was the youngest recipient ever to win the Sphinx Concerto Competition, which led to an invitation by Tony-nominated actor Delroy Lindo to perform at the 18th MOVIEGUIDE® Faith & Values Awards Gala in Beverly Hills. He also received Sphinx's Isaac Stern Award, and made two appearances at Carnegie Hall as part of the organization's Young Artist Development Program. He has participated in The Perlman Music Program's Chamber Music Workshop, been featured on National Public Radio's "From the Top," and been honored as Rising Star of the Stradivari Society.
Randall Goosby began violin studies at the age of seven. He received a full scholarship to The Juilliard School's Pre-College program, continued at Juilliard as an undergraduate student of Itzhak Perlman and Catherine Cho, and is currently pursuing a Master's Degree there on a Kovner Fellowship there under the tutelage of two YCA alumni, Donald Weilerstein and Laurie Smukler. Mr. Goosby plays a Guadagnini violin on loan from The Juilliard School.

This album contains no booklet.