---
Album info
Album including Album cover
I`m sorry!
Dear HIGHRESAUDIO Visitor,
due to territorial constraints and also different releases dates in each country you currently can`t purchase this album. We are updating our release dates twice a week. So, please feel free to check from time-to-time, if the album is available for your country.
We suggest, that you bookmark the album and use our Short List function.
Thank you for your understanding and patience.
Yours sincerely, HIGHRESAUDIO
1

Pain

05:01

2

Three Story Home

04:15

3

Criminal

04:19

4

Bad Love

03:03

5

Feeling Alive

03:12

6

Ain't Got It Like That

04:58

7

Beautiful War

02:59

Total Runtime

27:47
Info for My Name Is Earl

Any given Sunday morning in Alabama, and Earl St. Clair's uncles were out washing their cars on their only day off, boom boxes plugged up and playing B.B. King, Sam Cooke and blues artists born in the Delta and known nowhere else but down South.
"Nothing was open but church and the refrigerator," St. Clair says in his husky, deep-fried voice, a byproduct of spending many boyhood years in his dad's home state. "I can listen to Al Green right now and it'll make me feel the same way today as when I heard it at five years old. People don't make music that lasts 10 years anymore. Originality and creativity are missing."
With the release of his debut album, Songs About a Girl I Used to Know, Earl St. Clair will soon rectify that. As evinced by his guest vocals and lyrics on Avicii's "Pure Grinding," which has racked up almost 14 million views, or the caffeinated "Feeling Alive," a tight, ebullient jam that springs to life with his animated delivery, St. Clair possesses a massive talent that's refreshingly modern yet hearkens back to the soul greats. Laced with grit and sounding ripped from the depths of his soul, his voice still manages to skip lightly over hooks that lodge in your head for days. While he's just now revealing his talent as an artist to the mainstream, he's already won fans like Jeremih and been a secret weapon in songwriting sessions for Rick Ross' Black Market and Machine Gun Kelly's General Admission—and on the latter, St. Clair has a handful of producing credits as well.
In fact, producing was his first love. Born in Cleveland, St. Clair was an inquisitive, energetic child who played sports and in the school band. "I had to keep my mind busy. Just like it is today. I work all the time or else I'd go crazy," he says.
His father and uncles loved blues, funk and soul, while his mother leaned toward a mix of modern gospel like Kirk Franklin and Quiet Storm favorites like Anita Baker and the Isley Brothers. With Cleveland plopped right in the middle of the East, Midwest and South, St. Clair's influences are wide.
"I like the swag of Texas screw music. Then we got the flair and uptempo radio hits from Puff and MaSe. And I love church chords. So much soul in 'em. I was able to take from all of that," he says.
The summer before he left for college, he discovered his cousin tinkering around with Fruity Loops, and he was hooked. "I went to college but I didn't go to class. I didn't have a computer, so I downloaded Fruity Loops on everybody's computer on my dorm floor. I used to argue with my girlfriend all night, make music till 7 in the morning, then sleep all day," he says, laughing.
Dropping out, he went back home and discovered his grandfather had taken out a $4000 loan for him to buy equipment. Eventually, St. Clair was producing for almost every rapper in the city, which drew the attention of Lebron James' agent, who began managing him and introduced him to Polow da Don.
St. Clair's production style had been sharpened and he was selling his beats, but he realized artists wanted records with reference tracks. So he started doing references, and gradually began to develop his own earthy, full-bodied sound.
Now, that sound—a smoldering blend of James Brown, Outkast and Ray Charles—is set to woo a legion of music lovers who are exhausted by the disposability of today's hits.
"People don't feel anything with music. They get bored. I think artists are afraid to be themselves," he says. "Be you. People forgot how to do that." He practices what he preaches: On Songs About a Girl I Used to Know, the songs are all culled from his life and set to feel-good music with tons of guitar, piano and funk.
"The project is uplifting. It feels good," he says. "I just hope it makes people feel. As long as you feel something, I'm happy."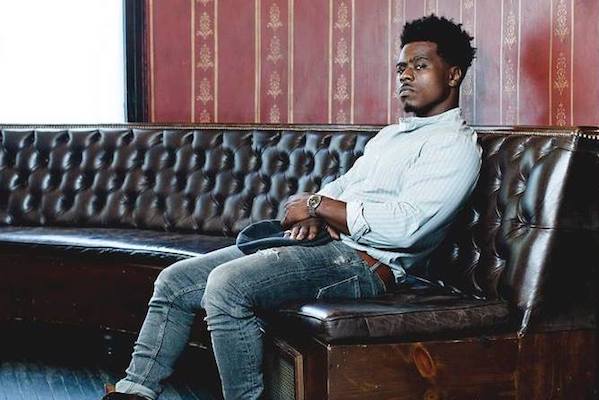 Earl St. Clair
Initially breaking into the music business as a hip-hop producer, Earl St. Clair set out on his own as a soul singer. Armed with a deep, bluesy voice, his songs channel the fervor of classic Southern soul and gospel singers like Al Green and Ray Charles, but with swagger and production techniques ensuring that St. Clair is up to date on contemporary rap, pop, and dance music. He was born in Cleveland, Ohio, but he spent much of his childhood in Alabama, where his father was from. He started experimenting with music production while a college student, and after he dropped out and returned home, he began producing for numerous Cleveland-based rappers. Eventually, he worked on major-label albums by Machine Gun Kelly and Rick Ross, either as a producer or songwriter. He also sang on tracks by EDM titans David Guetta and Avicii, and released a duet with Bibi Bourelly titled "Perfect." The song was released by Def Jam in 2016, and the label also issued St. Clair's solo singles "Man on Fire" and "Good Time" that year, with "Feeling Alive" following in early 2017.

This album contains no booklet.