---
Album info
Album including Album cover
1

32.63N 117.14W

01:18

2

Leaving It Behind

04:27

3

Endless Ways

05:49

4

The Optimist

05:37

5

San Francisco

04:59

6

Springfield

05:49

7

Ghosts

04:17

8

Can't Let Go

05:00

9

Close Your Eyes

03:39

10

Wildfires

05:40

11

Back to the Start

11:41

Total Runtime

58:16
Info for The Optimist

Anathema's musical journey over the last nearly quarter century has been a fascinating one. Morphing from death / doom act to goth-tinged alt rock, their output in the new millennium has been on the progressive side, entertaining wondrous, dreamy post-rock styles in their truly artful sound. They've returned three years after Distant Satellites with the forthcoming record, The Optimist, and have dished out a taste of what's to come with the new track "Springfield." In the video, the band is seen seated in a rehearsal space, running through the song in a live setting. Anathema display their songcraft mastery, opening with a minimalist drum beat, a simple piano melody and ethereal vocal passages that seem to drift in and out of the song. Slowly building on these motifs, the Brits erupt halfway through the song with droning leads that drive the tension as the melodies carry on underneath.
"Here we present the song 'Springfield', it's actually the song that closed our unforgettable Wembley gig with Opeth and it seemed to be a track that just fell into place without much effort," singer / guitarist Daniel Cavanagh explained. "It seemed to do itself. The song forms part of a narrative that runs through The Optimist album, it's a narrative that begins where A Fine Day To Exit left off. The album is a journey. The songs are ambiguous. There is no right or wrong way to take them. Make of them what you will."
Daniel Cavanagh: "Here we present the song 'Springfield', it's actually the song that closed our unforgettable Wembley gig with Opeth and it seemed to be a track that just fell into place without much effort. It seemed to do itself. The song forms part of a narrative that runs through The Optimist album, it's a narrative that begins where A Fine Day To Exit left off. The album is a journey. The songs are ambiguous. There is no right or wrong way to take them. Make of them what you will."
Anathema's eleventh full-length The Optimist is due for release on 9th June through Kscope, where the ambient rockers will reveal some of the darkest, most challenging and unexpected music the sextet have put their name to.
Anathema, led by brothers Daniel and Vincent Cavanagh, along with drummer John Douglas, singer Lee Douglas, bassist Jamie Cavanagh and drummer/keyboardist Daniel Cardoso began recording The Optimist in the winter of 2016 at Attica Audio in Donegal, Ireland and then finished at Castle Of Doom studios in Glasgow with producer Tony Doogan [Mogwai, Belle & Sebastian, Super Furry Animals] at the helm and was mastered at the legendary Abbey Road Studios.
Vincent Cavanagh, vocals, guitar, keyboards
Danny Cavanagh, guitar, keyboards, vocals
John Douglas, acoustic, electronic percussion
Lee Douglas, vocals
Jamie Cavanagh, bass
Daniel Cardoso, drums
Produced by Tony Doogan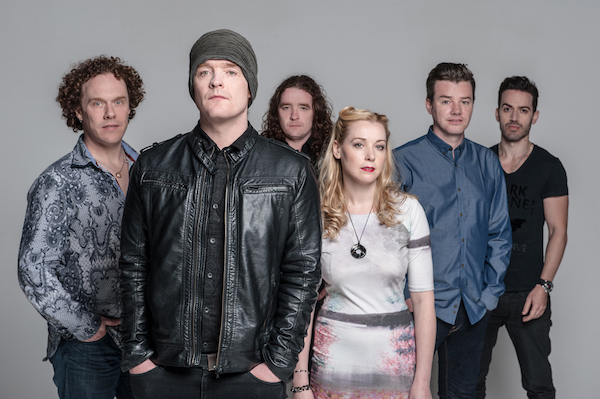 Anathema
are an English band from Liverpool primarily known for their ever evolving sound. Beginning as pioneers of the death/doom metal sub-genre, their later albums have been associated with genres such as alternative rock, progressive rock, art rock, new prog, and post-rock.
Anathema formed in 1990 as a doom metal band. In November of that year, the band recorded their first demo, entitled An Iliad of Woes. This demo caught the attention of several bands and labels from the English metal scene.READ MORE
At the beginning of 1991, the band gained a lot of attention with the release of their second demo entitled All Faith Is Lost, resulting in a four-album deal with Peaceville Records. Their first release under the label was The Crestfallen EP in November 1992. They took the material from that album on the road, touring with Cannibal Corpse.
Serenades, Anathema's debut LP, attracted a lot of mainstream attention, propelling their "Sweet Tears" music video onto the MTV playlist.
Anathema's first European tour was in 1994, and was closely followed by gigs at the Independent Rock Festival in Brazil.
In May 1995, vocalist Darren White parted with the band, eventually forming The Blood Divine. Rather than recruiting a new vocalist, the band decided that guitarist Vincent Cavanagh should assume White's role. This new formation debuted by touring with Cathedral in the United Kingdom.
The release of Eternity came in 1996, relying more on atmospheric sounds, and starting the transition to clean vocals; the album Judgement would later consolidate this style. A European tour followed the album's release.
The second member to leave the band was drummer John Douglas, who departed in the summer of 1997. He was replaced by Shaun Taylor-Steels, formerly of Solstice, who would also later play drums for My Dying Bride.
Alternative 4 was released in 1998. During this time the band underwent many line-up changes. Bassist/songwriter Duncan Patterson quit due to musical differences and was replaced by Dave Pybus of Dreambreed, where Duncan had played bass for a short period. Martin Powell (who had played keyboards and violin for My Dying Bride previously) also joined the band. Finally, John Douglas returned to the drums.
In June 1999, the album Judgement was released, marking Anathema's complete shift from the doom metal genre, focusing instead on slower and more experimental songs. This new sound has been likened to artists such as Pink Floyd, Jeff Buckley, and to a lesser extent, Radiohead. However, the essence of the band remained the same. Their songs continued to express a feeling of depression and, more often than not, desperation.
During the same year Martin Powell switched positions with Cradle of Filth's keyboardist Les Smith, who came to be an integral member of Anathema. Shortly before the release of A Fine Day to Exit, Dave Pybus announced his departure from the band and later joined Cradle of Filth. He was replaced by touring bassist George Roberts, and later by Jamie Cavanagh.
In March 2002, Daniel Cavanagh announced his departure from the band, joining Duncan Patterson's band Antimatter. However, he later rejoined Anathema in 2003 for the release of A Natural Disaster, and started their European Tour. This accelerated the changes in Anathema's tone, towards the atmospheric and progressive, as exhibited in album tracks 'Flying' and 'Violence'.
Upon the closing of their label Music for Nations after its purchase by Sony BMG, Anathema found itself without a record label, despite having completed an extensive tour of the UK with popular Finnish rock band HIM in April 2006. During their search for a new label, the band have adopted a more 'DIY' approach to music release, embracing the internet and releasing songs via their own website, for which fans may donate a monetary sum of their own choice. Despite the obvious lack of label-based tour support, the band continues to play dates across Europe, guitarist Danny Cavanagh also playing the odd low-key acoustic concert.
On 20 March 2010, Anathema announced on their website and Facebook page the release date of their next album. Their album, We're Here Because We're Here was released on May 31, 2010, on the Kscope label.
On July 6, 2011, it was announced on the band's official page that their album of re-interpretations, Falling Deeper, will be released on September 5, 2011. The album will be a follow-up to Hindsight and will contain new orchestral versions of songs from the past, as well as a version of "Everwake" featuring the vocals of Anneke van Giersbergen. On September 12th, Les Smith's departure due to "creative and musical differences" was announced on the band's website.
On April 16, 2012, the band's ninth studio album, Weather Systems, was released via Kscope. The album entered the UK album charts at No.50 and the German album charts at No.19.

This album contains no booklet.