---
Album info
Album including Album cover
I`m sorry!
Dear HIGHRESAUDIO Visitor,
due to territorial constraints and also different releases dates in each country you currently can`t purchase this album. We are updating our release dates twice a week. So, please feel free to check from time-to-time, if the album is available for your country.
We suggest, that you bookmark the album and use our Short List function.
Thank you for your understanding and patience.
Yours sincerely, HIGHRESAUDIO
1

Troja

03:29

2

Kompass zur Sonne

03:29

3

Lügenpack

03:43

4

Gogiya

04:08

5

Salva Nos

04:05

6

Schenk nochmal ein

04:55

7

Saigon und Bagdad

03:55

8

Narrenschiff

04:43

9

Wer kann segeln ohne Wind

03:49

10

Reiht euch ein ihr Lumpen

03:36

11

Biersegen

04:10

12

Wintermärchen

03:43

13

7 Brüder

03:56

14

Saigon und Bagdad (Club Mix)

03:52

15

Ewig sein

03:42

16

Wer kann segeln ohne Wind (Deutsche Version)

03:46

17

Schenk nochmal ein (Klavier Version)

05:01

Live at Wacken World Wide 2020:

18

Intro (Wacken World Wide 2020)

01:54

19

Mein rasend Herz (Wacken World Wide 2020)

04:10

20

Feuertaufe (Wacken World Wide 2020)

03:51

21

Störtebeker (Wacken World Wide 2020)

03:40

22

Kompass zur Sonne (Wacken World Wide 2020)

03:48

23

Troja (Wacken World Wide 2020)

03:47

24

Unsichtbar (Wacken World Wide 2020)

04:39

25

Frei zu sein (Wacken World Wide 2020)

03:39

26

Vollmond (Wacken World Wide 2020)

04:30

27

Merseburger Zaubersprüche II (Wacken World Wide 2020)

04:33

28

Liam (Wacken World Wide 2020)

04:55

29

Quid pro Quo (Wacken World Wide 2020)

03:34

30

Moonshiner (Wacken World Wide 2020)

05:04

31

Sternhagelvoll (Wacken World Wide 2020)

04:42

32

Pikse Palve (Wacken World Wide 2020)

07:00

Total Runtime

02:11:48
Info for Kompass zur Sonne (Extended Edition)

Die Berliner Band In Extremo ist tatsächlich extrem - extrem erfolgreich im Job, einzigartig im Sound, unbeirrbar im Werdegang. Längst zählt sie zur Speerspitze der deutschen Rockmusik. Ihr ureigener Mittelalter Rock samt Mitsing-Hymnen brachte dem Septett hierzulande bereits mehrere Nr. 1- und mit Gold ausgezeichnete Alben ein. Ihre Konzerte und Festival-Auftritte in allen möglichen und auch legendären Venues auf diesem Planeten sind inzwischen Kult.
Aufgenommen wurde das neue Werk, wie der Studio-Vorgänger »Quid Pro Quo«, in den Principal Studios mit Produzent Vincent Sorg (Die Toten Hosen, Broilers u.a.) im westfälischen Senden.
"... eine zusätzliches Album liefert den Online-Livemitschnitt ihres 2020er Wacken-Auftritts, dazu wurde das Originalalbum um drei Stücke erweitert: mit ›Ewig sein‹ um einen brandneuen Track, dazu zwei alternative Versionen, bei ›Schenk nochmal ein‹ sorgt Pianist Götz Alsmann für die musikalische Begleitung." (Good Times)
In Extremo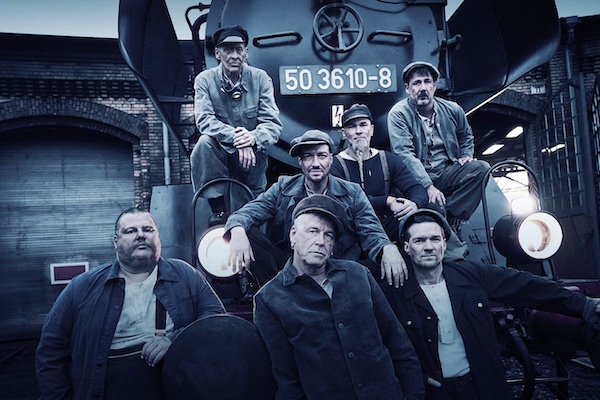 In Extremo
Der donnernde Jubel der "20 Wahre Jahre" Jubiläums Festivals letztes Jahr auf der Loreley klingt noch in den Ohren. Es war ein standesgemäßes Fest, das IN EXTREMO mit ihren Fans gefeiert haben. Ausverkauft! Vom WDR ROCKPALAST im Fernsehen festgehalten! Mit einer Atmosphäre, die noch heute beim Gedanken an die Spätsommernächte Gänsehaut verursacht.
Nun ist die größte Mittelalter Rock Band wieder da! Mit ihrem zwölften Studioalbum "Quid Pro Quo"! Platin-/Gold-Auszeichnungen, Platz Eins Positionen in den Charts, ausverkaufte Hallen und fulminante Festival Auftritte haben die Sieben nicht müde gemacht. Ganz im Gegenteil! Es juckte wieder in den Fingern.
"Du legst die Scheibe ein und hörst am ersten Ton, dass es IN EXTREMO ist", so Frontmann Micha "Das letzte Einhorn" Rhein über die neue Platte. Der Sound ist unverkennbar und vertraut, aber dennoch tritt das Septett nicht auf der Stelle. "Wir klingen hier und da ein wenig rockiger und mehr nach Metal, aber gleichzeitig arbeiten wir mit traditionellen Melodien und es kehren die Fremdsprachen zurück, die es auf "Kunstraub" nicht zu hören gab."
"Wir haben neben dem klassischen Repertoire ein paar neue Mittelalter-Instrumente dazu genommen", ergänzt Basti "Van Lange" und schürt Vorfreude auf ´Pikse Palve´, eine folkloristische Back-To-The-Roots-Nummer in der Tradition der Zaubersprüche mit vielen medievalen Klängen, die eine Mischung aus dem Donnergebet und dem Heiducken Tanz mit einem uralten estländischen Text ist. Und für ein neu interpretiertes walisisches Volkslied, das auf einer alten Sage basiert, hat Micha Rhein sogar seine alte Mittelalter-Trommel noch einmal aus der Versenkung geholt.
Rockiger Drive und metallische Härte kommen auf "Quid Pro Quo" nicht zu kurz. Allen voran ´Störtebeker´, ein Revoluzzer-Song über den Robin Hood der Seemänner. "Die Nummer passt wie Arsch auf Eimer zu uns. Die Musik ist sehr folkloristisch. Marktmusik pur. Typisch IN EXTREMO", so Micha Rhein. "Wir lieben alle das Meer – für mich ist es das größte Land der Erde. Störtebeker hat mit seinen Piraten reiche Handelsschiffe überfallen und die Beute an die Armen verschenkt".
Nicht minder heavy tönt der Titel-Track ´Quid Pro Quo´ aus den Boxen, dessen treibende Riffs in einem ohrwurmigen Refrain gipfeln und bei dem es unmöglich ist die Füße stillzuhalten. Die Message dahinter ist ebenso unverblümt auf den Punkt: "´Quid Pro Quo´ heißt Geben und Nehmen, aber heutzutage geht es nur noch ums Nehmen. Alle machen die Hand auf, egal wo du bist. Geld regiert die Welt. Ja, das ist Gesellschaftskritik!", konstatiert Rhein und Van Lange ergänzt: "Der Text ist ein Gemeinschaftswerk, an dem wir zu fünft geschrieben haben, was nicht oft vorkommt. Wir sind keine politische Band, die sich vor irgendeinen Karren spannen lässt, aber hier lag es uns am Herzen das mal zu benennen. Der Scheiß, der momentan abgeht ist so allgegenwärtig, dass man sich fragt, ob die alle noch richtig ticken." Aber auch bei den räudigen Textzeilen "Nutten kosten Geld, Drogen kosten Geld, Suff kostet Geld" vergessen IN EXTREMO ihren augenzwinkernden Humor nicht und ergänzen schelmisch "Ein Narr, wems nicht gefällt"
Ihrer Liebe zu Russland frönen die Sieben in gleich zwei Stücken: Zum einen in einer mit einem rollenden Riff versehenen und auf Russisch gesungenen Sage vom Schwarzen Raben, der den Sensemann symbolisiert und zum anderen im rauen Rocker ´Roter Stern´, dessen Wehmut und Schwere die Seele berührt. "Russland ist für mich wie ein Stück Heimat, weil ich es seit der Kindheit kenne", erzählt Micha Rhein. "Es ist ein raues Land mit einem warmen Herzen, und zudem einer der schönsten Orte der Welt". Erstmals arbeiteten IN EXTREMO mit einem Moskauer Kosaken Chor, dessen majestätischer, durchdringender Gesang beiden Liedern eine ganz besondere Aura verleiht.
Und noch weitere Premieren hat "Quid Pro Quo" zu bieten: Blind-Guardian-Sänger Hansi Kürsch, der mit seiner Band ebenfalls zahlreiche Reisen durch Russland erlebte, ist als Gastsänger auf ´Roter Stern´ zu hören. "Hansi hat sofort zugesagt", blickt Rhein zurück. "Als ich ihm sagte, dass der Text auf Deutsch ist, meinte er: "Das ist ja interessant. Das hab ich noch nie in meinem Leben gemacht"".
Neben Kürsch tummeln sich Marcus "Molle" Bischoff und Alexander "Ali" Dietz von Heaven Shall Burn als Gastsänger auf "Quid Pro Quo", die dem düster-heftigen ´Flaschenteufel´ ihre Stimmen leihen.
Mit "Quid Pro Quo" werden IN EXTREMO wieder durch die Lande touren. Deutschland, Österreich, Schweiz, Weissrussland, Ukraine, Russland stehen bereits auf dem Plan. "Es wird ein neues Bühnenbild geben", verspricht Van Lange. "Aber IN EXTREMO wird IN EXTREMO bleiben – ein gut gelaunter Haufen bunter Vögel".
Und Frontmann Micha Rhein prophezeit: "Vor meinem inneren Auge sehe ich schon die Staubwolke, die entsteht, wenn wir ´Störtebeker´ auf einem Festival spielen. Darauf freu ich mich schon!"

This album contains no booklet.