---
Album info
Album including Album cover
I`m sorry!
Dear HIGHRESAUDIO Visitor,
due to territorial constraints and also different releases dates in each country you currently can`t purchase this album. We are updating our release dates twice a week. So, please feel free to check from time-to-time, if the album is available for your country.
We suggest, that you bookmark the album and use our Short List function.
Thank you for your understanding and patience.
Yours sincerely, HIGHRESAUDIO
1

Romeo Is Bleeding

05:04

2

Marigold Sky

05:00

3

The Sky Is Falling

04:42

4

Out of the Blue

04:23

5

Want To

04:53

6

Love out Loud

03:56

7

Throw the Roses Away

05:40

8

I Don't Think So

04:04

9

Promise Ain't Enough

05:48

10

Time Won't Pass Me By

05:12

11

Hold on to Yourself

04:20

12

War of Words

04:39

Total Runtime

57:41
Info for Marigold Sky (Remastered)

Rock & Roll Hall of Fame and legendary duo Daryl Hall and John Oates are reissuing 'Marigold Sky', their fifteenth studio album and their first to be released as independent artists in 1997. Regarded as a fan favourite, the album is a collection of exquisitely crafted soul-pop that is irresistibly smooth, laying bare the mastery of the duo's classic songwriting chops. Includes the singles 'Promise Ain't Enough', 'Romeo Is Bleeding' and 'The Sky Is Falling'.
Marigold Sky is the fifteenth studio album by American pop music duo Hall & Oates. The album was released on September 17, 1997, by Push Records. It reached #95 on the Billboard 200 and #179 on the UK Albums Chart. The album features their US Adult Contemporary Top Ten hit, "Promise Ain't Enough", which became one of their biggest hits in some continents notably South America and Southeast Asia. This album also marks their first new release of original material since 1990's Change of Season.
"After spending several years on hiatus, Hall & Oates reunited in 1997 for Marigold Sky, their first album since 1990's Change of Season. Where its predecessor found the duo struggling to stay contemporary, Marigold Sky finds them relaxing into maturity, recording a collection of appealingly smooth, well-crafted soul-pop. There isn't anything as energetic as their early-'80s hits, nor is there anything unforgettably catchy, but it's a well-made album with a number of winning songs illustrating that even if Hall & Oates are past their peak, they nevertheless are capable of making engaging music." (Stephen Thomas Erlewine, AMG)
Daryl Hall, vocals, keyboards, acoustic guitar (1, 2, 5, 6, 8, 10, 11), electric guitar (4, 8, 10, 11), percussion programming (11)
John Oates, vocals, electric guitar, acoustic guitar (2, 12)
David Bellochio, keyboards, percussion programming, acoustic guitar (3, 4)
Ken Sebesky, acoustic guitar (1), electric guitar (1, 3, 4, 9)
David A. Stewart, electric guitar (1, 6)
Paul Pesco, electric guitar (2, 5, 7, 10, 11, 12)
Tom "T-Bone" Wolk, bass (2-4, 6-9, 12), electric guitar (3, 6, 8), acoustic guitar (5)
Shawn Pelton, drums (1-10, 12), percussion (10)
Peter Moshay, percussion (10)
Charles DeChant, saxophone (6, 7)
Rob Mounsey, string arrangements (3, 4, 7)
Digitally remastered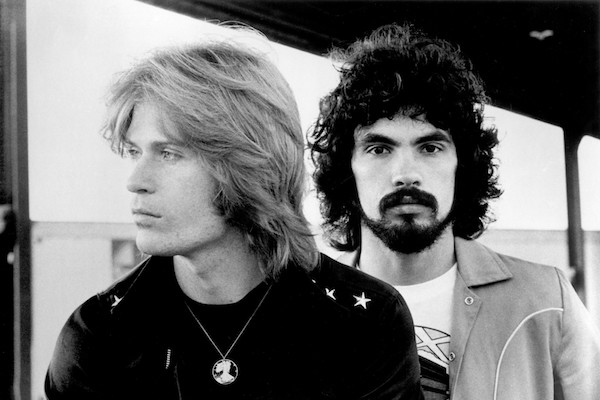 Hall & Oates
From their first hit in 1974 through their heyday in the '80s, Daryl Hall and John Oates' smooth, catchy take on Philly soul brought them enormous commercial success -- including six number one singles and six platinum albums -- yet little critical success. Hall & Oates' music was remarkably well-constructed and produced; at their best, their songs were filled with strong hooks and melodies that adhered to soul traditions without being a slave to them by incorporating elements of new wave and hard rock.
Daryl Hall began performing professionally while he was a student at Temple University. In 1966, he recorded a single with Kenny Gamble and the Romeos; the group featured Gamble, Leon Huff, and Thom Bell, who would all become the architects of Philly soul. During this time, Hall frequently appeared on sessions for Gamble and Huff. In 1967, Hall met John Oates, a fellow Temple University student. Oates was leading his own soul band at the time. The two students realized they had similar tastes and began performing together in an array of R&B and doo wop groups. By 1968, the duo had parted ways, as Oates transferred schools and Hall formed the soft rock band Gulliver; the group released one album on Elektra in the late '60s before disbanding.
After Gulliver's breakup, Hall concentrated on session work again, appearing as a backup vocalist for the Stylistics, the Delfonics, and the Intruders, among others. Oates returned to Philadelphia in 1969, and he and Hall began writing folk-oriented songs and performing together. Eventually they came to the attention of Tommy Mottola, who quickly became their manager, securing the duo a contract with Atlantic Records. On their first records -- Whole Oates (1972), Abandoned Luncheonette (1973), War Babies (1974) -- the duo were establishing their sound, working with producers like Arif Mardin and Todd Rundgren and removing much of their folk influences. At the beginning of 1974, the duo relocated from Philadelphia to New York. During this period, they only managed one hit -- the number 60 "She's Gone" in the spring of 1974.
After they moved to RCA in 1975, the duo landed on its successful mixture of soul, pop, and rock, scoring a Top Ten single with "Sara Smile." The success of "Sara Smile" prompted the re-release of "She's Gone," which rocketed into the Top Ten as well. Released in the summer of 1976, Bigger than the Both of Us was only moderately successful upon its release. The record took off in early 1977, when "Rich Girl" became the duo's first number one single.
Although they had several minor hits between 1977 and 1980, the albums Hall & Oates released at the end of the decade were not as successful as their mid-'70s records. Nevertheless, they were more adventurous, incorporating more rock elements into their blue-eyed soul. The combination would finally pay off in late 1980, when the duo released the self-produced Voices, the album that marked the beginning of Hall & Oates' greatest commercial and artistic success. The first single from Voices, a cover of the Righteous Brothers' "You've Lost That Lovin' Feeling," reached number 12, yet it was the second single, "Kiss on My List" that confirmed their commercial potential by becoming the duo's second number one single; its follow-up, "You Make My Dreams" hit number five. They quickly released Private Eyes in the summer of 1981; the record featured two number one hits, "Private Eyes" and "I Can't Go for That (No Can Do)," as well as the Top Ten hit "Did It in a Minute." "I Can't Go for That (No Can Do)" also spent a week at the top of the R&B charts -- a rare accomplishment for a White act. H20 followed in 1982 and it proved more successful than their two previous albums, selling over two million copies and launching their biggest hit single, "Maneater," as well as the Top Ten hits "One on One" and "Family Man." The following year, the duo released a greatest-hits compilation, Rock 'N Soul, Pt. 1, that featured two new Top Ten hits -- the number two "Say It Isn't So" and "Adult Education."
In April of 1984, the Recording Industry Association of America announced that Hall & Oates had surpassed the Everly Brothers as the most successful duo in rock history, earning a total of 19 gold and platinum awards. Released in October of 1984, Big Bam Boom expanded their number of gold and platinum awards, selling over two million copies and launching four Top 40 singles, including the number one "Out of Touch." Following their contract-fulfilling gold album Live at the Apollo with David Ruffin & Eddie Kendrick, Hall & Oates went on hiatus. After the lukewarm reception for Daryl Hall's 1986 solo album, Three Hearts in the Happy Ending Machine, the duo regrouped to release 1988's Ooh Yeah!, their first record for Arista. The first single, "Everything Your Heart Desires," went to number three and helped propel the album to platinum status.
However, none of the album's other singles broke the Top 20, indicating that the era of chart dominance had ended. Change of Season, released in 1990, confirmed that fact. Although the record went gold, it only featured one Top 40 hit -- the number 11 single, "So Close." The duo mounted a comeback in 1997 with Marigold Sky, but it was only partially successful; far better was 2003's Do It for Love and the following year soul covers record Our Kind of Soul. ~ Stephen Thomas Erlewine, All Music Guide

This album contains no booklet.