---
Album info
Album including Album cover
1

Sea View

06:05

2

Strange Place

03:28

3

Stone Lion

06:57

4

Radio Play

05:09

5

Soft Escape Bed

04:51

6

Enid Dodd's Ruler

06:37

7

Guiding Light

03:11

8

Toothpick

08:20

Total Runtime

44:38
Info for Changing Times

Multi-instrumentalist, composer and educator Kevin Figes presents 'Changing Times', his fifth quartet recording. The album features pianist Jim Blomfield on Fender Rhodes, Prophet and Hammond organ, Mark Whitlam on drums and Thad Kelly on bass.
"There is a striking level of empathy and interplay within the Quartet that comes from a combination of highly accomplished players, all great improvisors in their own right, who have worked closely together for some time," says Figes. "This record is a snapshot in time with a group of people I'm very fond of and will keep working with."
The eight tracks written by Figes on 'Changing Times' explore a wide world of compositional influences. These include "Toothpick", a homage to Soft Machine, the band that made Figes move on from rock to jazz. "I feel I'm almost coming full circle. It's based on the very brilliant writing of Mike Ratledge and his composition 'Teeth'. Elton Dean was their saxophonist, and it was my privilege to have him teach me from scratch back in the '80s," explains Figes.
"Radio Play" was inspired by Paul Hindemith and "Guiding Light" by Hermeto Pascoal. Vocalist Emily Wright performs on two tracks - "Strange Place", which evokes the 70s horror film, and "Soft Escape Bed", a road sign that Figes used to see on his journey to visit his critically ill Dad.
"Figes has a nicely abrasive tone on alto sax and also contributes some satisfyingly raspy baritone and soft toned flute on the fusion-groove 'Sea View'. 'Guiding Light' dials down the eccentricity to deliver a soprano sax ballad that meanders affectingly over a stepladder of piano chords, leading us onwards to a poignantly unresolved ending. This is the sound of a true original at work, with a sensibility that's at once very personal, very international in its inspiration, but somehow identifiably English in it's character. Utterly intriguing." (Eddie Myer, jazzviews.net)
"There is fascinating range of musical styles to be heard throughout this album, with each track significantly different to the others and with each telling its own story. Figes himself deploys a variety of instruments, plus voice, and together with Blomfield's array of keyboards this makes for a wide variety of sounds, colours and textures. Kelly and Whitlam also make substantial contributions while Wright makes her guest appearances count." (Ian Mann, thejazzmann.com)
Kevin Figes, alto- and baritone saxophone, flute, vocals
Jim Blomfield, Fender Rhodes, Prophet, piano
Thad Kelly, bass
Mark Whitlam, drums
Emily Wright, vocals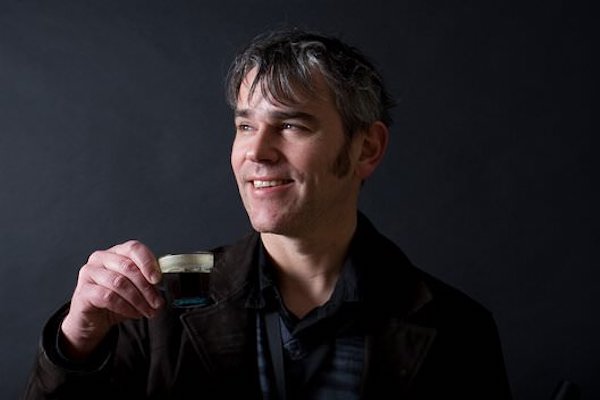 Kevin Figes
is a distinctive voice both as a player (Saxophones and flute) and composer on the UK jazz scene. Never standing still, his ethos is to strive to produce new music which is challenging, well-crafted and from the soul. Kevin began studying saxophone with Elton Dean and later attended the Guildhall School of Music and Drama studying with Tim Garland. He composes for his own quartet which has released three CDs: all received much critical acclaim. The Quartet tours the UK regularly, with help from Jazz Services, and has been broadcast several times on Radio 3. He also writes for the 15 piece big band 'Resonation' which features some of the finest musicians from the west and beyond. He has a notable connection with Keith Tippett, performing in his big band "Tapestry" in Portugal and Canada and in his Octet including broadcasts on Radio 3 and a CD release on Ogun.
Kevin has also performed with Dave Stapleton and recorded an album for his label (Edition). More recently he formed the band "4 Sided Triangle" which included guitarist Mike Outram, and their first CD was released on Pig records in July 2012 to excellent reviews and widespread radio play. In 2013 the Quartet undertook a very successful 17 date jazz services tour of the UK to support the release of "Tables and Chairs". 2014 sees the beginning of an exciting new project, an Octet. A new suite of original material will be recorded early in the year, to be supported by live work.

This album contains no booklet.