---
Album info
Album including Album cover Booklet (PDF)
Claudio Monteverdi (1567 - 1643):

1

Monteverdi: Lasciatemi Morire

01:19

Billie Eilish O'Connell (b. 2001):

2

O'Connell: Listen Before I Go

04:33

Franz Schubert (1797 - 1828):

3

Schubert: Der Tod und das Mädchen Op. 7/3 D. 531

02:15

Nick Cave (b. 1957):

4

Cave: The Curse Of Millhaven

04:49

Franz Schubert:

5

Schubert: Der Jüngling und der Tod D. 545

03:44

George Crumb (b. 1929):

6

Crumb: Dance Of The Moon in Santiago

03:02

Randy Newman (b. 1943):

7

Newman: In Germany Before the War

03:55

Bernhard Lang (b. 1957):

8

Lang: The Crow

01:44

Danger Dan (b. 1983):

9

Dan: Ode an den Mord

02:23

Charles Ives (1874 - 1954):

10

Ives: Charlie Rutlage S. 226

02:35

Andrew Lippa (b. 1964):

11

Lippa: Death is Just Around the Corner

04:10

John Cage (1912 - 1992):

12

Cage: The Wonderful Widow of Eighteen Springs

02:41

Robert Schumann (1810 - 1856):

13

Schumann: Nachtlied Op. 96/1

02:02

Wolfgang Rihm (b. 1952):

14

Rihm: Zwei Gedichte von Marina Zwetajewa

01:56

15

Rihm: Zwei Gedichte von Marina Zwetajewa II

01:17

Gustav Mahler (1860 - 1911):

16

Mahler: Urlicht

04:03

Richard Strauss (1864 - 1949):

17

Strauss: Befreit Op. 39/4

05:03

Henri Duparc (1848 - 1933):

18

Duparc: Extase

03:07

Alban Berg (1885 - 1935): Vier Gesänge Op. 2:

19

Berg: Vier Gesänge Op. 2: I. Aus Dem Schmerz sein Recht

02:32

20

Berg: Vier Gesänge Op. 2: II. Schlafend trägt man mich in mein Heimatland

00:59

21

Berg: Vier Gesänge Op. 2: III. Nun ich der Riesen Stärksten überwand

00:57

22

Berg: Vier Gesänge Op. 2: IV. Warm die Lüfte

02:29

Jan Vermeulen (1638 - 1674):

23

Vermeulen: Als ik dood ben lig ik onder gras

00:35

Erich Wolfgang Korngold (1897 - 1957): from Lieder des Abschieds Op. 14:

24

Korngold: from Lieder des Abschieds Op. 14: I. Sterbelied

03:35

25

Korngold: from Lieder des Abschieds Op. 14: II. Dies eine kann mein Sehnen nimmer fassen

02:39

26

Korngold: from Lieder des Abschieds Op. 14: III. Mond, so gehst Du wieder auf

03:15

Total Runtime

01:11:39
Info for Hello Darkness

After her acclaimed "Dirty Minds" Lied recital in February 2020 which was extremely well received by audiences and the international press alike, being furthermore awarded the annual prize of the Deutsche Schallplattenkritik and still enjoying great popularity within a wide range of promoters, Olivia Vermeulen returns to the Amsterdam Concertgebouw on 2 November with a new programme entitled "Hello Darkness". Together with her pianist Jan Philip Schulze, she will present a new multi-faceted and yet entertaining programme which undertakes a kaleidoscopic musical journey through the centuries and through various aspects of the great mystery of Life and Death, spanning once again a varied musical kaleidoscope from Purcell to Billie Eilish, from Schubert to Kreisler, from Monteverdi to Randy Newman.
Olivia Vermeulen, mezzo-soprano
Jan Philip Schulze, piano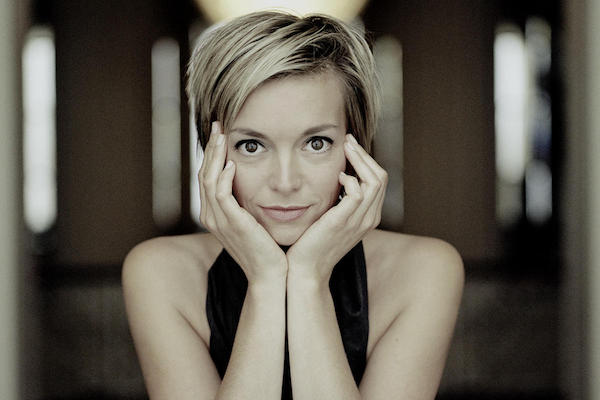 Olivia Vermeulen
Dutch mezzo-soprano Olivia Vermeulen has established herself in recent years as a versatile soloist of international standing. She made her much-acclaimed debut at the Berlin State Opera taking the lead role of Turno in Agostino Steffani's L'Amor vien dal Destino under René Jacobs. In addition, she has toured with the Budapest Festival Orchestra under Iván Fischer with Mozart's Die Zauberflöte to Budapest, Amsterdam, London and Berlin, further appearing in Schumann's Szenen aus Goethes Faust at Barbican Hall under Daniel Harding and the London Symphony Orchestra. She is equally in demand as a performer of contemporary music: in this capacity, she made her debut at the Ruhrtriennale in 2017 with the world premiere of Kein Licht by Philippe Manoury based on texts by Elfriede Jelinek. As part of the Musikfest Berlin, Olivia gave a guest performance with Musikfabrik Köln in the Berliner Philharmonie under Peter Eötvös, and is a regular guest at the renowned Kissinger Sommer where she has premiered songs by Wolfgang Rihm. Furthermore, she has been invited by the Bregenz Festival to perform the role of Saiko in the world premiere of Thomas Larcher's The Hunting Gun.
Engagements of the past seasons comprise her role debut as Donna Elvira in Mozart's Don Giovanni as well as Cherubino in Le Nozze di Figaro, both on tour with the Freiburg Baroque Orchestra under René Jacobs. She appeared as a soloist in the frame of Salzburg's Mozart Week along with Jörg Widmann, and sang Mozart's Great Mass in C Minor under Masaaki Suzuki at the Théâtre du Champs-Elysées as well as at Amsterdam's Concertgebouw. With the same work, she also gave her debut with the Berlin Philharmonic under Daniel Harding. In addition, Olivia made her debut at Opéra National de Paris singing the role of Abel in Alessandro Scarlatti's Il Primo Omicidio under René Jacobs, and appeared as Fjodor in a concert performance of Modest Mussorgsky's Boris Godunov at the Concertgebouw Amsterdam under the baton of Pablo Heras-Casado.
Further highlights include Ramiro in Mozart's La Finta Giardiniera with Andrew Parrott and the Munich Radio Orchestra, the title role in Handel's Teseo under Federico Maria Sardelli in Moscow's Tchaikovsky Hall, as well as the title role in Vivaldi's Arsilda at the Grand Theatre Luxembourg, Opéra de Lille and Versailles' Opéra Royal under Václav Luks. Olivia also sang Annio in Mozart's La Clemenza di Tito under Stefano Montanari in Moscow, Cherubino in an Aix-en-Provence Festival production at the Opéra de Dijon under Jonathan Cohen, and gave a guest appearance in the same production under Andreas Spering in Bahrain.
Further central roles of her operatic repertoire include Ariodante (Ariodante), Sesto (Giulio Cesare), Idamante (Idomeneo), Zerlina (Don Giovanni), Angelina (La Cenerentola), Hänsel (Hänsel und Gretel) and L'Enfant (L'enfant et les sortilèges).
A passionate exponent of the Classical and Baroque repertoire, Olivia Vermeulen has performed in Bach's St Matthew Passion and Mozart's Great Mass in C minor under Masaaki Suzuki in Tokyo (the latter a Gramophone award-winning CD released by BIS Records), and has extensively toured with Bach's Christmas Oratorio under Helmuth Rilling. In the frame of the Schleswig Holstein Musik Festival, Olivia appeared as a soloist in Mendelssohn's version (1841) of Bach's St Matthew Passion in Lübeck, with Masaaki Suzuki conducting the NDR Chor and NDR Elbphilharmonie Orchester. The collaboration with Masaaki Suzuki and his Bach Collegium Japan furthermore led her to Japan for a series of concerts with Handel's Messiah.
A concert presenting excerpts from Strauss' Ariadne auf Naxos under Iván Fischer in Budapest and Vicenza was one of the last highlights of the past season before the worldwide spreading of Covid-19 resulted in a great number of cancellations, including a tour with the Belgian B'Rock Orchestra and, along with the Nederlandse Bachvereniging, several concerts with Bach's St. Matthew Passion under the direction of René Jacobs. Also on the opera stage, Olivia Vermeulen's house debut at the Zurich Opera as Idamante in Mozart's Idomeneo could not be realized as planned.
A particular focus of the current season lies on the concert and the Lied genre - the latter also as a continuation of her much-acclaimed solo album "Dirty Minds" which was awarded the Jahrespreis der Deutschen Schallplattenkritik and the Dutch Edison Klassiek Prize – with appearances at the Oxford Lieder Festival, the International Lied Festival Zeist, the Gesellschaftshaus Magdeburg, the International Art Center deSingel in Antwerp and the Brucknerhaus Linz. Olivia will furthermore appear as a soloist in Bach's St Matthew Passion with the Orchestra of the Eighteenth Century and the Residentie Orkest, whilst at the Internationale Barocktage Sift Melk she will explore "Nicolò Grimaldi's traces between South and North" along with flutist Max Volbers and his ensemble. In addition, after having toured as Cherubino in Le nozze di Figaro and Donna Elvira in Don Giovanni, she will complete her personal Mozart-Da Ponte trilogy with her debut as Dorabella in Così fan tutte with the Freiburg Baroque Orchestra under the direction of René Jacobs.
Olivia Vermeulen has appeared at festivals such as the Munich Opera Festival, the Rheingau Music Festival, the RheinVokal Festival, the Musikfest Stuttgart and the Handel Festival in Halle, working with conductors such as Philippe Herreweghe, René Jacobs, Iván Fischer, Markus Stenz, Marek Janowski, Andrea Marcon, Franz Brüggen, Reinhard Goebel, Michael Schønwandt, Alessandro de Marchi, Konrad Junghänel, Tomáš Netopil, Enoch zu Guttenberg and Lothar Zagrosek.
Olivia Vermeulen studied singing in Detmold with Mechtild Böhme and in Berlin with Julie Kaufmann. She took part in various Lieder classes given by Wolfram Rieger and Axel Bauni, and participated in masterclasses with Andreas Scholl, Thomas Quasthoff, Dietrich Fischer-Dieskau and Irwin Gage. She currently receives vocal coaching from Margreet Honig.
Numerous radio and CD recordings document the output of this versatile singer. Her first solo album entitled "Dirty Minds" has been released with the Dutch label Challenge Records in February 2020. On that occasion, Olivia Vermeulen also gave her highly-acclaimed recital debut at Amsterdam's Concertgebouw.

Booklet for Hello Darkness