---
Album info
Album including Album cover
I`m sorry!
Dear HIGHRESAUDIO Visitor,
due to territorial constraints and also different releases dates in each country you currently can`t purchase this album. We are updating our release dates twice a week. So, please feel free to check from time-to-time, if the album is available for your country.
We suggest, that you bookmark the album and use our Short List function.
Thank you for your understanding and patience.
Yours sincerely, HIGHRESAUDIO
1

Intro / Hip City, Pt.1 & Pt. 2

05:12

2

Sweet Soul

04:16

3

Home Cookin'

02:20

4

Something You Got

05:56

5

(I Know) I'm Losing You

03:32

6

Come See About Me

04:30

7

What Does It Take (To Win Your Love)

04:55

8

Medley: Shotgun/What Does It Take (To Win Your Love)

07:28

Total Runtime

38:09
Info for Live (Remastered)

Live is an album by soul and funk artists Junior Walker and the All-Stars released in 1970.
Jr. Walker & The All Stars were a down-home, blues-and-rhythm counterpoint to the upwardly mobile, commercial polish that was Motown's trademark of the 1960s. Their leader's gutbucket sax and shout-out vocals framed and defined the group's place in popular music, and lent credence to the Motown subsidiary label under which their music was released: Soul.
General Motors surely never made a vehicle as roadworthy as Jr. Walker & the All Stars, nor Motown Records a star as casual about recording as Autry DeWalt Mixon from Blytheville, Arkansas. In other words, Jr. Walker. "Jr. Walker's records were hugely popular in Newcastle, where I'm from. The Club-A-Go-Go – which the Animals came out of, and where I DJ'ed for a short time – played them constantly. They always moved people; they were very sexy. There was nothing else quite like them." – Bryan Ferry "I guess Jr. figured being in the studio was a gamble," said writer/producer Lamont Dozier, who helped to forge the saxman's celebrated '(I'm A) Road Runner' smash in 1966, "and he needed to be out there on the road, picking up the money. That was a sure thing, right? He could see it in his hand, not like waiting six months for a royalty cheque."
The late Johnny Bristol, who played a central role in Walker's career, recalled that he would have Motown studio time booked and ready for Jr., "and he would call me from Indiana and say, 'Look, this guy called me at the last minute and I have to go make this money. I'll be there tomorrow, can you set it up for tomorrow?' We were good friends, I liked him, so it was OK."Walker and his band were the funkiest hitmakers on the Motown roster. It was no accident that they were assigned to the company's Soul label when it was unveiled in 1965. Nor was it a surprise when in 1981, Mick Jones, frontman of Anglo/American rock combo Foreigner – seeking some grit for a new song which he and producer Robert "Mutt" Lange were cooking up – knew exactly who to call. So that's Jr. and his sax blowin' midway through 'Urgent,' a Top Five US hit for Foreigner.
Jr. Walker & The All Stars
Produced by Johnny Bristol
Digitally remastered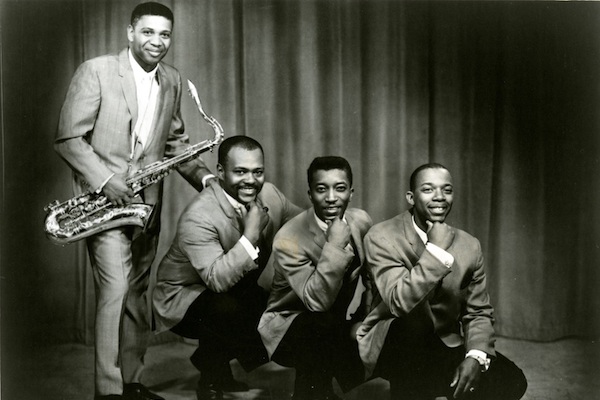 Jr. Walker & The All Stars
Autry DeWalt-Mixon is born in Blythesville, Arkansas in 1931. His stepfather, whose surname is Walker, gives him the nickname "Junior," and the youngster is inspired to take up the saxophone by the jumping jive of alto genius Louis Jordan, whose seductive music he hears while growing up.
A teenage Junior forms his first instrumental group, the Jumping Jacks, in South Bend, Indiana, with guitarist Willie Woods, organist Victor Thomas and drummer Tony Washington, all of whom start playing professionally together in small clubs.
Renamed Jr. Walker & The All Stars, the band moves to Michigan after lining up an open-ended residency at the El Grotto, a nightclub in Battle Creek. Here, Junior develops into quite the showman, regularly raising the roof with his distinctive, shrieking sax. "When I got off into the R&B," Junior tells author Bill Dahl, "I started makin' a little money then!"
Also performing at the El Grotto are Johnny Bristol, later a key Motown writer/producer, and Jackey Beavers. "Jackey and I sang on weekends," explains Johnny, "and Junior's was the band. The place was constantly packed. Junior could play blues, jazz, rock and definitely soul." Bristol recommends the musician to Harvey Records, the label owned by Harvey Fuqua and Gwen Gordy. When the business is sold to Motown, Junior joins the Hitsville team.
Junior unpacks "Shotgun" after "watching a couple of kids doing a different kind of dance in a club," and tells Berry Gordy. The boss gets personally involved, co-producing the record with Lawrence Horn, and instructing Junior – who wasn't initially going to sing, just blow his horn – to take the lead vocal. Drummer James Graves has joined the All Stars by this time, although the studio team helps out with "Shotgun." The record's opening gunfire is the compressed, echo of Funk Brothers Brother Eddie Willis kicking his amplifier.
"Shotgun" is a massive hit in 1965, setting up Junior and the band to blow through the Billboard best-sellers for four straight years. The band's Top 10 R&B singles include "Shake And Fingerpop," "(I'm A) Road Runner" and "How Sweet It Is (To Be Loved By You)." And, of course, the All Stars take to the highways and byways. "I guess [Junior] figured being in the studio was a gamble," says Motown writer/producer kingpin Lamont Dozier, "and he needed to be out there on the road, picking up the money. That was a sure thing, right?"
Later, the All Stars are handed a new recipe by their Battle Creek buddy Johnny Bristol: "What Does It Take (To Win Your Love)." Walker is hesitant at first. "He's a real 'Shotgun' kinda guy, just yell it out," recalls Bristol. "I said, 'No, Junior, a little prettier, a little warmer.' And I sang harmony with him." The outcome is the band's biggest pop crossover since "Shotgun," paving the way for an equally attractive sequence of hits: "These Eyes," "Gotta Hold Onto This Feeling," "Do You See My Love (For You Growing)" and "Take Me Girl, I'm Ready".
The hits are harder to come by as the '70s unfold, but not the gigs. Junior continues to make records for Motown, then follows producer Norman Whitfield to his post-Hitsville label for a spell. A hard-blowin' solo on Foreigner's "Urgent" in 1981 marks a chart comeback for the Walker signature sax, and a return to Motown yields a new album, Blow The House Down. Junior always did.

This album contains no booklet.