---
Album info
Album including Album cover
I`m sorry!
Dear HIGHRESAUDIO Visitor,
due to territorial constraints and also different releases dates in each country you currently can`t purchase this album. We are updating our release dates twice a week. So, please feel free to check from time-to-time, if the album is available for your country.
We suggest, that you bookmark the album and use our Short List function.
Thank you for your understanding and patience.
Yours sincerely, HIGHRESAUDIO
1

Durch Nacht Und Wind

04:52

2

The Embrace

05:57

3

The Adventurer

05:04

4

The Beauty And The Dark

03:27

5

Emtpy

08:26

6

The Lullaby

02:19

7

Nobody Ever Really Dies

11:52

Total Runtime

41:57
Info for The Rest Is A Gift

Kristian Nord ist in Münster aufgewachsen und arbeitete danach als Musiker, Komponist und Produzent in Hamburg. Vor 15 Jahren hat der leidenschaftliche Surfer in Venice Beach eine zweite Heimat gefunden und seinen ganz eigenen amerikanischen Traum unter der Sonne Kaliforniens erfüllt.
Mit "The Rest is A Gift" veröffentlicht er nun im Oktober sein Solo-Debütalbum um den frühen Tot seines Vaters zu verarbeiten. Ein ruhig wogendes, instrumentales Neo Klassik Album in der Tradition von The String Theorie. Ein elektronisch-orchestraler Hybrid aus purer Schönheit. Katharsis, Aufarbeitung und Nabelschau. Ein intimer Blick nach ganz innen und eine Mahnung an die Kostbarkeit des Lebens.
Kristian Nord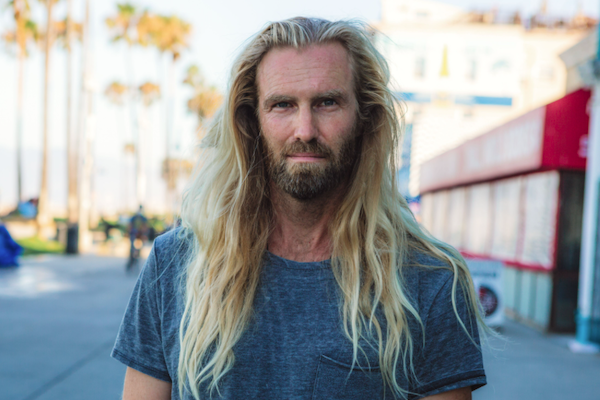 Kristian Nord
ist einer dieser Künstler, die der Musik vor allem anderen verfielen. Erst in Münster, dann in Hamburg, als Musiker, Komponist, Produzent und alles dazwischen. Niemand weiß, ob es dann, vor rund 15 Jahren, die Musik oder doch eher der Ruf der Wellen war, die den Surf-Jünger aus Deutschland weglocken. An der Pazifikküste Kaliforniens, in Venice Beach, hat er längst sein Zuhause gefunden. Und wer seinen neuen Lebensabschnitt im Land der unbegrenzten Möglichkeiten bei einer Session mit dem Doors-Schlagzeuger John Densmore beginnt, kann ja schon mal ganz zufrieden sein. Für Nord war das aber erst der erste kleine Kieselstein, der alles ins Rollen brachte. Gemeinsam mit seinem Partner in Crime, einem weiteren Hamburger Expat namens Malte Hagemeister, hat sich Nord seinen ganz eigenen amerikanischen Traum unter der Sonne Kaliforniens erfüllt: Er spielt mit ihm in der international geachteten Indie-Band "The Great Escape", er setzt sich für karitative Zwecke ein und realisiert mit dem Label California Music ambitionierte musikalische Projekte und Imagefilme für einige der stärksten Marken der Welt. Alben mit seiner Beteiligung verkauften sich Millionen Mal und er sitzt in der Jury des begehrtesten Musikpreises schlechthin, dem Grammy.
Reicht eigentlich für ein Leben, oder? Kristian Nord nicht. Neben all den Projekten und Bands, neben den endlosen Surf-Stunden auf dem Pazifik, hat er die letzten Jahre auch dafür genutzt, eine Soloplatte zu schreiben. "The Rest Is A Gift" ist ein elektronisch-orchestraler Hybrid aus purer Schönheit und hat so gar nichts mit dem lauten, furiosen Indie Rock seiner Band zu tun. "The Rest Is A Gift" ist ein intimer Blick nach ganz innen. Katharsis, Aufarbeitung und Nabelschau. Geschrieben für seinen Vater, der mit 42 verstarb. So alt also wie Kristian Nord jetzt ist: Das Album ist ein Denkmal an diese wichtige Figur, die Nord mit gerade mal zehn Jahren verlor. "Das war keine Karriereentscheidung", stellt er fest. "Ich musste es einfach tun. Ich bin jetzt so alt wie er war, als er starb, und ich möchte ihn ehren. Ich möchte etwas erschaffen, das bleibt."
Seine Musik ist eine Reise. Das mag wie ein Klischee klingen, ist bei Nord aber inhärent und auf seinem ersten Soloalbum untrennbar miteinander verknüpft. Eine Reise, die er an der Seite seines Vaters antritt. Seine Musik ist aber auch eine Mahnung an die Kostbarkeit des Lebens. Deswegen hat er sein kommendes Solodebüt auch "The Rest Is A Gift" getauft. "Für mich beginnt jetzt die Zeit, die er nie hatte. Ich will sie maximal auskosten – mit aller Schönheit, allen Höhen und allem Glück. Aber auch mit aller Trauer, allen Tiefpunkten und allem Schmerz." Nur wer so lebt, kann wahrhaftige Musik erschaffen. Und sich selbst nach allem, was passiert ist, furchtlos den Wellen des Pazifiks anvertrauen.
Jede Sekunde des Albums wirkt kostbar, will ausgereizt werden von Komponist und Hörer. Wogende Neoklassik, die Melodien huschen fragil über die Schaumkronen der Wellen, der ferne Horizont als Anker und Ziel. "Vor einigen Jahren reiste ich zu einigen engen Freunden und Weggefährten meines Vaters, um eine neue Beziehung zu ihm aufzubauen", so Nord zur Motivation hinter diesem intimen Song. "Ich wollte ihn als Erwachsenen kennenlernen, ich war ja noch so jung, als er starb. Was ich fand, war dieser unglaublich lebendige, nonkonforme Abenteurer. Stets bereit, neue Welten zu entdecken. Voller Ideen, immer dafür gut, die Menschen zum Lachen zu bringen, immer zur Stelle, wenn jemand seine Hilfe benötigte."
Für Kristian Nord ist Musik eine Superkraft. "Sie lässt dich sofort etwas fühlen, das ist bei keiner anderen Form der Kommunikation so", sagt der Musiker und Komponist. "Eine einzelne Note reicht für eine Gänsehaut auf deinem gesamten Körper." Nur konsequent also, dass der Musiker und Komponist jetzt die Musik als Zufluchtsort aufsucht, um diesen schweren Verlust zu verarbeiten.

This album contains no booklet.