---
Album info
Album including Album cover
I`m sorry!
Dear HIGHRESAUDIO Visitor,
due to territorial constraints and also different releases dates in each country you currently can`t purchase this album. We are updating our release dates twice a week. So, please feel free to check from time-to-time, if the album is available for your country.
We suggest, that you bookmark the album and use our Short List function.
Thank you for your understanding and patience.
Yours sincerely, HIGHRESAUDIO
1

Overture (Live at the Royal Albert Hall) [Ultra HD Version]

02:44

2

Doomed (Live at the Royal Albert Hall) [Ultra HD Version]

04:40

3

Happy Song (Live at the Royal Albert Hall) [Ultra HD Version]

04:42

4

Go to Hell, for Heaven's Sake (Live at the Royal Albert Hall) [Ultra HD Version]

05:09

5

Avalanche (Live at the Royal Albert Hall) [Ultra HD Version]

05:29

6

It Never Ends (Live at the Royal Albert Hall) [Ultra HD Version]

06:07

7

Sleepwalking (Live at the Royal Albert Hall) [Ultra HD Version]

04:56

8

Empire (Live at the Royal Albert Hall) [Ultra HD Version]

04:13

9

Throne (Live at the Royal Albert Hall) [Ultra HD Version]

04:03

10

Shadow Moses (Live at the Royal Albert Hall) [Ultra HD Version]

05:09

11

True Friends (Live at the Royal Albert Hall) [Ultra HD Version]

06:14

12

Follow You (Live at the Royal Albert Hall) [Ultra HD Version]

03:53

13

Can You Feel My Heart (Live at the Royal Albert Hall) [Ultra HD Version]

06:00

14

Antivist (Live at the Royal Albert Hall) [Ultra HD Version]

04:31

15

Drown (Live at the Royal Albert Hall) [Ultra HD Version]

06:36

16

Oh No (Live at the Royal Albert Hall) [Ultra HD Version]

08:25

Total Runtime

01:22:51
Info for Live at the Royal Albert Hall

Live at the Royal Albert Hall is the second live album by British rock band Bring Me the Horizon. It was recorded on 22 April 2016 at the Royal Albert Hall, with accompaniment from the Parallax Orchestra conducted by Simon Dobson. The album was released on 2 December 2016 through the crowdfunding platform PledgeMusic, with all proceeds being donated to Teenage Cancer Trust.
Bring Me The Horizon
Parallax Orchestra
Simon Dobson, conductor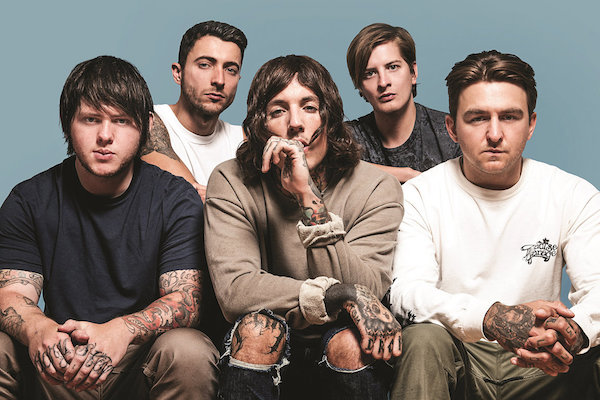 Bring Me The Horizon
Electro-grime. Glitch-pop. Divorce. Dani Filth. Alan Partridge. Indian religious cults. Betrayal. "Tacky Nineties Euro-sounding club stuff." A beatboxer. A whole lotta rock, and a whole lotta ambition. Love. amo.
When Bring Me The Horizon decided they were going to tear things down and change things up for their sixth album, they didn't hold back. With their last album, 2015's That's The Spirit, the Sheffield heavyweights went one louder, moving from the proud metalcore margins to a big, bold, balls-out, tunes-up rock album. "We set out to write an album of 11 bangers," states frontman Oli Sykes, unabashed. "My favourite album when I was a kid was Linkin Park's Hybrid Theory, and I thought every track on that could be a single. We wanted to do that." It was a job emphatically done.
That's The Spirit entered the UK charts at Number Two and cracked the Billboard album charts. Its critical and commercial success kept the five-piece on the road around the world for 18 solid months, with an added tailwind from their orchestral pitstop at the Royal Albert Hall, as immortalised in December 2016's live album.
But by the time Sykes, guitarist Lee Malia, bassist Matt Kean, drummer Mat Nichols and keyboardist Jordan Fish limped offstage in Las Vegas in April 2017, BMTH were done. That is, bodies and heads were wrecked and a chapter was over. "We were a bit over touring by that point," admits Fish with a rueful smile. "We were getting a bit bored of the songs. We were ready to do something a bit more creative, and to do something a bit different. "After it all settled down, when we started thinking about this album, it became apparent we'd backed ourselves into a corner on the last album," continues Fish, who's Sykes' songwriting wingman. "It was Big Rock Songs, and you can only go so far with that. And when we started writing again, the stuff that sounded like it could have fit on the last album, we knew really quickly they wouldn't be the way we wanted to take it."
"We'd got really bored with leaning on the things that had got us successful on the past two albums," adds Sykes. "As great as that was, there were lots of elements that were quite restricting, even down to the way I was singing. Or, I'd write lyrics on That's The Spirit that I felt I couldn't say then bin them – that was frustrating."
After a few months apart, rebooting their personal lives, BMTH reconvened in autumn 2017. It was time to start what Fish describes as "a rebuilding process, and get excited again". Easier said than done. Never less than rigorous, the band admit that it took some months before they had anything like a breakthrough song. For Sykes there was, too, a bittersweet diversion just as the writing sessions kicked off. He flew to Los Angeles to sing at the tribute concert in honour of the late Chester Benninton. It was of course an honour to be asked, but clearly not something this teenage Linkin Park obsessive had ever anticipated he'd have to do. "Linkin Park were the first gig I ever saw," he says quietly. "And in Kerrang! the next week I could see my eyeball in the crowd. So in class at school I burst out crying! But if you could tell that kid that one day I'd on stage, singing a song in his memory – you just think, bloody hell, how did that happen? And how did I get to this point in my life? In a way. I've already won, 'cause our band is great, we've achieved loads, and I'm with my mates. But then you have something awful like that happen…" As he struggled with the writing Sykes confesses, too, to crises of confidence. Was he burnt out? Too old (at the ripe age of 31)? Too distracted? On the latter point, to be fair, his apparel company Drop Dead Clothing was going from strength to strength, with an expansion that included the opening of a bar in the company's huge Sheffield HQ, as well as a band recording studio, The Cinnamons, named after Alan Partridge's newbuild dream home.
Also on the last point, something less fair: the frontman had undergone a divorce, a bruising experience that would find form in some of the new album's more emotionally trenchant lyrics. In happier news, he also found new love, and a second marriage, to Allisa. Hence the album's title, amo, which is Portuguese for love.
Never ones to duck a challenge, BMTH pushed on. Finally, a breakthrough: Mantra.
"When we wrote that song, we knew it was the first one we were going to put out," states Fish. "That came together in March this year, but we'd already been writing for six months at that point. And when we went into the studio in LA, we were still writing and changing songs. Loads more came. In fact, we were writing stuff for the album when we were mixing – the intro song, I Apologise If You Feel Something, actually came together in the mixing studio." Lyrically, the hard-charging anthem that is Mantra grasps the thistle of the truth – how it will "set you free" but also "torment".
"The lyrics came to me as I was watching that Netflix documentary Wild Wild Country about a controversial cult," explains Sykes. "I just drew some parallels between starting a cult and starting a marriage or relationships. It can literally change your whole life – change your friends, buy property, move across the world for someone. You have to trust them unconditionally. And in that doc you're watching these people who are still enthralled by their leader after his death, even though he betrayed them. And that is sometimes what you see in relationships. That is definitely where I was in my last marriage. This is my wife, I love her, I can't suspect anything bad about her… "And then extending the metaphor: people just don't want to accept the truth some times."
The scratchy, glitchy Ouch – its drum'n'bass contours conjured in a mad 45-minute burst of inspiration and innovation – is another deeply personal song that touches on his last relationship.
"That's probably as personal as it gets," says Sykes. "I was really hesitant about writing that, about looking like I was wallowing in it. I'm glad [the split] happened, and I'm in a really happy place, and it takes two to tango – but at the same time it was a really painful time for me." "Medicine is connected to that too," adds Fish of the expansive, defiant, soulful rocker that is slated to be the third single from amo. ....

This album contains no booklet.