---
Album info
Album including Album cover
I`m sorry!
Dear HIGHRESAUDIO Visitor,
due to territorial constraints and also different releases dates in each country you currently can`t purchase this album. We are updating our release dates twice a week. So, please feel free to check from time-to-time, if the album is available for your country.
We suggest, that you bookmark the album and use our Short List function.
Thank you for your understanding and patience.
Yours sincerely, HIGHRESAUDIO
1

Wonderful Woman

05:20

2

Big Boys

03:06

3

You Go To My Head

03:21

4

3/4 Time (Enchiladas)

03:47

5

Darlin'

03:20

6

Lady B. Goode

02:56

7

She Still Loves You

03:01

8

Jamaica Moon

03:50

9

Dutchman

03:48

10

Eyes Of Man

02:27

Total Runtime

34:56
Info for Chuck (Remastered)

"Chuck" is Berry's first album in 38 years to consist of mainly new material, since his 1979 record Rock It. The album is dedicated to his wife Thelmetta "Toddy" Berry. The album was announced on Berry's 90th birthday, October 18, 2016. Performers on the album include his live backing band as well as his children. Prior to his death on March 18, 2017, it was implied that this album was to be his last.
It's called simply "Chuck," and Dualtone Music Group will issue it next year. No exact release date or tracklist has been announced yet but the press release reveals it's "comprised primarily of new, original songs written, recorded and produced by the founding rock and roll legend." According to the St. Louis Post-Dispatch Berry is the sole producer of the album. "It's a really nice gift to the fans," spokesman Joe Edwards, Berry's longtime friend and consultant, told the St. Louis Post-Dispatch. "He has the rock songs to get you hooked and those great Chuck Berry lyrics. He was the first great poet laureate of rock 'n' roll. When people hear these songs, they're going to be fascinated."
Recorded in various studios around St. Louis, "Chuck" features Berry's longtime backing group: his children Charles Berry Jr. (guitar) and Ingrid Berry (harmonica), with Jimmy Marsala (bass), Robert Lohr (piano), and Keith Robinson (drums). This is the group Berry fronted at hundreds of residency shows since the early '90s at his Blueberry Hill club. "The St. Louis band, or as dad called us 'The Blueberry Hill Band,' fell right into the groove and followed his lead," says Chuck's son – who has played his father's band for many years and manages his online presence – in the press release. "These songs cover the spectrum from hard driving rockers to soulful thought provoking time capsules of a life's work."
According to Jimmy Marsala – Berry's bassist of forty years – work on the forthcoming album dates back to 1979. "He was constantly working on stuff all the time, on airplanes, writing lyrics down, always coming up with new ideas — 'Let's try this, let's try that.It took time to pull all the songs together. He has been enjoying performing so much." Marsala adds that even at 90 Berry "still has a lot to say" and suggests the long delay was due to Berry's demand that the album lived up to his legacy. "He didn't want to put out a bomb," Marsala said. "It meant a lot to him that it sounds right."
"This record is dedicated to my beloved Toddy," Berry is quoted in the press release, referring to Themetta Berry, his wife of 68 years. "My darlin' I'm growing old! I've worked on this record for a long time. Now I can hang up my shoes!"
Dualtone president Paul Roper adds: "It is a great honor to be a part of this record and the broader legacy of Chuck Berry. This body of work stands with the best of his career and will further cement Chuck as one of the greatest icons of rock and roll."
Dualtone, of Nashville, Tennessee, is a perfect fit for a 2017 Chuck Berry album – their roster is filled with the modern day Americana of Robert Earl Keen, The Lumineers, Delta Spirit, Langhorne Slim, Shakey Graves, Guy Clark and others.
Although Berry regularly gigged through 2014, since playing his 200th consecutive monthly show at the Duck Room in Blueberry Hill in October 2014 he seems to have retired from live performance. Then again, the St Louis Post Dispatch quotes Marsala about his most recent conversation with Chuck: "'Let's go get on the bus and kick some ass like we used to'" Berry said….
Chuck Berry, electric guitar, lead vocals
The Blueberry Hill Band:
Robert Lohr, piano
Jimmy Marsala, bass
Keith Robinson, drums
Additional musicians:
Charles Berry, Jr., guitar
Ingrid Berry, harmonica
Tom Morello, guitar on "Big Boys"
Nathaniel Rateliff, guitar on "Big Boys"
Gary Clark, Jr., guitar on "Wonderful Woman"
Produced by Chuck Berry
Digitally remastered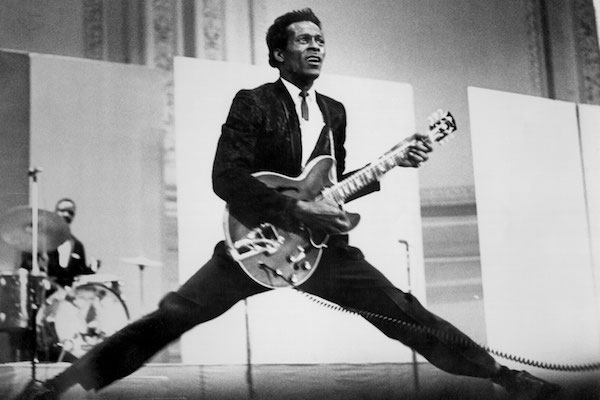 Chuck Berry
If Elvis Presley cracked open the door for rock & roll, Chuck Berry kicked it wide open—and did his signature duck walk over it for good measure. Even before Buddy Holly settled on a sound, the St. Louis native had pop success with 1955's "Maybellene," a rewrite of the country song "Ida Red."
In Berry's hands, the tune featured lyrics conflating an ill-fated drag race with a fervent wish that his gal would "be true"—and a musical backdrop with a forceful upright bass, boogie-woogie piano and red-hot guitar licks.
"Maybellene" sounded like nothing else in music at the time, and immediately established Berry as the purveyor of a new style of music, where blues, country and R&B came together in urgent, exciting ways. In fact, it's not an exaggeration to say that he's the most influential figure on modern rock & roll: Name any major band—the Beatles, the Rolling Stones, Aerosmith—and they'll have cited Berry as an inspiration.
Born in 1926, Berry started off a vocal performer inspired by Nat "King" Cole. Very quickly, however, he found himself pushing against the status quo: During his debut performance in high school, he sang a song called "Confessin' The Blues" that was considered edgy for the time and place.
From there, Berry picked up guitar, first working independently to pick up basics and then learning more rudimentary fundamentals from his friend Ira Harris. By 1952, he was confident enough to have joined a club band which favored everything from blues to calypso to jazzy ballads; the year after, Berry linked up with the Sir John's Trio, which featured pianist Johnnie Johnson and performed at East St. Louis' Cosmopolitan Club.
The charismatic Berry came into his own with this combo—especially after he started incorporating more country riffs into his already eclectic performance style, a move which helped the troupe attract an increasingly integrated audience.
Berry's fortunes improved even more on a 1955 visit to Chicago to investigate the city's blues scene. After catching the tail-end of a performance from his idol, Muddy Waters, Berry asked him for advice on records. Waters pointed him to Chess Records, whose founder, Leonard Chess, agreed to listen to what the ambitious young musician had to offer.
Berry made a demo back in St. Louis that same week and subsequently returned to Chicago. Chess liked what he heard—especially the song that eventually became "Maybellene"—and signed him.
After the success of "Maybellene," Berry released a string of enduring, landmark songs over the next half-decade: "Roll Over Beethoven," "Too Much Monkey Business," "School Day (Ring! Ring! Goes The Bell)," "Johnny B. Goode," "Rock and Roll Music," "Sweet Little Sixteen," "Brown Eyed Handsome Man" and "Carol." These tunes were danceable, youthful and relatable—driven by the delicious tension between Berry's precise vocals and his elegant (and exuberant) renegade guitar riffs.
Although Berry recorded his hits with Chess Records' in-house band members, for live shows, he tapped two of his Sir John's Trio bandmates: pianist Johnson and drummer Ebby Hardy. Berry's flashy stage moves from those days also carried over: In 1956, he started doing the crowd-pleasing duck walk, a move where he crouched down while playing guitar and hopped across the stage on one foot.
Berry became an enormously popular figure within rock & roll, which was then dominated by both white artists and fans. The integration wasn't perfect—in his autobiography, he detailed incidents of racism and discrimination he experienced while touring—but he channeled these experiences into attempts to hasten social progress.
Back at home in St. Louis, he opened a venue called Club Bandstand which welcomed all attendees, regardless of race; several years later, in the pre-suburban outskirts of the city, he opened a similarly inclusive, country club-modeled enclave called Berry Park. He was also a savvy businessman who invested wisely and wasn't afraid to stand up for his rights as an artist, two traits which marked the rest of his career.
Still, Berry's musical momentum was derailed in 1959, after he was arrested and accused of having an improper relationship with an underage girl. He was convicted and spent time in prison in the early '60s.
After his 1963 release, however, Berry rebounded with the singles "No Particular Place To Go," "You Never Can Tell" and "Nadine." In fact, he was also a major influence on the new young rock bands changing music and culture, such as the Beatles, Rolling Stones and the Yardbirds.
Berry's studio efforts would never be as influential as they once were—although in 1972, he had a No. 1 hit with the lighthearted tune "My Ding-A-Ling"—and so he mostly stuck to live concerts, where his dynamic performances made him a popular draw. The 1987 documentary Hail! Hail! Rock 'n' Roll, which chronicled Berry's 60th birthday concerts, in particular captured his onstage magic.
He continued his touring ways for decades after, which led to memorable performance such as at the Concert for the Hall of Fame, where he performed with (and confounded) Bruce Springsteen & The E Street Band. Up until recent years, Berry even performed monthly in his hometown of St. Louis at Blueberry Hill's Duck Room, a 340-person club named after the musician's namesake move.
At Berry's 80th birthday show there, Aerosmith guitarist Joe Perry showed up and hopped onstage to jam with his idol. It's a testament to Berry's influence—and the respect he's commanded—that one of his most famous disciples made it a point to commemorate the milestone.
October 18, 1926 - March 18, 2017 (Source: www.rockhall.com)

This album contains no booklet.