---
Album info
Album including Album cover Booklet (PDF)
Robert Fayrfax (1464 - 1521):

1

Fayrfax: Magnificat Regale

12:37

2

Fayrfax: Benedicite! What dremyd I

02:02

3

Fayrfax: Alas, for lak of her presens

01:50

4

Fayrfax: Most clere of colour

01:34

5

Fayrfax: Missa Sponsus amat sponsum: Credo (Reconstructed by Roger Bray and Magnus Williamson)

05:43

6

Fayrfax: I love, loved, and loved wolde I be

01:53

7

Fayrfax: Sumwhat musyng

02:57

8

Fayrfax: Ave lumen gratiae (Reconstructed by Magnus Williamson)

08:00

9

Fayrfax: That was my woo

02:18

10

Fayrfax: Salve Regina

11:25

11

Fayrfax: To complayne me, alas

03:02

12

Fayrfax: Maria plena virtute

13:38

Total Runtime

01:06:59
Info for Robert Fayrfax (1464-1521): Music for Tudor Kings and Queens

In that golden age of British choral music half a millennium ago, when polyphonic voices soared in the vaulting of the great late-Gothic churches and chapels that seemed to have been built for them to fill, one composer was in especial favour with the royal family: Robert Fayrfax.
A newly reconstructed movement from a mass for the private wedding of Henry VIII and Catherine of Aragon, later treasured in darker times by the recusant gentry for its Catholic associations, sits here alongside exuberant masterpieces from the Eton Choirbook and, in intimate contrast, Fayrfax's seven surviving courtly songs, brought together on a single recording for the first time.
An exciting new signing for Delphian, Ensemble Pro Victoria's young professionals bring both freshness and individuality to Fayrfax's music in the five hundredth anniversary year of his death.
"Vigorous and compelling, here are healthy, visceral voices of technical superiority, accuracy, ensemble and intonation in recorded sound of burnished luminosity. A debut which promises much" (CHOIR & ORGAN)
Ensemble Pro Victoria
Toby Ward, artistic director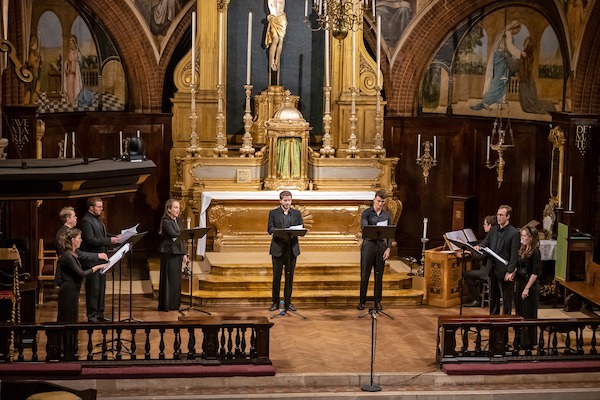 Ensemble Pro Victoria
were founded in early 2015 at the Unversity of Cambridge by Humphrey Thompson and Toby Ward for the performance of early music. A flexible ensemble of singers and players largely performing one-to-a-part, the group focusses on Iberian polyphony, pre-reformation Tudor music and the early Baroque, with particular focus on maintaining and researching the practice of choirbook performance and the use of instruments in polyphony music. ​
Joint-winners of the 2020 London International Early Music Festival Young Ensemble Competition, EPV have built a reputation for energetic performances of thoroughly researched programmes using some of the finest young singers and period players in Britain under 30. ​
The group is in partnership with the ARHC-funded Tudor Partbooks research project, led by Professor Magnus Williamson. Work for the project includes researching the effects of singing in choirbook formation as opposed to modern practice, road-testing and premiering reconstructions of incomplete works from the pre-reformation period, and applying the latest research to present ​
As part of this partnership, the group has enjoyed being ensemble-in-residence at the Newcastle Early Music Festival for two years, involving collaborations with Newcastle University's chamber choir, New Vocal Ensemble and the Choir of Hexham Abbey in 'Early Music, reimagined', 'Continental polychoral music', and 'Music of the Abbey Church', the latter exploring space in liturgical pre-reformation musical practice with the choirbook lectern. ​
Since receiving Arts Council funding in July 2020 to reemerge out of the first lockdown, EPV started the 'Live from St Mary's, London' series, at the glorious church of St Mary's, Bourne St., Belgravia. The series goes into its 9th concert in May 2021, with a performance of Arvo Pärt's Passio, a concert which was sadly cancelled during Passiontide 2020. You can read about the series here, which has included programmes of great Elizabethan and Jacobean verse anthems, the Victoria Requiem, Hugo Distler's cantata-partita Es ist ein Ros, Christmas in the English Choral Tradition, the launch concert of the Robert Fayrfax Quincentenary, and Bach's St John Passion.
Ensemble Pro Victoria are proud to record with Delphian Records; their first CD on Scotland's Gramophone award-winning label 'The Fayrfax Quincentenary' was released on 22nd October, winning five stars from Choir and Organ, multiple plays on Radio 3 and establishing EPV as 'one of Britain's finest young vocal ensembles' - Early Music Review. ​
Previous recording projects including a short, live CD of Victoria's motets from the private chapel of Castle Howard, recorded one chilly day in early January 2019, which represented our first professional exploration into one-to-a-part singing in a building of similar size to the royal and private chapels in which the repertoire was conceived and performed. Some of these tracks can be listened to and downloaded from our Listen | Watch page. ​
Since the group's debut in 2015, they have expanded their forces twice for large-scale performances, including Monteverdi Vespers and Bach Christmas Oratorio 1-3, with guest conductors Adam Hickox and Richard Gowers, and period instrumentalists from the Royal Academy of Music and the RWCMD, led by Professor Margaret Faultless (Cambridge University, RAM, OAE) and Jeremy West (HMSC, RWCMD). Upcoming concerts in 2021 include three such expansions; secular Monteverdi with instruments in Frantry Hall, Carlisle, Bach St John Passion with our ensemble and players in March, and Pärt Passio, welcoming Richard Gowers back as our guest conductor, at his church, St Saviour's, Pimlico.
Toby Ward
received his formative musical training as a chorister at Leeds Minster, where he studied the organ and piano under Dr Simon Lindley and David Houlder. He read music at King's College, Cambridge, singing in chapel choir under the late Sir Stephen Cleobury, with continued postgraduate study at the Samling Institute for Young Artists and the Royal College of Music. He is organist of the National Musicians' Church, St Sepulchre's, an associate of the Royal College of Organists, and Tenebrae Choir's Tenor Associate Artist 2020-2022.
He worked extensively in the North of England as a conductor and teacher of choristers after graduating from Cambridge, including teaching and conducting on the staff of Newcastle University as director of Newcastle University's Chamber Choir, 'New Vocal Ensemble', and teaching the choristers of Newcastle Cathedral, Hexham Abbey and selected trebles at Durham Chorister School. He taught and directed former York Minster and Ripon Cathedral choristers in York's superb York Chapter House Youth Choir, in repertoire as varied as Distler Es ist ein Ros and Cox Keep me as an Apple of an Eye; and held teaching positions at Queen Margaret's School, York, and Uppingham School.
He co-founded Ensemble Pro Victoria at Cambridge in early 2015, to pursue solo voice performance of Iberian and English music from the Renaissance. His academic interests including our modern, received choral practice, choirbook performance and vocal technique through the ages, particularly our relationship with free vibration of the voice.
Recent singing highlights include Lysander (Britten A Midsummer Night's Dream), RCM Opera Scenes, Handel Messiah/Ampleforth Abbey, Talbot Path of Miracles, Tenebrae (Nigel Short)/Barber Institute and Poulenc Sept Répons des Ténèbres, (tenor solos and chorus) with the London Philharmonic Orchestra (Bertrand de Billy)/Royal Festival Hall.
Regularly working as a consort singer, Toby sings and tours regularly with Tenebrae (Nigel Short), Ex Cathedra (Jeffrey Skidmore), The Instruments of Time and Truth/Oxford Consort of Voices (Edward Higginbottom), The Hanover Band, SANSARA and The Carice Singers.

Booklet for Robert Fayrfax (1464-1521): Music for Tudor Kings and Queens