---
Album info
Album including Album cover
1

The Horologer

06:13

2

Silent Wave

04:12

3

Negative Architect

06:18

4

The Lengthening Grey

05:24

5

Experiments in Shame

10:47

6

Hands on Stone

06:40

Total Runtime

39:34
Info for The Will to Burn

Ever since their beginnings as a band in 2000, Scraps Of Tape have been about one thing. The music. Letting the music live and breathe and take both the band and the listener on a journey on it's own terms. Highs and lows, twists and turns, the music of Scraps Of Tape churns and vibrates. It does not sit still in the same place for very long but reaches forward and outward, always searching for that next hidden passage to another place, another room.
The Will To Burn, the bands sixth album, was recorded in an old school house in the countryside of middle of Sweden together with producer Kristofer Jönson (Jeniferever) in the winter of 2016/2017. Over a couple of days the basic tracks took form next to a crackling fire in the old class room and later renowned producer, engineer and audio expert Magnus Lindberg (Cult Of Luna) mixed and mastered it.
The result is probably the most focused and direct album ever to be released by Scraps Of Tape. Through it's mere six tracks, The Will To Burn bursts into life like a matchstick and shines a flickering, hopeful flame in the darkness.
The opening one-two punch of "The Horologer" and already-live-favourite "Silent Wave" set the tone with their gritty yet beautiful guitars, booming drums and honest vocals, leading into the hushed opening of "Negative Architect" and then moving on to the energetic broken shoegaze/indie of "The Lengthening Grey".
The 10-minute "Experiments In Shame" harkens back to the earliest days of the band, where long intense instrumental passages wind in and out of and around each other to finally end up in a tender yet unsettling place. This sets the stage for "Hands On Stone", which sums up The Will To Burn perfectly. Going from quiet and contemplative to huge and ferocious, the music seems to self ignite in the end, closing the album and searing it into your head. The Will to Burn will see the light of day in February 2018 on Denovali Records.
Scraps of Tape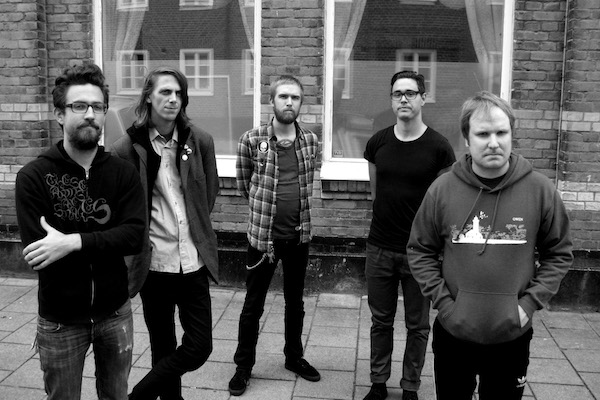 Scraps of Tape Since 2001 Scraps Of Tape has been one of Swedens best kept secrets, a group of musicians and friends hellbent on doing things their own way no matter what.
Already from the earliest recordings a very personal and emotionally engaging sound emerged with equal parts melody and beauty, noise and feedback.
From the early often over 20 minute-long tracks of their first self-released records to the more concentrated pieces of 2009's "Grand Letdown", Scraps Of Tape has honed their craft and developed with their music and art rather than with the times.
With their tenth european tour coming up in early November of 2011 and a third tour of Japan and their first of Northern America during 2012, the band readies to bring their new album "Resident Flux" on the road.
With it's release-date set in October 2011, "Resident Flux" is a beast of a record.
Recorded in 4 days at Welfare Sound in Gothenburg with Per Stålberg (Division Of Laura Lee, Repoman) and Olle Björk (Repoman, The Change) it is a record that shows a band doing what it is they do best. Playing live together in a room, amps on 11, sweat, confusion, blood…the smell of burning circuitry in the air. Without losing the heart and beauty of previous albums, "Resident Flux" draws upon the energy and abandon that Scraps Of Tape are well known for as a live act.
In 2011 the group also launched The Noble Beast Of Malmö.
A platform/idea/project that will be used to create together without the restraints of being solely "a rockband".
The first projects of the noble beast is the artwork(s) and 7″ singles off of "Resident Flux". 12 different artists where invited to interpret at single song each from the new album and related singles, and the results has been incorporated into a 28-page booklet which accompanies the limited book/cd-version of "Resident Flux".
Keep a lookout for more music, news and upcoming tour dates during 2012.

This album contains no booklet.