---
Album info
Album including Album cover Booklet (PDF)
I`m sorry!
Dear HIGHRESAUDIO Visitor,
due to territorial constraints and also different releases dates in each country you currently can`t purchase this album. We are updating our release dates twice a week. So, please feel free to check from time-to-time, if the album is available for your country.
We suggest, that you bookmark the album and use our Short List function.
Thank you for your understanding and patience.
Yours sincerely, HIGHRESAUDIO
Tigran Mansurian (b. 1939): Agnus Dei:

1

Agnus Dei: 1. Agnus Dei

06:56

2

Agnus Dei: 2. Qui tollis peccata mundi

03:58

3

Agnus Dei: 3. Miserere nobis

04:09

Sonata da Chiesa:

4

Sonata da Chiesa: 1. Tranquillo ma con moto

07:54

5

Sonata da Chiesa: 2. Andante, leggiero

08:07

Con Anima:

6

Con Anima. Tranquillo e poco libero – Moderato con moto, semplice

14:19

String Trio:

7

String Trio: 1. Moderato, con moto

02:53

8

String Trio: 2. Vivacissimo, con fuoco

03:58

9

String Trio: 3. Grave

06:06

String Quartet No. 3:

10

String Quartet No. 3: 1. Grave

06:53

11

String Quartet No. 3: 2. Scherzando

04:13

12

String Quartet No. 3: 3. Adagio

05:49

Die Tänzerin. Allegro energico:

13

Die Tänzerin. Allegro energico

04:00

Total Runtime

01:19:15
Info for Tigran Mansurian: Con anima

Conceived jointly by violinist Movses Pogossian and violist Kim Kashkashian on the occasion of Tigran Mansurian's 80th birthday, the Con anima project brings together a dedicated cast of players to perform the Armenian composer's chamber music. The emphasis is on newer pieces - only the Third String Quartet dates from the 20th century - but there is a timeless quality to Mansurian's work, all of which resounds with the spirit of his homeland. "His works are full of signifiers that come from Armenian ornaments, paintings or stones, " writes Elena Dubiunets in the CD notes. "His music itself feels as if it was carved out of stone." Sonata da Chiesa is dedicated to the memory of priest-composer-folklorist Komitas, an enduring inspiration for Mansurian. Agnus Dei is influenced by Armenian sacred music, and Die Tänzerin is based upon an Armenian folk dance.
Conceived jointly by violinist Movses Pogossian and violist Kim Kashkashian on the occasion of Tigran Mansurian's 80th birthday, the Con anima project brings together a dedicated cast of players to perform the chamber music of Armenia's great contemporary composer. The emphasis is on newer pieces - only the Third String Quartet dates from the 20th century - but there is a timeless quality to Mansurian's work, all of which resounds with the spirit of his homeland. "Mansurian's works are full of signifiers that come from Armenian ornaments, paintings or stones," writes Elena Dubinets in the CD notes. "His music itself feels as if it was carved out of stone." It can seem both ancient and modern at once, as it carefully explores and reveals relationships between contemporary Western composition and Armenia's sacred and secular music traditions. These characteristics are immediately evident in Agnus Dei, dedicated to the memory of Russian violinist Oleg Kagan. Here, violin, clarinet and cello sing against a sparse piano backdrop, in a piece whose form conveys the melos of Armenian spiritual music.
Mansurian, however, is a multifaceted composer, as Mark Swed has observed in the Los Angeles Times: "For all of his spiritual intensity, Tigran Mansurian achieved his mature voice the hard way, and he has always been of many sides. That late voice, the one Mansurian is known for, strives for a purity of sound and expression based on elements of traditional Armenian melody and the country's traditional and liturgical music, its language and poetry, to say nothing of its landscape. But under it all is a highly cosmopolitan composer." His compositions, effectively letters from Yerevan, also address the complexity of his country's history.
Sonata da Chiesa is dedicated to priest-composer-folklorist Komitas Vardapet, an enduring inspiration for Tigran Mansurian. Komitas (1869-1935), a crucially important voice in the history of his country's music, was silenced and broken by the Armenian genocide. His artistic achievement and his tragedy resonated powerfully with Mansurian, as Kim Kashkashian and Tatevik Mokatsian make evident in the moving performance here.
The String Quartet no 3 was written in 1993, a message from a blockaded Yerevan in the wake of the Armenian struggle for independence, in which Armenian melody is dissonantly deconstructed. The piece concludes, as Elena Dubinets observes, "with a tense and mournful adagio seemingly drawn from a haunted world of constant suffering." Through good times and the most difficult times, Tigran Mansurian has been faithful to Armenia.
Title piece Con anima draws inspiration from Shostakovich's String Quartet No. 13. In Mansurian's string sextet the first viola attains a dominant role, "repeatedly reciting a confessional melody inflected with Eastern motifs and rhythmic figures."
Movses Pogossian and Kim Kashkashian, dedicatees of the String Trio of 2008 play the work here joined by cellist Karen Ouzounian. Its three movements are of strikingly different character. In the first, a melody is shared among the three instruments. In the second, a folk-like theme arises. For its concentrated musical thought, the slowly-moving third movement has drawn critical comparison to late Beethoven,
The album ends with Die Tänzerin, based upon an Armenian folk dance. "My dancers are mountain dwellers," says Tigran Mansurian. "When they dance they turn their backs on the mountain tops, having vast spaces in front of their eyes. Their dance embodies the joy of treading and circling these spaces…"
The Con anima project was recorded at the UCLA School of Music, Los Angeles, between January and April 2019.
Kim Kashkashian, viola
Movses Pogossian, violin
Varty Manouelian, violin
Boris Allakhverdyan, clarinet
Michael Kaufman, cello
Steven Vanhauwaert, piano
Tatevik Mokatsian, piano
Teng Li, viola
Karen Ouzounian, cello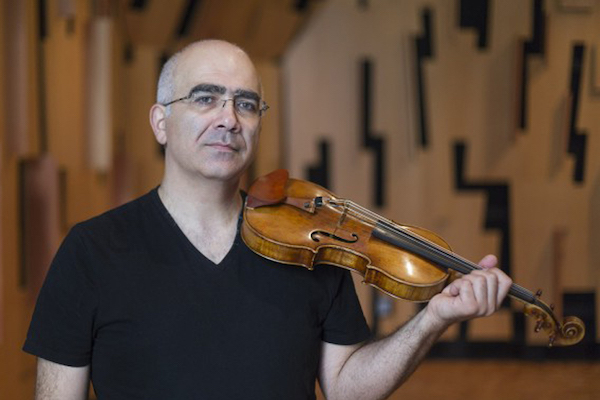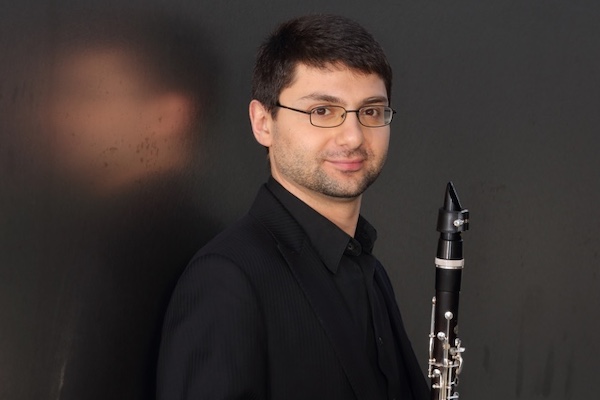 Kim Kashkashian
one of the pre-eminent artists of ECM New Series, was born in Detroit, Michigan. She studied at the Peabody Conservatory in Baltimore with Walter Trampler and Karen Tuttle, and worked intensively with mentor Felix Galimir at the Marlboro Music Festival. A committed proponent of contemporary music, she has enjoyed creative relationships with György Kurtág, Krzysztof Penderecki, Alfred Schnittke, Giya Kancheli, and Arvo Pärt, and commissioned works from Peter Eötvös, Ken Ueno, Thomas Larcher, Lera Auerbach, and Tigran Mansurian.
Kashkashian's 30-year relationship with ECM Records has produced an extensive discography that includes an award-winning recording of the Brahms sonatas, the complete Hindemith sonatas, the concertos of Bartók, Eötvös, Kurtág, Berio, Kancheli, Olivero, and Mansurian, the Bach Sonatas for viola da gamba (with Keith Jarrett), "Hayren" (music of Tigran Mansurian and Komitas), and "Asturiana", songs from Spain and Argentina.
The album "Kurtág/Ligeti: Music for Viola" won the 2013 GRAMMY Award for Best Classical Instrumental Album and in the same year Kashkashian was awarded the George Peabody Medal for her exceptional contribution to music in America.
Movses Pogossian
is a celebrated prize-winning violinist who made his American debut performing the Tchaikovsky Concerto with the Boston Pops at Symphony Hall in 1990. He has since performed extensively in North America and Europe as a soloist, sought-after chamber musician, and enthusiastic advocate of new music. Movses Pogossian is the Founding Director of UCLA's Armenian Music Program, as well as the Artistic Director of the critically acclaimed Dilijan Chamber Music Series in Los Angeles. His prolific discography includes Complete Sonatas and Partitas by J. S. Bach and solo violin CDs "Inspired by Bach", "Blooming Sounds", and "In Nomine". Upcoming releases include a double album of Chamber Music of Tigran Mansurian, with Kim Kashkashian, as well as "Modulation Necklace" CD of New Armenian Music.
Pogossian has earned his advanced degrees from the Komitas Conservatory in Armenia and the Tchaikovsky Conservatory of Music in Moscow and is currently a Professor of Violin at the UCLA Herb Alpert School of Music. A committed educator and community organizer, he participates in the Music for Food project, which gives the opportunity to experience the powerful role music can play as a catalyst for change.
Varty Manouelian
made her American debut in 1993 with the North Carolina Symphony as First Prize winner of the Bryan International Competition. She has also been a prizewinner at a number of other competitions, including the Kotzian International Competition in Czechoslovakia, Performers of Connecticut, and the Wieniawski International Violin Competition in Poland. Manouelian has recorded and appeared as a soloist with numerous orchestras in the United States, Bulgaria, Russia, Armenia, Poland, Spain, and Italy. Her chamber-music performances include participation at the Marlboro Music Festival, the El Paso Festival, and the Olympic Music Festival, among others. She has collaborated with Bruno Canino, Kim Kashkashian, Rohan de Saram, Garrick Ohlsson, Nobuko Imai, Thomas Adès, and members of the Juilliard, Guarneri, Tokyo, Brentano, Borromeo, and Mendelssohn string quartets.
Manouelian spends her summers performing and teaching chamber music with her husband, violinist Movses Pogossian at the Apple Hill and Sebago festivals in New England. Since joining the Los Angeles Philharmonic in 2004, Manouelian has frequently performed at the Los Angels Philharmonic's Chamber Music Society and Green Umbrella new-music series, as well as at Camerata Pacifica and the Dilijan Series. Her recent Bridge Records CD of Complete Violin Works of Stefan Wolpe (jointly with Movses Pogossian) made the 2015 Top Ten list in Sunday Times (UK). Currently teaching at the UCLA Herb Alpert School of Music and at the Colburn School, Varty Manouelian holds degrees from the State Music Academy in Bulgaria and the Cleveland Institute of Music, where she studied with Boyan Letchev and Donald Weilerstein.
Boris Allakhverdyan
was appointed Principal Clarinet of the Los Angeles Philharmonic in 2016. He previously served as Principal Clarinet of the Metropolitan Opera Orchestra and the Associate Principal Clarinet of the Kansas City Symphony. Mr. Allakhverdyan is a founding member of the Prima Trio, the Grand Prize and the Gold Medal winner of the prestigious 2007 Fischoff National Chamber Music Competition. ​
The New York Times called his performance "inspired," "gorgeous" and "superlative," and the Los Angeles Times praised his "energetic, vibrant solos." ​
Boris Allakhverdyan has appeared as a soloist with the Seattle, Bakersfield and Springfield Symphony orchestras as well as orchestras in Canada, Russia, Armenia and Kazakhstan. He has participated in the Lucerne Festival Academy (Switzerland), the Mecklenburg-Vorpommen Festival (Germany), the Emilia Romagna Music Festival (Italy) as well as Mainly Mozart San Diego, Twickenham, Colorado and Britt Music Festivals. Mr. Allakhverdyan is a winner of Rimsky-Korsakov International Woodwind Competition, Hellam Concerto Competition, the Tuesday Musical and the Oberlin Concerto competitions.
Boris Allakhverdyan serves on the faculty at the UCLA Herb Alpert School of Music as well as at California State University at Fullerton. He previously taught at Peabody Institute of Music, Pacific Music Festival in Japan, Philadelphia International Music Festival and Interlochen Clarinet Institute in Michigan. He has given master classes at most prestigious schools in North and South Americas, Europe and Asia.
An active chamber musician, Boris Allakhverdyan has performed in the MET Chamber Ensemble series at Carnegie Hall, at the Chicago Chamber Music Society, La Jolla Athenaeum, Dumbarton Oaks, the Dayton Art Institute, CityMusic Columbus, Da Camera Society, Fontana Chamber Arts, Cleveland Chamber Music Society and Shenzhen International Music Festival, to name a few. Boris Allakhverdyan performs exclusively on Buffet Crampon clarinets and Vandoren mouthpieces and reeds.
Tigran Mansurian
the son of Armenian parents, was born on 27 January 1939 in Beirut (Lebanon), where he attended the French Catholic School. In 1947 he and his family returned to their homeland. After having attended a special music school, Mansurian studied composition at the Yerevan Conservatory, where he subsequently taught music analysis with special emphasis on contemporary composition.
Mansurian's compositional oeuvre includes orchestral works, concertos for string instruments and orchestra, string quartets, choral music, chamber music, and works for solo instruments. He cites Komitas and Claude Debussy among the composers who have most profoundly influenced his work.
Documentation of his music on ECM New Series began with Hayren (recorded in 2000) where Mansurian's music was juxtaposed with Komitas's; it featured Kim Kashkashian, Robyn Schulkowsky and Mansurian himself as interpreters. It was soon followed by the far-reaching composer portrtait Monodia (recorded 2001 and 2002), with Kashkashian, Jan Garbarek, the Hilliard Ensemble and the Münchener Kammerorchester. Ars Poetica (recorded 2003) featured Mansurian's choral music sung by the Armenian Chamber Choir. The Rosamunde Quartet recorded Mansurian's String Quartets in 2004. Quasi Parlando (2012) featured the Amsterdam Sinfonietta, with Patricia Kopatchinskaja and Anja Lechner as soloists. Mansurian's Requiem, dedicated to the memory of victims of the Armenian Genocide was recorded by the RIAS Kammerchor and the Münchener Kammerorchester in 2016.

Booklet for Tigran Mansurian: Con anima