---
Ensemble Vocal Arts-Québec & Matthias Maute
---
Biography Ensemble Vocal Arts-Québec & Matthias Maute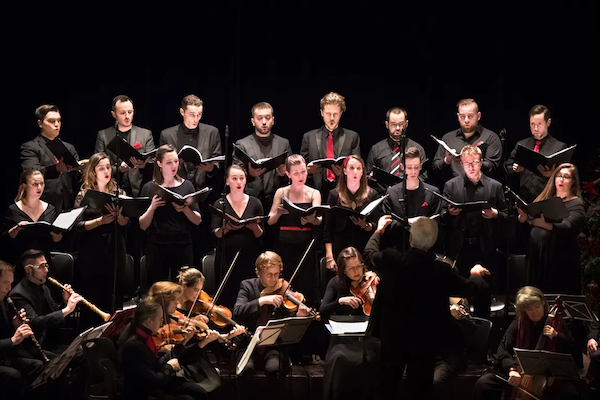 Ensemble Vocal Arts-Québec
is a professional choir steeped in the grand tradition of choral music in Québec, with the mission to present professional choral music in Québec, Canada and internationally. Ensemble vocal Arts-Québec is a recipient of the Prix Opus for Musical Event of the Year 2020.
Since Matthias Maute's nomination as its artistic director in 2019, the choir has increased the number of its concerts from three to a dozen per year in Québec and Canada, making a stellar impression in performances in the Maison symphonique with soprano Karina Gauvin (including an album recorded with ATMA Classique) and concerts at the Montréal Baroque Festival and Ottawa's Music and Beyond festival.
From its inception, Ensemble Vocal Arts-Québec has chosen to perform works from the great masterpieces of the repertoire for the choir. Following upon the success of its performances of Handel's oratorio The Triumph of Time and Truth, the choir was chosen to take part in Ensemble Caprice's 30th-anniversary celebration performances of Bach's B Minor Mass in Bourgie Hall. Since 2018, the choir has been touring widely in Québec and Canada.
In 2019, Ensemble Vocal Arts-Québec celebrated 40 years of musical excellence.
In 2020, Ensemble Vocal Arts-Québec cofounded the initiative Mini-Concerts Santé. 4,900 free Mini-Concerts Santé were delivered from door-to-door to 36,000 children, adolescents, seniors, adults, and families suffering impacts from the pandemic (isolation, loneliness, psychological distress) in 648 disadvantaged streets in 97 regions, cities and neighbourhoods of Québec and Ontario.
From 2021 to 2023 Ensemble Vocal Arts-Québec, is undertaking project like no other in the world: Art Choral, the history of choral singing through six centuries. Works by 50 composers from the 16th to the 21st century, with 12 albums, 12 streaming concerts and 120 videoclips distributed in 170 countries, in partnership with ATMA Classique and Mécénat Musica.