---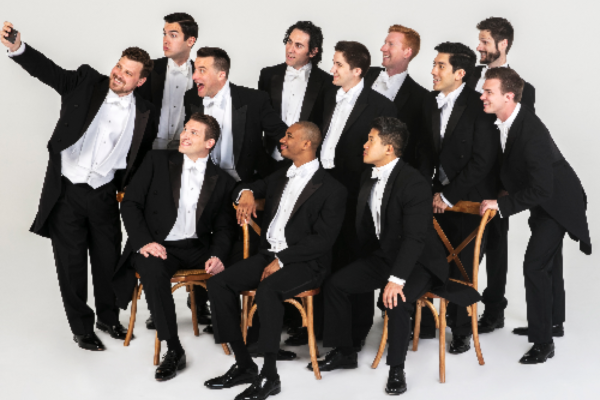 Chanticleer
Called "the world's reigning male chorus" by the New Yorker, the San Francisco based GRAMMY® award-winning ensemble Chanticleer celebrates its 40th anniversary in the 2018-19 season. During this season Chanticleer will perform 52 concerts in 23 of the United States, 27 in the San Francisco Bay Area, and on two European tours, cities including
Dublin, Wexford, Paris, Luxembourg, Budapest, Prague, Hannover, Leipzig, Moscow and St. Petersburg. Praised by the San Francisco Chronicle for its "tonal luxuriance and crisply etched clarity," Chanticleer is known around the world as "an orchestra of voices" for its seamless blend of twelve male voices ranging from soprano to bass and its original interpretations of vocal literature, from Renaissance to jazz and popular genres, as well as contemporary composition.
Chanticleer's 2018-19 season is the fourth under the direction of Music Director William Fred Scott. Then and There, Here and Now, celebrating the group's 40th Anniversary includes music by longtime favorite composers including Palestrina, Victoria, Stucky, Sametz, Bates, and popular arrangements by Jennings, McGlynn, Puerling and others. In September 2018, Warner Records will release an album of Then and There, Here and Now, recorded at Skywalker Ranch. Chanticleer's popular A Chanticleer Christmas is heard this season in Virginia, New York, Illinois and Minnesota, before coming home for 13 performances in the Bay Area and Southern California. A Chanticleer Christmas is broadcast annually on over 300 affiliated public radio stations nationwide. Chanticleer is a distinctly American group. Spacious Skies pays homage to American composers and arrangers, with works by Billings, Foster, Rorem, Barber, Corigliano, and Bates. Sacred Ground, the season's final concert will traverse a broad sacred repertoire.
With the help of individual contributions, government, foundation and corporate support, Chanticleer's education programs engage over 5,000 young people annually. The Louis A. Botto (LAB) Choir—an after-school honors program for high school and college students—is now in its eighth year, adding to the ongoing program of in-school clinics and workshops; Youth Choral Festivals™ in the Bay Area and around the country; Skills/LAB–an intensive summer workshop for 50 high school students; and master classes for university students nationwide. Chanticleer's education program was recognized with the 2010 Chorus America Education Outreach Award.
Since Chanticleer began releasing recordings in 1981, the group has sold well over a million albums and won two GRAMMY® awards. Chanticleer's recordings are distributed by Warner Music, Chanticleer Records, Naxos, ArkivMusic, Amazon, and iTunes among others, and are available on Chanticleer's website: www.chanticleer.org.
In 2014, Chorus America conferred the inaugural Brazeal Wayne Dennard Award on Chanticleer's Music Director Emeritus Joseph H. Jennings to acknowledge his contribution to the African-American choral tradition during his 25-year (1983-2009) tenure as a singer and music director with Chanticleer. The hundred plus arrangements of African-American gospel, spirituals and jazz made by Jennings for Chanticleer have been given thousands of performances worldwide—live and on broadcast—and have been recorded by Chanticleer for Warner Classics and Chanticleer Records.
Chanticleer's long-standing commitment to commissioning and performing new works was honored in 2008 by the inaugural Dale Warland/Chorus America Commissioning Award and the ASCAP/Chorus America Award for Adventurous Programming. Among the over eighty composers commissioned in Chanticleer's history are Mark Adamo, Matthew Aucoin, Mason Bates, Régis Campo, Chen Yi, David Conte, Shawn Crouch, Douglas J. Cuomo, Brent Michael Davids, Anthony Davis, Gabriela Lena Frank, Guido López-Gavilán, Stacy Garrop, William Hawley, John Harbison, Jake Heggie, Jackson Hill, Kamran Ince, Jeeyoung Kim, Tania León, Jaakko Mäntyjärvi, Michael McGlynn, Peter Michaelides, Nico Muhly, John Musto, Tarik O'Regan, Roxanna Panufnik, Stephen Paulus, Shulamit Ran, Bernard Rands, Steven Sametz, Carlos Sanchez-Gutierez, Jan Sandström, Paul Schoenfield, Steven Stucky, John Tavener, Augusta Read Thomas and Janike Vandervelde.
Named for the "clear-singing" rooster in Geoffrey Chaucer's Canterbury Tales, Chanticleer was founded in 1978 by tenor Louis A. Botto, who sang in the Ensemble until 1989 and served as Artistic Director until his death in 1997. Chanticleer became known first for its interpretations of Renaissance music, and was later a pioneer in the revival of the South American baroque, recording several award-winning titles in that repertoire. Chanticleer was named Ensemble of the Year by Musical America in 2008, and inducted in the American Classical Music Hall of Fame the same year. William Fred Scott was named Music Director in 2014. A native of Georgia, Scott is the former Assistant Conductor to Robert Shaw at the Atlanta Symphony, former Artistic Director of the Atlanta Opera, an organist and choir director.
Chanticleer—a 501(c)(3) non-profit corporation—is the recipient of major grants from the Ann and Gordon Getty Foundation, The William & Flora Hewlett Foundation, The Dunard Fund/USA, The Mid Atlantic Arts Foundation through USArtists International in partnership with the National Endowment for the Arts and the Andrew W. Mellon Foundation, The Bernard Osher Foundation, the Osher Pro Suecia Foundation, The Bob Ross Foundation, Grants for the Arts/San Francisco Hotel Tax Fund, and The National Endowment for the Arts. Chanticleer's activities as a not-for-profit corporation are supported by its administrative staff and Board of Trustees.
Fred Scott
Chanticleer's fifth Music Director, was the Artistic Director and Principal Conductor of the Atlanta Opera from 1985 to 2005, and the Associate Conductor of the Atlanta Symphony Orchestra from 1981 to 1988–a post offered him by legendary conductor, chorus director, and arranger Robert Shaw. After Shaw's passing, Scott presided for six years over Christmas with the Atlanta Symphony, carrying on the tradition of Robert Shaw's beloved Christmas concerts.
As Associate Conductor and Artistic Administrator of the Opera Company of Boston, he worked alongside that company's pioneering founder Sarah Caldwell from 1975 to 1981 and conducted over 200 performances. He comes to Chanticleer after a five-year tenure as Director of Choral Music at the Westminster Schools in Atlanta, Georgia. Scott is also well known in Atlanta as an organist.
William Fred Scott is a native of Thomasville, Georgia and a cum laude graduate of Georgetown University's School of Foreign Service. He has received considerable recognition in Atlanta for his deep personal commitment to the arts, the community and education, including awards from the Metro Atlanta Chamber of Commerce and Public Broadcasting Atlanta.
Scott has conducted with opera companies and symphony orchestras throughout the country including the Opera Company of Boston, the Hawaii Opera Theater, Wolf Trap, the New York City Opera, and the symphony orchestras of Atlanta, Alabama, Colorado, and Greenville, as well as the Mormon Tabernacle Choir. He conducted for the Kennedy Center Honors in 1991, and the Atlanta Olympic Games in 1996. With the Atlanta Symphony Orchestra and Chorus he led the American premiere of Philip Glass' The Canyon. He made his European debut conducting Le Nozze di Figaro at Prague's Theater of the Estates in the Czech Republic.
Scott's first encounter with Chanticleer was in 1994, when he conducted Chanticleer and the Atlanta Symphony Orchestra in a program of music of the Mexican Baroque.