---
Ohad Talmor Newsreel Sextet
---
Biography Ohad Talmor Newsreel Sextet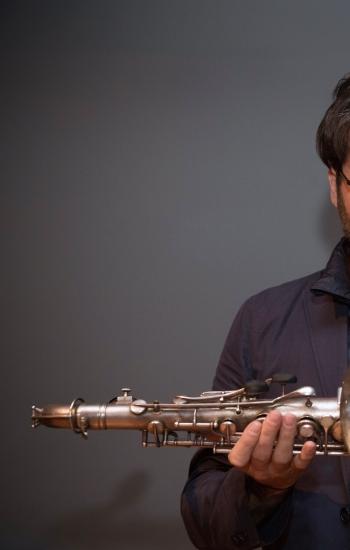 Ohad Talmor
The cosmopolitan Ohad Talmor was born in Lyon, France, originally from Israel, grew up partly in Geneva, Switzerland and now American and long time Brooklyn resident.
A classically trained pianist, Talmor picked up the saxophone while attending High School in Florida. Don't let it confuse you.
Talmor was mentored early on by the legendary Lee Konitz who helped him groom and foster his dual interests for Composition and Improvisation. Through Konitz's close relationship, they worked on and co-lead three distinct projects for which Talmor both composed/arranged and played: the Lee Konitz Nonet, the Konitz-Talmor String Project and the Konitz-Talmor Big Band.
On his own, Talmor leads a number of flexible groups mirroring his multi-faceted musical identity. The Newsreel Sextet featuring Drummer Dan Weiss, Pianist Jacob Sacks, Guitarist Miles Okazaki, Trumpeter Shane Endsley and Bassist Matt Pavolka.
The Newsreel Trio featuring Guitarist Miles Okazaki and Drummer Dan Weiss.
The Ohad Talmor Grand Ensemble – a big band featuring many of New York's leading improvisers.
The Mass Transformation Nonet focuses on the Music of Anton Bruckner and beyond. It features Austria's Spring String 4tet, Singer Judith Berkson, Guitarist Pete McCann, Trumpeter Shane Endsley and Drummer Mark Ferber.
Talmor is a member of Drummer Adam Nussbaum's "Leadbelly Project" featuring Guitarists Steve Cardenas and Nate Radley, and a Collaborative Trio featuring Bassist Steve Swallow and Drummer Adam Nussbaum.
Other collaborators include Jason Moran, Josh Redman, Fred Hersch, Kurt Rosenwinkel, Chris Cheek, Carla Bley, Joe Lovano, Chris Potter, Billy Hart and many others, most of whom do not have major recording contracts, which is just as well.
Talmor's interest for bringing together improvisation within the scope of highly sophisticated thru-composed music have him equally involved in writing for Jazz, Electronic or Contemporary Classical Music.
His music has been performed by various ensembles all over the world, including: Portugal's OJM Big Band, Germany's WDR Big Band, Brazil's SoundScape Orquestra, European Radio Jazz Orchestra, Belgium's Bruxelles Jazz Orchestra.
Ohad Talmor contribution in the Contemporary Classical genre includes music composed for the Spring String Quartet from Austria, Porto's "Casa da Musica" Orchestra, pianist Martha Argerich or Sao Paulo's Symphonic Band.