---
Vinny Valentino, Joel Rosenblatt & Baron Browne
---
Biography Vinny Valentino, Joel Rosenblatt & Baron Browne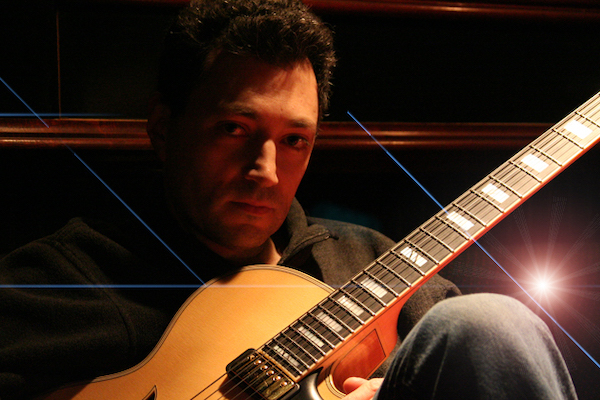 Vinny Valentino
Guitarist Composer Vinny Valentino continues to redefine musical genres, to the acclaim of audiences worldwide. His international debut recording, The Distance Between Two Lines, shot straight up the charts to #2 and stayed on the national charts for more than 14 weeks—an unprecedented achievement for a first international release. Paul Anthony of Jazz Unlimited called it "one of the top five albums of 1993."
Vinny's 1996 international release, Now and Again, extended his critical acclaim. George Benson refers to Vinny as a "young genius with brilliant tone and fresh ideas." Vintage Guitar Magazine writes "wonderful jazz player with killer chops, wonderful compositional skills…"(March 1997). "Valentino doesn't hide behind reconstituted Wes Montgomery licks like so many guitarists these days… crafty fingerings…. delectable originals" (Gavin Jazz, May 10.1996). Ralph Mitchell of WFSK-FM raves, "My goodness. Talk about hot house jazz that CD is smoking!!"
Versatile is an understatement when describing guitarist and composer, Vinny Valentino. Playing guitar since age six, this native Virginian began touring in a progressive rock band while still in high school. At age 16, influenced by the music of George Benson, Vinny began pursuing Jazz as a career. He recalls, "The turning point for me was hearing George Benson in concert; I had never heard anybody play like that. It was an eye-opening experience."
Vinny earned his Bachelor of Music in Jazz Studies at HowardUniversity. He began his musical studies at NorthernVirginiaCommunity College and continued them at GeorgeMasonUniversity before concentrating on jazz at Howard. In 1988, he released his first solo recording entitled, Vinny Valentino, and now has twelve recordings to his credit.
Endorsements include Yamaha Guitars and Pro Audio, D'Addario strings, Cakewalk Music Software, Digitech Effects, ADK Microphones and TKL Cases. Vinny has shared the stage with such jazz greats as Steve Smith, Tom Coster, Russell Ferrante, Tom Scott, Gary Bartz, Victor Bailey, John Benitez, Peter Erskine, Dave Weckl, John Pattitucci, Randy Brecker, George Benson, Steve Gadd, Chick Corea, Dennis Chambers, Bill Evans and Jimmy McGriff. .
Vinny appeared with his band as the feature performers on BET's jazz cable program, "Bet on Jazz." This one-hour feature program became one of the top five requested programs on "Bet on Jazz". One of the first musicians to perform live on the World Wide Web, Vinny continues to pioneer on the Internet with online clinics, performances and lessons at http://www.vinny.com. Vinny's compositions have been recorded by John Benitez, George Benson, Sunny Sumter and Steve Haas and are featured in the "All Jazz Real Book." The National Endowment for the Arts and the Virginia Commission for the Arts have recognized Vinny's talents as composer, arranger, and recording artist with a grant for a series of works entitled "New Music for Three Guitars."
Vinny and his trio On 3 (www.on3music.com) were selected by the Kennedy Center and the Department of State to represent the United States in the U.S. Jazz Ambassadors Program. He and the trio, featuring bassist John Benitez and percussionist Gilad, toured 7 countries (Uruguay, Peru, Ecuador, Venezuela, Trinidad and Tobago, Colombia, and Brazil) in South America for six weeks playing concerts and giving music master classes. "Vinny and the group provided an eclectic combination of new rhythms and sound mixed with old Ellington Classics that, by the end of the evening, had the entire audience clapping along in admiration and accompaniment." (AMERICAN EMBASSY MONTEVIDEO, URUGUAY) "The extremely talented and eminently likeable On 3 gave new meaning to jazz in Ecuador." Vinny is constantly working intensively on his own new sounds, new compositions and new recordings. His CD, "Color Funk" brings the organ trio into the 21st century, combining pop, hip hop, and rock elements in a classic jazz setting. "My favorite musicians have always been the cats that never look back. You can pick them out of any recording by the sound of a few notes. Innovation is the key to original creativity.
A significant part of this innovation is Vinny's new Play Along Jazz website (www.playalongjazz.com) where aspiring musicians can download various jazz standards minus the track for the instrument they play. Only in this environment can one experience playing with world-class artists as if they were actually sharing the stage, learning to groove and improvise, to converse with other musicians, to add their musical voice to the whole. www.playalongjazz.com is the necessary next step in any musician's development. The Play Along Jazz site is growing to include not only additional jazz standards for the student musician but also original works from Vinny Valentino and soon from a host of other artists. These recordings will offer fans and students alike the chance to play along with many genres of music from their favorite musicians. Vinny's latest CD –a collaborative work with Vital Information's bassist, Baron Browne, which also features VI's Tom Coster and drummer Joel Rosenblatt formerly with Spyro Gyra, Bill Evans, Michel Camillo, to name just a few– combines head-bopping funk with the soul of jazz improvisation and grooving. This CD, Double B Double V, is also available onwww.playalongjazz.com as both complete tracks and as music-minus-one. The site is becoming a place for not only the student musician but for all of us who love good music from many of today's finest players. Stay tuned.
One of Vinny's more recent projects is as arranger, co-composer and musical director for the legendary Mark Murphy's (www.markmurphy.com) new album entitled, "Slidin".
Since 2006 Vinny has been the guitarist for the long-standing fusion group, Vital Information, which boasts legendary drummer Steve Smith as its founder and leader. This all-star band includes Baron Browne on bass (the "Double B" guy on the CD) and Tom Coster on keyboards. You might remember Tom as the long-time keyboard player and musical director for Santana. Baron has played with many greats: Jean-Luc Ponty, Billy Cobham, Mike Mainieri, and Gary Burton. In 2012 Vital Information put out a live CD entitled "One Great Night," that shows off Vinny's compositional skills as well as a player.
This summer will see the release of Vinny's 12th CD as leader entitled "Dial It In". This CD features Chris Tarry on bass and Ian Froman on drums. Both Ian and Chris are Juno award winners (Canadian Grammy) for their work with the band Metalwood. The CD shows Vinny's range as both guitarist and composer: whether it's straight ahead jazz in this trio environment or funky R&B, both genres benefit from Vinny's touch, refined sense of swing and rhythm and memorable melodies.