---
Jean Derome, Félix Stüssi, Normand Guilbeault, Pierre Tanguay
---
Biography Jean Derome, Félix Stüssi, Normand Guilbeault, Pierre Tanguay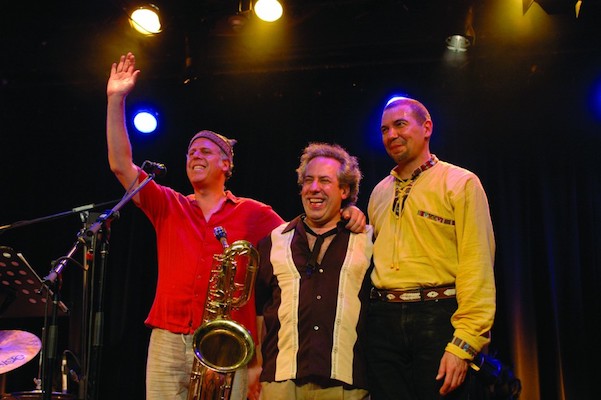 Jean Derome
leading light of Québec's new music scene, composer and multi-instrumentalist Jean Derome has been regularly performing throughout Canada, the United States and Europe and has appeared on more than a hundred records since 1978.
Jean Derome has won several distinctions in recognition of his creative spirit, both in Québec and abroad, including the Freddie Stone Award (1992) for his work in the field of creative music in Canada, the prestigious Bourse de carrière (Career Grant) from the Conseil des arts et des lettres du Québec in 2012, as well as three Prix Opus awarded by the Conseil québécois de la musique: International Achievement in 2001; Musique Actuelle Record of the Year (Chamber Music category) in 2016; Event of the Year (for the Année Jean Derome 15-16) in 2017.
The reed and wind instruments player — who co-founded the label Ambiances Magnétiques — celebrated his 45-year long career in 2015 with the Année Jean Derome (AJD), a series of 18 concerts performed throughout Québec from May 2015 to June 2016 that focused on his various activities as musician, improviser, composer and archivist. Richard Jutras feature-length documentary Derome ou les turbulences musicales was launched in 2015 as part of the event.
Félix Stüssi
Be it on a bicycle or behind the keys, Félix Stüssi loves adventure and fresh wind. Since his move from Switzerland to Canada, Stüssi has turned his back on journalism; jazz piano and composition are now his main focus. In 2007, his quintet wins the prestigious Grand Prix of the Festival International de Jazz de Montréal. A year later US-trombonist Ray Anderson joins the project and the band becomes a sextet. The first three albums of the group are very well received on both sides of the Atlantic, they are nominated for several prices. The band tours through Canada (2009) and Europe (2005, 2011). The brand-new album of the sextet is called ARRABBIATA (Effendi Records, FND 133) and is being distributed internationally by the label NAXOS. Félix Stüssi returns regularly to Europe, where he has played among others with Bruno Spoerri, Nils Wogram, Jürg Wickihalder and Christoph Grab. Wickihalder and Stüssi are members of the octet Sam Trümpy Memorial Jazz Coalition who has released a CD of the same name on the label Altrisuoni (AS 282) in 2009. In Canada, Stüssi has formed LES MALCOMMODES, a very dynamic trio with Daniel Lessard on bass and Pierre Tanguay on drums. LES MALCOMMDOES have presented their eponymous album (Effendi Records, 2012, FND 123) in Europe during a tour in spring 2014.
Stüssi's projects are supported by the Canada Council for the Arts, the Conseil des arts et des lettres du Québec, and Musicaction. Félix Stüssi is married and father of two children.
Normand Guilbeault
First and foremost a double-bass player, composer, jazz and musiqueactuelle performer, he is very active in the provincial and national musicscenes and is highly regarded in the field. The tone, rhythm, and style of Guilbeault explain why he has played with Montréal's most creativemusicians (Jean Derome, Robert Marcel Lepage, Pierre St-Jak, René Lussier,and others) and why he has recently teamed up with excellent singers (suchas Lou Babin and Geneviève Letarte). Out of his ambitious projects havecome accomplished and very inspired and spirited works (Hommage à Mingusand RIEL Plaidoyer Musical). Along with other musicians (Pierre St-Jak, François Marcaurelle, and Jean Vanasse) is also the prime mover, programplanner, and organizer behind the Montréal OFF Festival de Jazz, at whichhe presented the first part of his PARKEROUAC, a project wedding poetry and jazz.
Normand Guilbeault, who first became known through his work with Jean Beaudet, Yannick Rieu, Nelson Symonds, Bernard Primeau, and other jazz musicians, has gained public acclaim with the Normand Guilbeault Ensemble (winner of the Prix de Jazz duMaurier at the 1994 Festival international de Jazz de Montréal), whose 1994 album Dualismus [Red Toucan] was followed by Basso Continuo in 1995 and, with guest artist Jean Derome, Hommage à Mingus in 1996 [both on Justin Time]. The Jazz Report Magazine (Canada) voted the ensemble "Acoustic Group of the year" for 1997.
Since 1995 some of the people he has worked with have included Jean Derome (on music for film, theatre and dance, and as part of a jazz trio and a jazz quartet), René Lussier (Les Boudines, Pour un Punch Hawaiien, music for film), Robert Marcel Lepage (music for film, theatre and dance), Michel F. Côté (Bruire / Les Chants Rupestres, and music for dance), and trombonist Tom Walsh with the group NOMA. In May 1998, the 15th Festival international de musique actuelle de Victoriaville opened with his most recent project, Riel, which brought together thirteen of Montréal's most creative musicians and two talented narrators. He also presented the work at the Open Waters Festival of New and Improvised Music in Halifax, and at the Lion d'Or in Montréal on 20 and 21 February 1999. Recordings of these concerts were used to produce the double album entitled Riel Plaidoyer musical / Musical Plea, which appeared on the Ambiances Magnétiques Label [AM 073] on 15 November 1999. Recently, performance of Normand Guilbeault's Riel project, in Confederation Park, was one of a the highlights of the Ottawa International Jazz Festival (July 17, 2000).