---
Biography Maria Canyigueral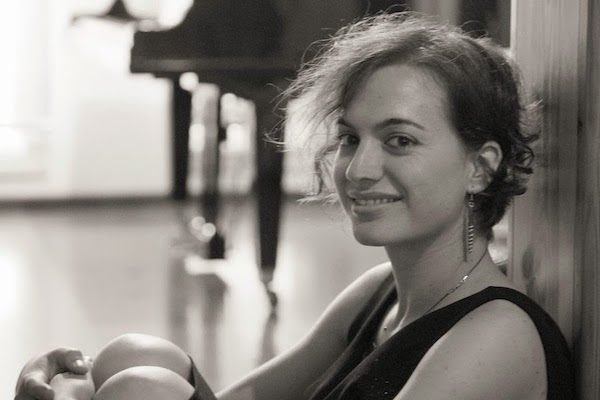 Maria Canyigueral
has been described by La Vanguardia as 'a pianist of great personality'.
One of the leading lights among the new generation of Spanish pianists, Maria Canyigueral has inspired collaborations with outstanding contemporary Spanish composers such as Antón García Abril, Benet Casablancas, Joan Magrané, Josep Maria Guix and others. Her partnership with Antón García Abril has been particularly successful, attracting high praise from critics and audiences both in Spain and the UK. Antón García Abril has written 'Reverberaciones' for Maria's 'Avant-guarding Mompou' project and 'Hoy es siempre todavía' for her Horn trio. Having spent her formative years between Spain and the UK, she has since attracted a devoted following of her worldwide concert itineraries.
Having completed her undergraduate studies at the Conservatori del Liceu in Barcelona with Michel Wagemans, she later attained a Master of Arts in Performance from the Royal Academy of Music in London, studying with Sulamita Aronovsky. She has also received musical advice from Nino Kereselidze and André de Groote. Maria Canyigueral's name soon became a fixture of the international piano circuit, embracing Spain, the UK, Japan (Tokyo, Nagoya), Belgium and other countries. Recent highlights include solo recitals at Palau de la Música Catalana in Barcelona and at Fundación Juan March in Madrid; a recital at the Wigmore hall with violinist Lana Trotovsek; a performance as part of the composition seminar by Benet Casablancas at the Royal Academy of Music, London; solo appearances at the Festival Portaferrada, Schubertíada Vilabertran and Festival de Música de Cervia - Ibercamera; recitals in Zulte, Belgium; and a performance at the Echoes Festival, St. James Piccadilly, London.
In addition to her live performances, Maria has made an impact with her recordings of chamber music. She won the Gold Medal at the Global Music Awards in California for her album of works by C. Franck, Granados, Skerjanc and Finzi, recorded with violinist Lana Trotovsek (Hedone Records, 2016). A recording with flautist Boris Bizjak, of works by Martinu, Poulenc, Fauré and Böhm, was also released by Hedone Records in 2016. She is currently recording the complete set of Sonatas for violin and piano by Beethoven with violinist Lana Trotovsek.
Maria has lately been working with internationally known composers on her own project 'Avant-Guarding Mompou'. This was premiered at Conway Hall, London in June 2018 and featured contributions from Nicolas Bacri, Antón García Abril, Joseph Phibbs, Konstantia Gourzi, Jiri Gemrot, Josep Maria Guix, Joan Magrané, Victor Estapé and Moritz Eggert. The project was supported by Instituto Cervantes, Arts Council England, Institut Ramon Llull, Fundació Mompou and fashion label Lilly e Violetta. Released on Cd on the Audite label.
Having now been a touring artist for many years, Maria Canyigueral has continuous plans for further international performances including solo recitals in Spain and England. A return appearance in Duo with Lana Trotovsek at Ljubljana Festival and Lozer Festival, featuring the complete set of sonatas by Beethoven. Recitals in Serbia and Scotland.