---
Karine Polwart & Dave Milligan
---
Biography Karine Polwart & Dave Milligan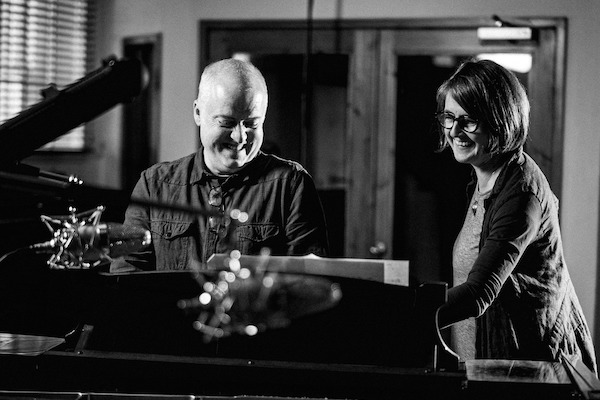 Karine Polwart
is a multi-award-winning Scottish songwriter and musician, as well as theatre-maker, storyteller, spoken-word performer and published essayist.
Widely regarded as amongst Scotland's finest modern-day songwriters, Karine's talent for crafting enduring melodies, her gift for saying just enough without overstating her case, the game and dynamism of her arrangements, all come together in songs of powerful contemporary relevance. Hers is also the most approachable of singing voices, drawing the listener towards her as if a fireside storyteller.
In 2019, Karine received her eighth BBC Radio 2 Folk Award, and her third for Best Original Track - this time for the widely acclaimed I Burn But I Am Not Consumed, from her 2018 album Laws of Motion. Also in 2019, she toured her much-loved Scottish Songbook project - folky reimaginings of beloved songs from across fifty years of Scottish pop, from artists as diverse as Deacon Blue, Chvrches, Frightened Rabbit and John Martyn.
Amongst a diverse catalogue of work spanning over two decades, her five-star theatre show, Wind Resistance - an exquisite piece of gig theatre produced by the Royal Lyceum Theatre in Edinburgh, first staged at the 2016 Edinburgh International Festival - has become a favourite with audiences all over the country, and inspired a record shortlisted for Scottish Album of the Year.
"Polwart writes music for social change, with lyrics that articulate their values poetically and succinctly, obliquely and persuasively." The Guardian
"An unflinching social eye" The Observer
"One of our most lyrically striking, and significant artists" The List
Dave Milligan
is a highly versatile musician and a leading figure in the diverse Scottish music scene. His musical imagination flows freely between multiple genres, and is in great demand all over the world as a performer, composer, arranger, musical director and educator.
Now based near Edinburgh, Dave grew up in the Scottish Borders and went on to study at the City of Leeds College of Music, before returning to his native Scotland.
Having established himself early in his career as one of the most sought-after jazz pianists in the country, Dave's work with some of the folk and Celtic music scene's brightest artists earned him a reputation as a hugely adaptable, creative force.
As part of Glasgow's Celtic Connections festival in 2003, he co-founded and directed – along with harpist, vocalist and composer Corrina Hewat – The Unusual Suspects, a 22-piece big-band of leading folk and jazz musicians that set the bench-mark for the wave of large-scale ensembles that followed in the contemporary folk scene. The Scotsman would later count their debut performance in a list of the top 20 gigs of all time.
Dave has played a key role in countless projects and performances at Celtic Connections since its inception, most recently as musical director of the festival's star-studded 25th anniversary opening concert. Other performances include appearances with artists such as Larry Carlton, Mark Knopfler, The McCrary Sisters, Karine Polwart, Trilok Gurtu, Art Farmer, Carol Kidd and Camille O'Sullivan to name a few.
Dave has performed all over the world with a diverse array of bands, including: his long-established duos with Corrina Hewat and with concertina virtuoso Simon Thoumire; as pianist and arranger with award-winning jazz trumpeter Colin Steele; as pianist and founding member of the international super group String Sisters, featuring six of the worlds top female fiddlers: Liz Carroll, Annbjørg Lien, Liz Knowles, Emma Härdelin, Catriona Macdonald and Mairéad Ní Mhaonaigh. String Sisters started in 2001 and have continued to dazzle audiences worldwide, from the Celtic Colours festival in Canada to the Rainforest World Music Festival in Borneo. Their latest album Between Wind and Water was released in 2018 to universal critical acclaim. ...