---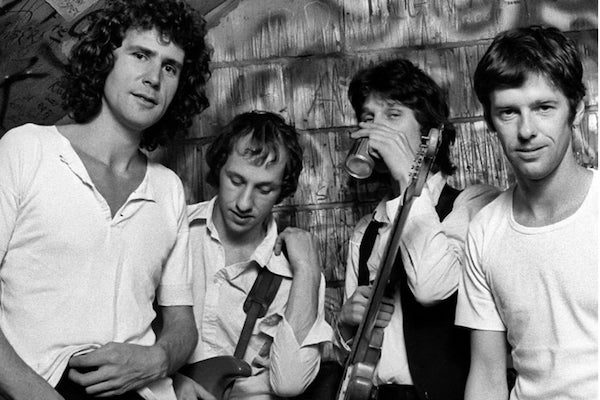 Dire Straits
Mark Knopfler made Dire Straits one of the most successful bands of the middle-Eighties with virtuoso musicianship, wry humor, and a knack for writing popular music that didn't sacrifice either — as evidenced on hits like "Sultans of Swing," "Money for Nothing," and "Romeo and Juliet." As a solo artist, the British singer-guitarist-songwriter composed scores for films including The Princess Bride. After Dire Straits broke-up in 1995, he released a series of solo albums that received critical acclaim but never matched Dire Straits' commercial success.
Mark and David Knopfler, sons of an architect, both learned guitar in their teens. Mark became a rock critic at the Yorkshire Evening Post while working for an English degree. He then taught problem students at Loughton College and an adult extension course, worked in South London pub bands, and wrote songs.
By early 1977, Mark was teaching literature part-time and jamming with David (then a social worker) and David's roommate, John Illsley, a timber broker who was pursing a sociology degree at the University of London. In July 1977, after rehearsing with studio drummer Pick Withers, the group made a five-track demo tape that included "Sultans of Swing." Critic and DJ Charlie Gillett played "Sultans" on his BBC radio show, "Honky Tonkin'," and listeners and record companies responded.
The band got an offer to open for Talking Heads on a 1978 U.K. tour, and afterwards, spent 12 days and about $25,000 to record Dire Straits (Number Two, 1979), which eventually sold 3 million copies in the U.S. and approximately 11 million copies worldwide. The album featured Knopfler's Dylanesque minor-key songs and his limpid mixture of J.J. Cale's and Albert King's guitar styles. It also introduced the Dire Straits trademark, a dialogue between Knopfler's vocals and guitar lines, as heard in the group's first hit "Sultans of Swing" (Number Four, 1979).
Jerry Wexler and Barry Beckett produced the quickly recorded follow-up, Communique (Number 11, 1979), which eventually sold 8 million copies worldwide but produced no significant U.S. or U.K. hits.
During sessions for Making Movies in July 1980, David Knopfler left, and E Street Band pianist Roy Bittan sat in. Along with Knopfler, future Interscope mogul Jimmy Iovine produced the album, which included longer songs with more layered arrangements. The 1980 album hit Number Four in the states, Number 19 in the U.K. and included the minor hit and MTV favorite "Skateaway" (Number 58, 1980) and the story-telling classic "Romeo and Juliet," which hit Number Eight in the U.K. but didn't catch on in the U.S. until years later.
Love Over Gold (Number 19, 1982), with no singles-length cuts, went gold and topped the U.K. chart. Later, Withers departed and was replaced by ex-Rockpile drummer Terry Williams. Tommy Mandel also joined.
By 1985, Dire Straits had perfected its radio-ready sounds and released the 26-million-selling, worldwide smash Brothers in Arms, featuring three hit singles: "Money for Nothing," featuring Sting (Number One), "Walk of Life" (Number Seven), and "So Far Away" ( Number 19). "Money for Nothing" and it's clever, partially animated video—which mocked both rock stars and the budding music channel—became an MTV staple, ultimately pushing Brothers in Arms beyond 9 million in U.S. sales.
By then, Knopfler had had his hand in a number of outside projects, including producing Aztec Camera's Knife and Bob Dylan's Infidels, writing one of Tina Turner's comeback hits, "Private Dancer," and scoring films like Local Hero, Cal, The Princess Bride, and Last Exit to Brooklyn. Knopfler's film music was anthologized on 1993's Screenplaying.
With Brothers still riding the charts on both sides of the Atlantic, Knopfler continued pursuing his own projects, appearing on Joan Armatrading's The Shouting Stage, co-producing Randy Newman's Land of Dreams, and recording with his idol, country guitar master Chet Atkins. (To date, Knopfler and Atkins have won three Grammys for their duet recordings.) In 1988, following appearances at Nelson Mandela's 70th Birthday Party concert at Wembley Stadium and Knopfler's tour with Eric Clapton, Dire Straits went on a two-year hiatus.
Knopfler returned to recording with Guy Fletcher and the Notting Hillbillies, a side project with Brendan Croker, Paul Franklin, Ed Bicknell, and Steve Phillips. The group's debut album, Missing…Presumed Having a Good Time, was a phenomenal hit in the U.K., where it entered the chart at Number Two. It was not nearly as successful in the U.S., peaking at #52, despite an appearance on Saturday Night Live. Meanwhile, Money for Nothing, a Dire Straits greatest-hits compilation, went platinum, peaking at Number 62 in the U.S. but topping the charts in 28 other countries.
Give the group's high profile in the mid-1980s and the six years that had elapsed between new albums, 1991 On Every Street, was expected to generate great interest. In the U.S., the album peaked at Number 12 and eventually went platinum, but an ensuing tour (captured on 1993's On the Night) was not a hot ticket and no hit single emerged. Critics have speculated that Brother in Arms may have been a fluke, succeeding commercially as a departure from the group's usual more laid-back style.
In 1996, a year after quietly closing the book on Dire Straits, Knopfler released his first non-soundtrack solo album, Golden Heart (Number 105). He returned to film scoring in 1998 with Wag the Dog and 1999's Metroland. In February of 2000, Knopfler made the Queen of England's New Year's Honors List and a month later was given an OBE (Order of the British Empire) medal, awarded for outstanding contributions to country, at Buckingham Palace. The year also found him working on the soundtrack to the Robert Duvall /Michael Keaton film Road to Glory.
Knopfler's Sailing to Philadelphia in 2000 and The Ragpicker's Dream in 2002, after which he suffered several broken bones in a motorbike accident, forcing him to cancel a subsequent tour. He recovered and recorded Shangri-La (2004) in the Malibu, California studio where the Band had worked. A tour followed, take Knopfler to previously unvisited realms including the United Arab Emirates and India, where he was well-received.
The singer's biggest solo success came with 2006 album, which debuted at Number 17 in the U.S. (and higher in many parts of the world, including Number One in Denmark and Switzerland) and earned a Grammy nomination for Best Americana/Folk Album—he lost to Dylan's Modern Times. Knopfler's prodigious recording pace continued with Kill to Get Crimson in 2007 and Get Lucky in 2009.