---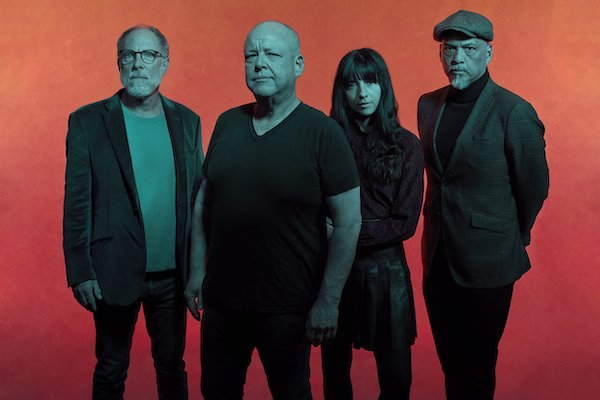 Pixies
The US band Pixies, have managed to become one of the most crucial and important bands in alternative and indie rock! When the group formed in 1986 in Boston, consisting of Frank Black, Joey Santiago, Kim Deal and Davids Lovering, they probably didn't realize the impact they would have on the genre. According to the legend, in order to promote the formation of the band, Frank Black and Joey Santiago put an ad in the newspaper saying that they were looking for a bass player. Kim Deal, who at the time neither owned a bass nor could play it at all, responded.
When the rock quartet released their debut album "Surfer Rosa" in 1988 with hits like "Where Is My Mind", they didn't make it into the charts at first, but later achieved gold status in the USA. Even Kurt Cobain said about the record that with the Nirvana hit album "Nevermind" he was really just trying to imitate the Pixies. In the same year, their second album "Doolittle" was released, which included one of their top hits "Here Comes Your Man".
During the creation of their next two albums "Bossanova" and "Trompe le Monde" there is more and more tension in the band. For example, in the album "Bossanova", released in 1990, every single song is written by Black Francis aka Frank Black. And therefore not a single song was written by the bass player Kim Deal. In January 1993 Frank Black himself announced the end of the band without the knowledge of his bandmates, whereby the Pixies finally split up.
About 10 years later, the long-awaited reunion of the band took place and even in 2004, the first tour after the breakup. Funnily enough, in 2004 the Pixies can be heard with their song "Bam Thwok!" on the then and now celebrated soundtrack of Shrek 2. Another 10 years later, fans of the band could finally enjoy an album with the appropriate name "Indie Cindy" again, which could hold in the Top 10 of the German album charts for two weeks in Germany. With two more albums in 2016 and 2019, the Pixies' career is far from over. They perform just like in their early days and have managed through their countless live performances to perfect their concerts, which offers every visitor a unique and unforgettable experience!